I wrote about seeing juvenile alligator gars being sold in the aquarium shops not too long ago. If you missed that post, read it here.
On another recent visit there were more. These are new fishes and they were also bigger!

The smaller fish appears darker and has a horizontal bar across the length of its body much like a baby Toman
Many of you may already know the alligator gar is among the quarry available in stocked ponds in Thailand such as IT Monster Lake and the Amazon themed ponds that are appearing at an increasingly rapid rate.
They are among us
Interestingly, it appears the alligator gar have also been caught in Malaysia, Indonesia and even Hong Kong! And these are no babies either.
Apparently during a major flood in 2008, a 1.5 m (4.9 ft) Alligator Gar was roaming in the city of Jakarta. There is also an unverified report of a 3 kg (6.6 lb) alligator gar caught in the nets of fishermen in Tasik Bera in the state of Pahang, Malaysia.
There's more. In 2009 more than 16, yes, sixteen alligator gars, with the largest measuring 1.5 m (4.9 ft) long were removed from ponds in public parks in Hong Kong. All except 5 (sent to the Ocean Park) were euthanized. The chinese must have found them inedible or nothing much would have escaped a chinese wok! (related news)
As recent as January 21, 2011, another 1.5 m alligator gar was caught in a canal in Pasir Ris, Singapore by two recreational fishermen. (source:)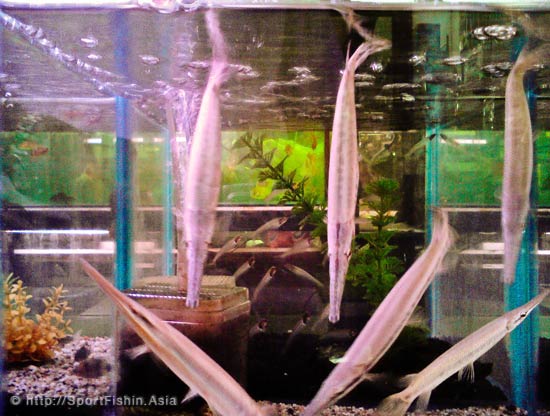 Just hanging loose till someone takes them home
Who did it? Was it your friendly neighbor?
No prizes for guessing the most likely source for the origin of these fishes. But let's paint the typical scenario. Dude walks into pet store. Sees crocodile-fish and buys them without knowing much about them. The fish out-grows the home aquarium. No one wants to adopt these ugly, overgrown fish with a voracious appetite. They don't even look good to eat so the easiest solution is to release them into the nearest lake/pond/river. The fish-keeper also feels proud to have done a kind, good deed to a living thing. Dude goes home with a smirk on his face quietly glad he does not have to feed these crocodile-fish anymore.
So as all of us can see, the same scenario will play itself over again. With the alligator gar and other alien fishes. It is also quite apparent that the alligator gar adapts itself pretty well to the aquatic environments in many parts of Asia.
What do you think? Are you looking forward to catching one of this fish in your local waterways? Are you prepared for them?