What's In The Bag?
When it comes to tackle storage, over the years I've gone from pouches, to bags, to small hard-shelled tackle boxes, to big tacklebox with pullout drawers, to you name it I've probably used it.
Since the 2015 season started, I've been using is the Fishpond Boat Bag, replacing my worn-out boat bag which lasted only one season.
The Fishpond boat bag is priced (USD230) a lot more than my previous bag, of course, but how long will it last for a person who lugs his bag around day-in and day-out, and most days in saltwater conditions?
After many trips, the bag has held up pretty good. No obvious visible wear or tear. I'm happy with it so far.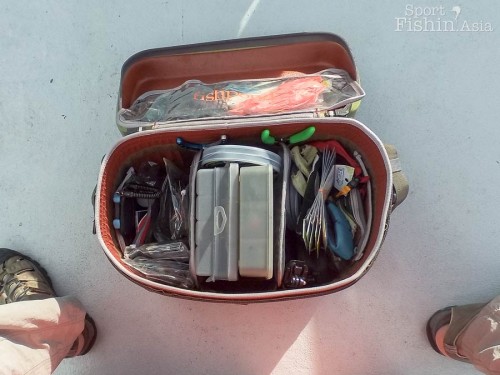 What I typically have in my boat bag
Reels
Cap
Buff
Gloves
Leaders
Sabikis
Flies
Acrylic boxes holding jigs, lures, hooks, split rings, swivels, etc
First aid kit
Two to three cameras (Olympus Tough, GoPro and HTC Re)
Camera mounts and extra batteries
Mobile phone
Wallet
Car key
Scissors
Plier
Hemostat
Hook remover
[Read more…] about Fishpond Westwater Boat Bag – Fishing Gear Tested