We need a quick-fix or a quickie every now and then and we've been fishing on and off at SW Jurassic pond http://sportfishin.asia/saltwater-paypond/fishing-at-jurassic-sw-pond/
ever since they opened at the beginning of 2015 and the fish have certainly grown.
The redfish is now up to 7kg (15lb) and we know of at least one huge grouper lurking in pond A.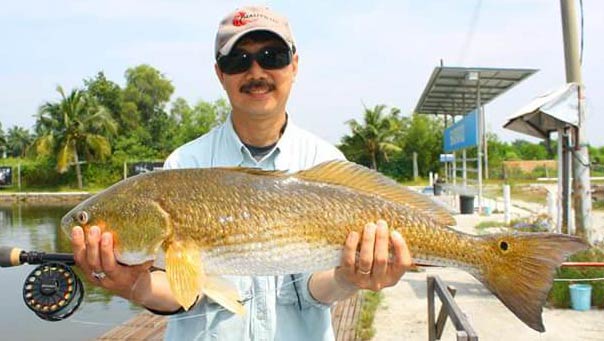 The big grouper took a swipe at a big foul-hooked garbage that was being reeled in. David too had his small golden snapper grabbed right at the edge of the pond and he could not stop the subsequent run into the aerator.
We also had the opportunity to fish Pond B for the first time. This pond is primarily stocked with groupers and barramundi.
There are some structures conveniently marked with arrows at the edges of the pond so you know where to cast to. Each structure is about 10 meters (30ft) out.
I had a few hits and had two hookups. Unfortunately I was unprepared and under gunned for fishing this pond. Every time a grouper, (presumably they are groupers) took my fly it went straight back into the structure and I could not stop their retreat with my puny 20lb leader. I was told after that the recommended leader poundage is 40lb.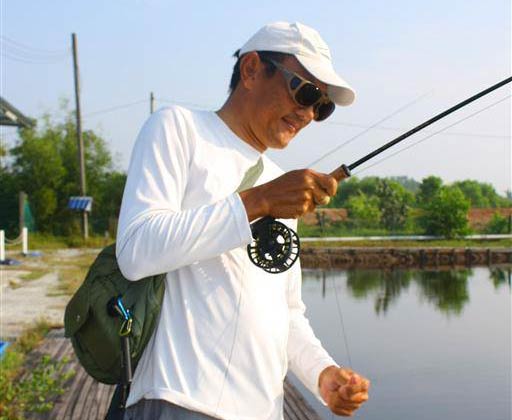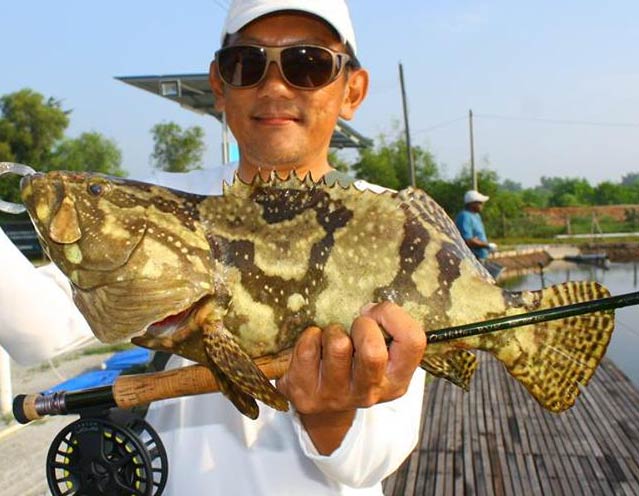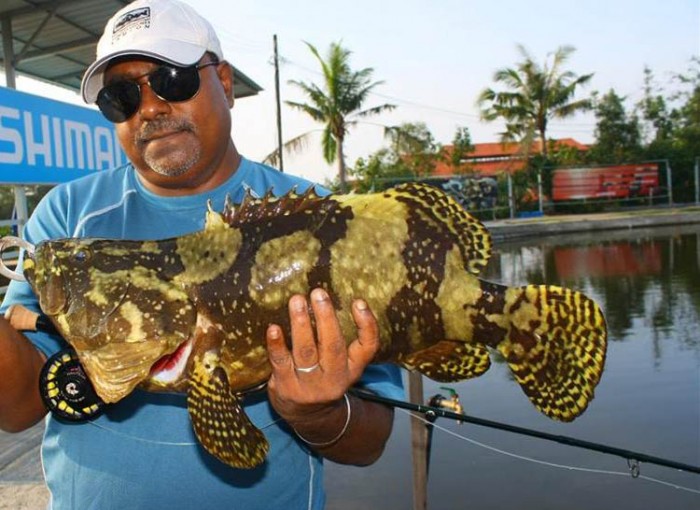 SW Jurassic is stocked with a lot of fish and the chances of hooking fish is good. Having said that, the fish have also not just grown bigger but also grown wiser.
That means you'll have to put your thinking cap on and work for the bite. Always have faith in the lure that you tie at the end of the line.
If in doubt, ask Jeffrey, the boss and pond manager. He's always happy to give advise and help put his customers onto fish. After all, catching fish is what makes anglers come back, crucial to the survival of the pond.
For a paypond, you will like the fact that it is well cared for. The place is clean and the fish are mostly healthy looking which translate to strong fighting fish.
They also have an "ICU" tank where they let exhausted fish to recuperate before being placed back into the main ponds.
Although on a slow day it may not appear the ponds are well stocked, ask Jeffrey to "show" you at the end of your fishing session if you've had an unproductive day.
Go try out the pond. We should have more operators like this and the only way we can have places like these to get our fixes or rid that itch is by giving them our support.
All photos courtesy of SW Jurassic Pond.
For more info, address and location maps, click here.