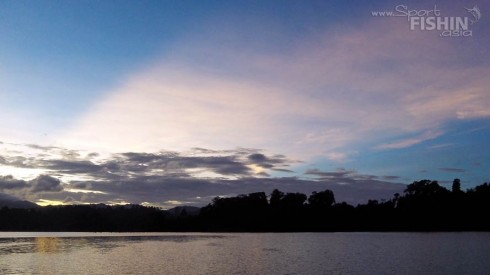 Breathtaking sceneries greet you everywhere you look in Temenggor Dam
What is a Houseboat?
A boathouse is what it says, a house-like dwelling built onto a boat-like structure that floats, duh! Houseboats are popular throughout the world where deep jungle river exploration are called for. If you've watch that movie where a group of people ended up as food for overgrown snakes then you're pretty close to picturing what a boathouse is.
At last count there are about five houseboats operating at the Royal Belum National Forest of Temenggor. While they come in different shapes and sizes they basically have the same amenities.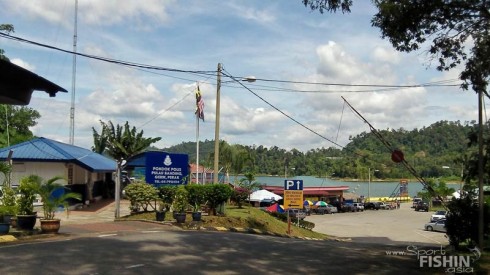 The car park and boat docking area on Pulau Banding
What to Expect?
The houseboats at Temenggor are berthed at the docks of Pulau Banding (Banding island) where they wait for their customers and also to load supplies. Pulau Banding is an island dividing the vast Temenggor Lake with the northern section of the lake making-up the ranger and army protected forest reserves.
Two to three week prior application for entry permit is required to enter the Royal Belum National Park.
This is not a five star accommodation but you will be sleeping under a million stars when the sky is clear.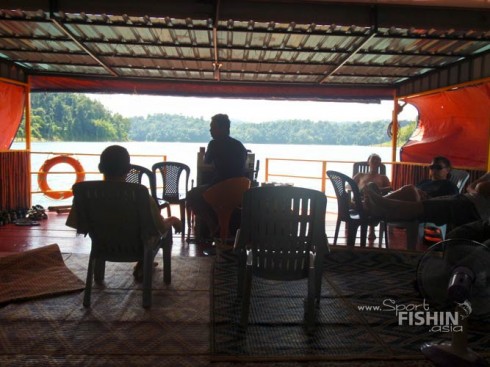 View you get looking out the "windscreen" area. The driver sits in the middle.
Basic, functional accommodation apt for that adventure trip
The houseboats are basic but comfortable, when compared to roughing it out in the open. For this article we will use the boathouse operated by Gopa, arguably among the best available out here, as the example.
The houseboat is made out of three sections with two baths right in the center. Yes, two baths. No, that is still inadequate, when you need to go!
Sandwiching the baths are two sleeping quarters on each sides. The four rooms are just big enough for two double decker beds that sleeps four persons, max.
Tip, watch your head when getting up after a sleep! I'd suggest keeping it at two or three persons if you prefer comfort.
An eight person trip (up to perhaps a maximum of ten anglers) is good. Add the boatmen/guides and cook, etc and you can find between thirteen to sixteen persons on board.
The metal frames of the bed squeaks. Light sleepers may want to bring ear plugs. That will spoil the sounds from the forest though. And you should enjoy the rainforest orchestra.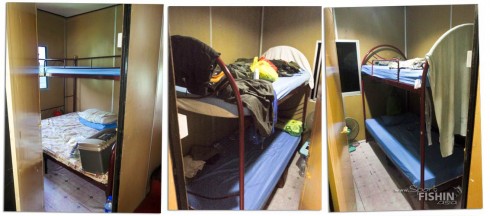 Rooms are cramped and basic
So with the baths and sleeping quarters making-up the middle section of the houseboat that leaves us with the front and rear or for you boat-loving people reading this, the bow and stern sections.
The front consist of an open area for you to enjoy the views and is also known as the hang-out place. Most tales of the ones that got away takes place here. [Read more…] about Guide to Surviving a Houseboat at Temenggor – Royal Belum, Malaysia.