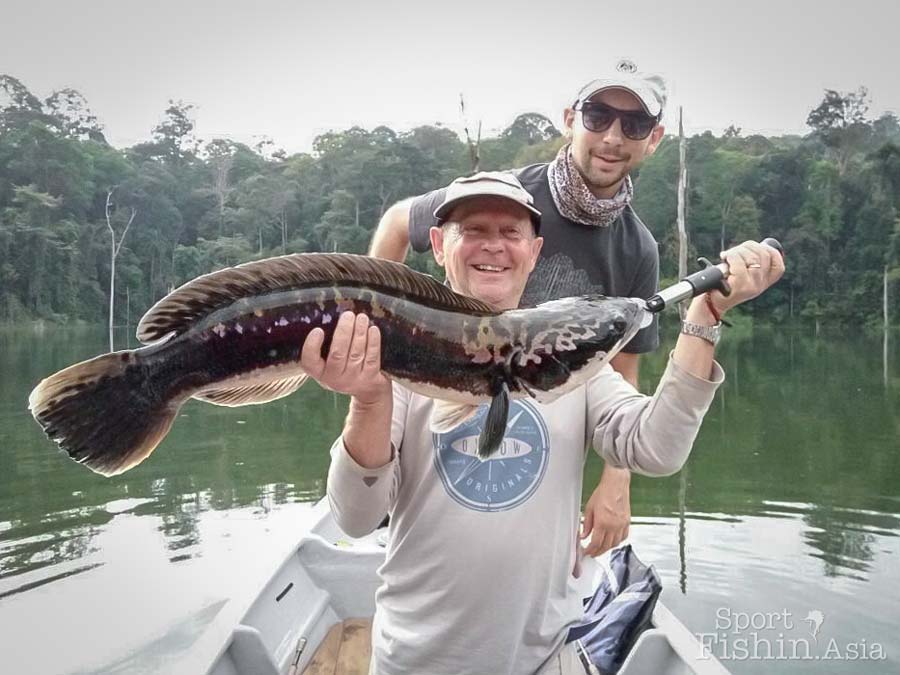 This post was first published on July 2017 and updated on June 2018.
Hi Juan,

Overall, the feedback is highly positive, we had a very good time fishing on the lake!

Denis and the boatman were great guides, very professional, doing their best for us to catch fish all day long. On top of, we had a lof of fun with Denis. The material for fishing was good.

I will come for Sail Fish in October!!

Overall, once again, super experience, a lot of nice fish and good memories.

Thanks to both of you.
Regards
Vivien – France, March 2017
Always great to have family fishing outings, in this case a father and son fishing trip for giant snakehead in Royal Belum State Park.
Vivien took his visiting parents to a couple of holiday locations in Malaysia including fishing here.
Where is Royal Belum?
Bordering Thailand, the Royal Belum State Park is a huge park in the northern parts of Peninsular Malaysia.
Royal Belum is one of the oldest rainforest in world, dating back over 130 million years.
14 of the world's most threatened mammals; among them the Malaysian Tiger, the white-handed Gibbon, Asiatic Elephant, Malaysian Sunbear, Sumatran Rhinoceros and Malayan Tapir still roam freely in this natural habitat.
Royal Belum is about 5 to 6 hours drive from Kuala Lumpur.
The waters here are home to a variety of freshwater fish. The main target species for anglers are the giant snakehead, sebarau and giant guorami.
Related: Houseboat in Royal Belum