This trip with Mark and Warren was postponed a couple of times due to travel restrictions. We were all very happy when it finally was able to take place and frankly, it was quite a relief for me with all the craziness taking place this year.
Everyone's tired of 2020 and a trip into one of the world's oldest rainforest might as well be the perfect getaway. 
We arrived in the small town of Gerik the day before and had a good dinner and rest before the upcoming fishing days ahead.
You Know Why They Call It The Rainforest Right?
If it doesn't rain every day, it rains all day in the rainforest, and so it rained heavily around midnight and continued raining much into our first fishing day.
December is the wet season and three days prior to our arrival the rain had been falling non-stop resulting in the water level in Temenggor lake rising some 3 to 4 meters (9 to 12 feet).
Strange New Normal
It's funny and yet not really funny when you now have to have your temperature checked everyday before entering the jungle to fish!
Active Sebarau (Hampala Barb)
With rain jackets on, Warren was soon into fish with just his first few casts. A decent sebarau (hampala barb) was landed followed shortly by a small toman (giant snakehead) at 8:30am.
The sebarau, also often wrongly called jungle perch by some, was active throughout much of the day with hits and misses. Mark and Warren landed four sebarau with spoons and crankbaits.
Most of the our time was spent on hunting down toman (giant snakehead) and casting for sebarau in between.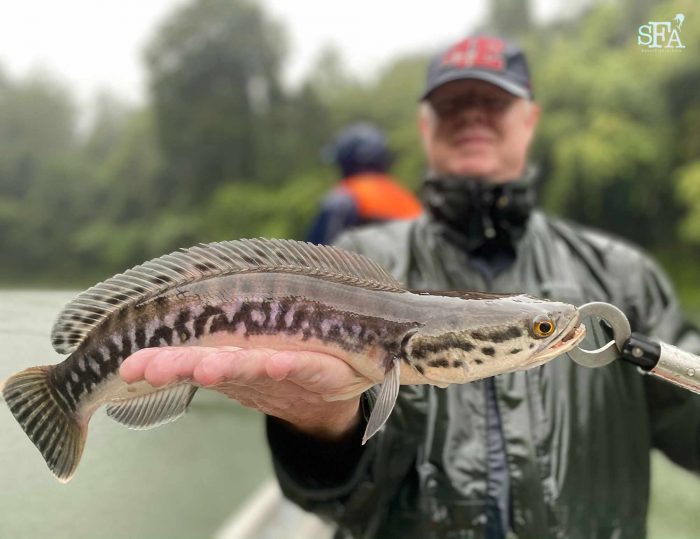 Sighting rising toman is much easier on calm days without too much wind or rain. The incessant rainfall on the first day did not help us but we were lucky to score four fish by the end of the day.
The first big toman was landed by Mark at 11am.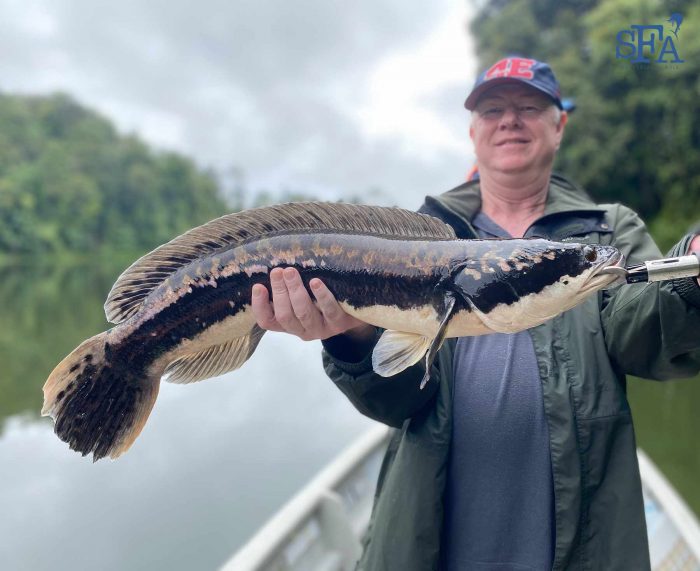 And just before we broke for lunch, Warren landed another nice toman.
Lunch was had at a visitor center that's void of visitors (which is usually the case thankfully). Water level here was visibly high with water almost halfway up the steps.
We had our simple lunch while watching fish swim by. Close to 4pm Mark scored his second nice toman.
Watch out for our trip video in the SFA YouTube channel.
Drier Day
The following day was quite different with the threat of rain early in the morning but it never quite came. The sky remained cloudy much of the morning until we saw a bit of sun in the afternoon. The first sign of sun rays in days.
Mark had some fun with a topwater frog casted into heavy cover with a few hit but not getting any solid hookup.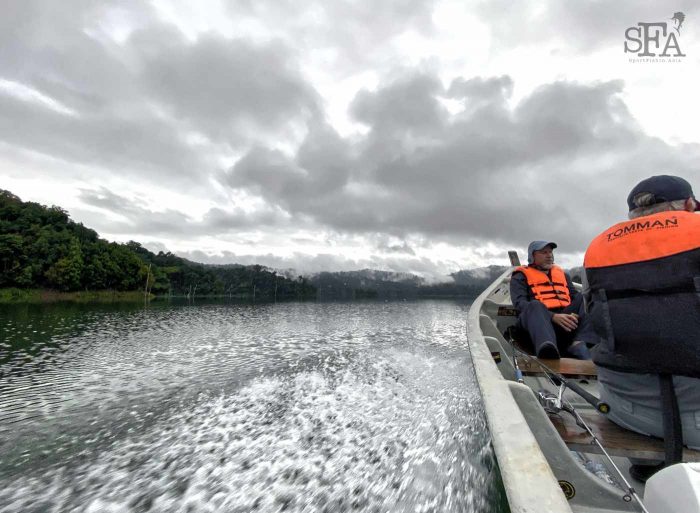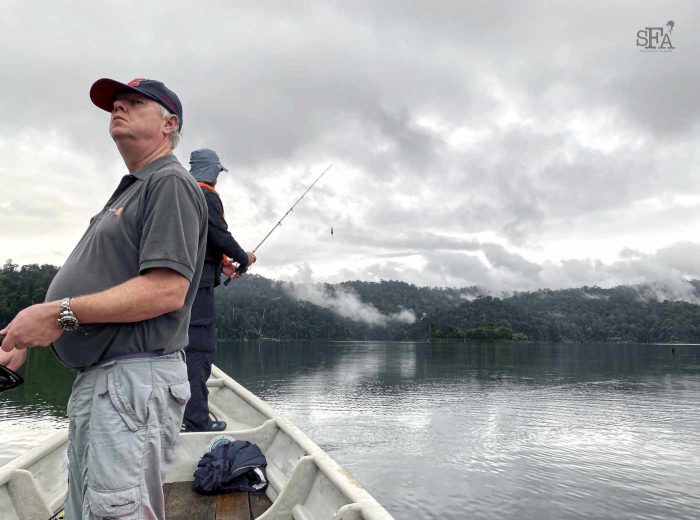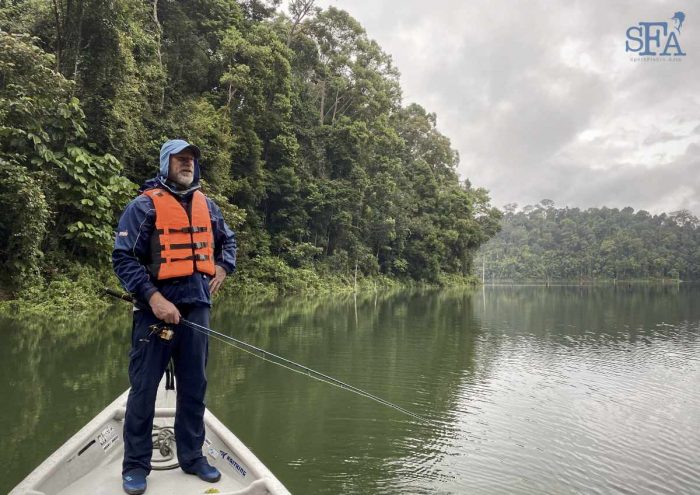 The pace of action appeared slower although we actually saw more toman (giant snakehead) activity overall through the day.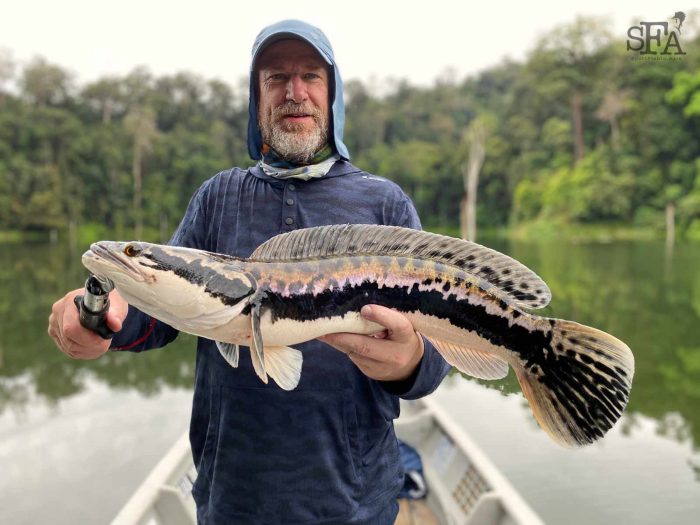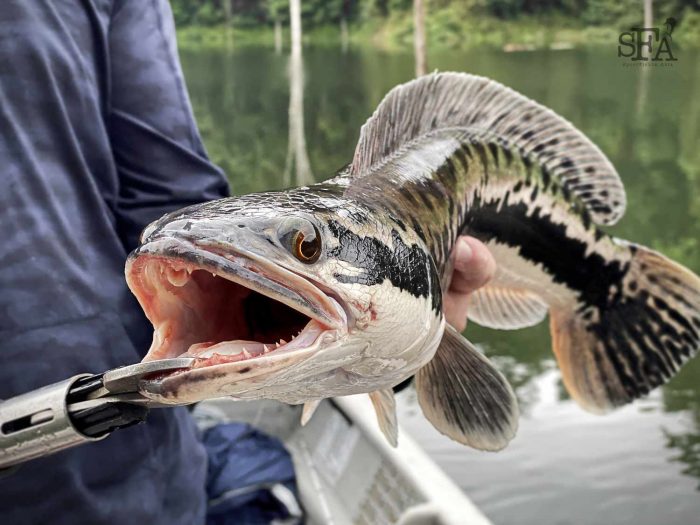 Mark scored his at just before 1pm and we subsequently took a break and for lunch.
It started to look like we may end up with two toman for the day when Warren got his second fish of the day at 4.30pm and another at 5pm.
No sebarau came out to play today and we had a wonderful dinner with some drinks back in the evening before driving back to Kuala Lumpur the next morning.
Contact Us using the form below to find out more about toman (giant snakehead) and sebarau fishing in Malaysia