Rompin, or Kuala Rompin to be exact, has always been a popular fishing destination for local anglers.
Kuala Rompin is a coastal town located in the district of Rompin in the state of Pahang.
In the mid 1990s, anglers started catching sailfish in the waters off Kuala Rompin and words started to spread.
The sea conditions here are usually calm and the fairly shallow water are rich in nutrients attractive large numbers of marine life such as millions of anchovies, various mackerel species, scads, sardines, and squid which in turn attract larger pelagic predators such as sailfish, marlin, Spanish mackerel, giant trevally, queenfish, cobia and other tropical saltwater species.
Related: Fish species in Rompin
Those days mono or nylon lines were popular along with the classic PENN Spinfisher reels or conventional reels such as the Abu Ambassadeur and Shimano TLD.
Those were days when magazines still rule and the internet was in its infancy stage. Articles started appearing in fishing magazines about the inshore action, abundant of catch and affordability of big game fishing at this exotic location.
Overseas anglers started coming to fish in Rompin and write about them back home. Words and pictures spread quickly at the turn of the millennium with the birth of social media such as Facebook. The rest, as they say, is history.
Related: Rompin fishing trip reports
Rompin Sailfish Charter Boats
Nearly all charter boats in Rompin are custom purpose build sport fishers.
Our boats consist of 35-footer, 40-footer custom sport fishers, together with a 72-footer live aboard sportfishing yacht, the Sea Urchin.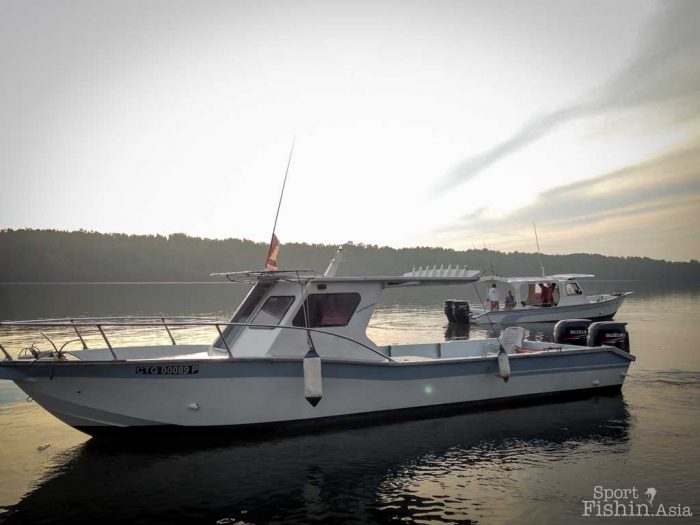 Sport Fishing Asia is the only one operating a live aboard here. Occasionally, there are other foreign live aboard visiting the waters here.
All our crew are local Malaysians, very experienced manning well-maintained fully equipped boats with modern twin motors, all communication and safety equipment.
Rompin Sailfish Cost
Our all-inclusive package with boat charter including accommodation, meals, gear starts from USD 800 per day for 4 people and 2 days fishing.
Other Rompin sailfish package cost examples:
2-day fishing in our 35-footer and 3-night accommodation: MYR 6,800 (USD 1,600) to 5-day fishing in our 40-footer and 6-night accommodation: MYR 21,000 (USD 5,000) with full transfers for 4 people.
Cost Summary: from MYR 850 to MYR 1,050 / USD 200 to USD 250 all inclusive per person per day.
Multiple boats are available for charter for group booking.
Read customers' reviews of Sport Fishing Asia
Rompin Live-aboard Yacht, SEA URCHIN (The only live aboard charter in Kuala Rompin).
The following are the charter cost for our live aboard 72-footer luxury yacht, Sea Urchin.
Quoted price are total for up to 6 people.
Day trip: MYR 8,000 / USD 2,000
2 days 1 night: MYR 17,000 / USD 4,200
3 days 2 nights: MYR 29,000 / USD 7,200
4 days 3 nights: MYR 39,000 / USD 9,700
5 days 4 nights: MYR 49,000 / USD 12,200
6 days 5 nights: MYR 59,000 / USD 14,700
7 days 6 nights: MYR 69,000 / USD 17,200
*exchange rates displayed above may change
Fishing charter available from one day to any number of days. Please enquire for price.