The Queenfish or 'queenie' is a popular gamefish found throughout the tropical waters. They are a powerful fish and is a great light-tackle sport fish – frequently entertaining with acrobatic leaps in their efforts to throw the hook.
Locally known as Ikan Talang, the Queenfish (Scomberoides commersonnianus) is the largest of 4 species of queenfish found in tropical waters. They are powerful, swift pelagic fish and grow to more than 120cm and have been recorded at 16kg (Ref. 40637). They are sexually mature at 63cm. Most Queenies
caught by anglers are between 0.8kg to 8kg. Specimens of 10kg or more are less common.
This species is silvery-grey in colour with bronze patches on the head and dorsal surface. Large fish often have a bright yellow throat, breast and belly. All live fish of this species have a series of silvery spots along their sides above the lateral line, which become dusky with death. This species is also distinguished by its spiny dorsal fin which has short off-set spines resembling barbed-wire.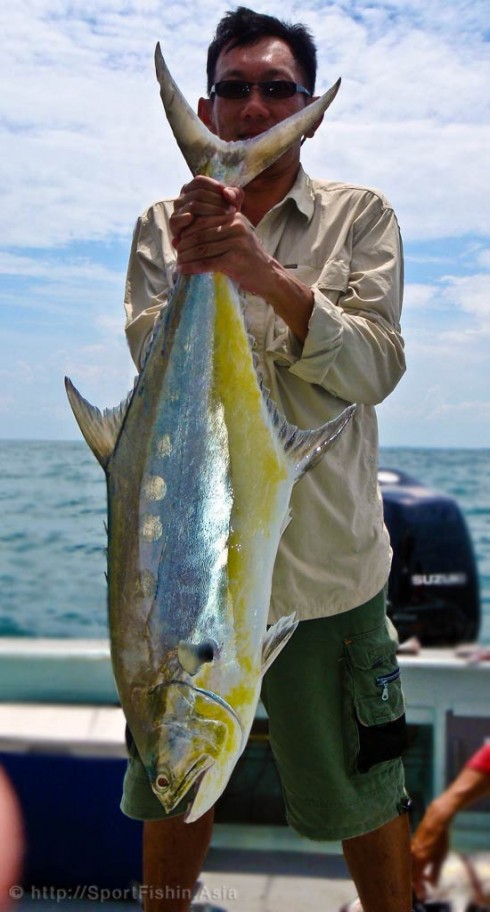 Queenfish can be caught using natural bait, artificial and even on fly. They have tiny teeth that easily chew through light mono leader.
Habitat/distribution
Queenfish occur in tropical waters over the continental shelf, often in very shallow water. They generally occur alone or in small schools. These fish also inhabit reefs, island shores and estuaries. Feeds on fishes, cephalopods, and other pelagic prey.
Are Queenfish any good to eat?
Queenfish have firm, white meat. Some claim they have excellent flavour, although I find its meat tending towards dryness. Not sure why, but eating plywood comes to mind, not that I've actually eaten plywood before! If you intend to keep one for the table, it should be bled and iced after capture.
Some asian chinese avoid eating this fish as it is said the dotted marks on the queenfish is left behind by a deity (Tua Peh Gong)! It is common to find Queenfish used as salted fish in asian markets.
Caution: watch out for the tiny spines in front of the dorsal fins!