In a very unexpected sort of way, taking up fly fishing has re-introduced me to the joy and thrill of fishing all over again.
The process of learning the ropes and the excitement when you hook your first fish is suddenly rediscovered. It is like a new experience even though it is not. Quite strange!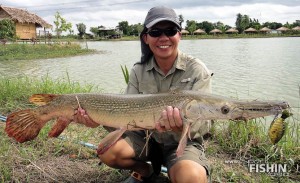 I enjoy all manner of fishing and have always wanted to try fly fishing to experience what it was like and see what the fuss was all about.
Having to "go solo" with friends preferring to let me have a go first and see what happens, I finally got in touch with Nick Ooi, a FFF CCI and owner of Tacklebox Adventures on a fine day and did some test-casts on a field nearby. There was no looking back.
Can You Teach An Old Dog New Tricks?
Fly fishing appears awfully complicated from the onset. And it actually is but that challenging scenario only fueled my enthusiasm to master this ancient art form of fishing.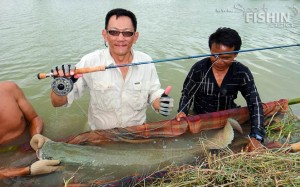 Much to my chagrin I've come to discover all the muscle memory from flicking of lures on bait-cast and spin gear is bad for fly casting!
A good fly cast calls for smooth strokes unlike the quick jerks and flicks when chucking lures. So begins my little adventure of catching many things, like trees and scrubs. All manner of things but fish! The consolation is that with some patience (and lots of practice) you can still teach an old dog new trick.
New Monster Fish Fishery
When the opportunity came for a quick fishing trip to neighbouring Thailand I thought it would be fun to put my newly acquired, though somewhat clumsy, skill to good use.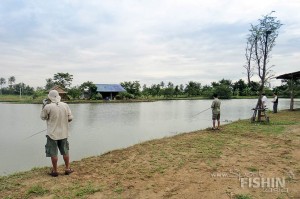 The initial two person trip for me and my wife suddenly ballooned at the last moment to a seven person trip with four anglers including some who are totally new to Thailand and the intended target species of fish.
A short session to Bungsumran Fishing Park was arranged for the "virgins" to get acquainted to the infamous Thai native, the Giant Mekong Catfish. This will also serve to give the muscles a good warm-up and workout!
(news flash 13 November 2011. The great flood of Thailand have inundated the roads around Bungsamran. The fishing park itself is bracing for the flood by building a bamboo fence along its perimeter in the hope of preventing its tens of thousands of mammoth residence from swimming out into the city).

Getting Things Right
The real highlight of the trip though, for me anyway, is fishing for a living fossil and one of the largest freshwater fish in the world, the Arapaima Gigas, on fly!
This was to happen on the second day. I have made arrangements beforehand with an experienced local to ensure everything happens as planned as communication can often be a challenge in the Land of Smile, Thailand. For traveling anglers, that is of upmost importance as there is little precious time to waste.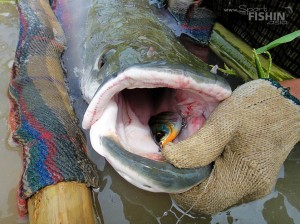 The timing of this fishing trip was perfect as it meant we were able to sample a newly opened fishery. Best options for arapaima fishing before this was either the original Amazon BKK (aka AmazonBKK I) or IT Monster Lake.
Though the fishing rate for Amazon BKK is much more affordable, some may not fancy the "garden settings" that looks overly man-made. This I found out was because the pond is actually located at the pond owner's home that was later converted into a fishing park.
The other thing not to my liking at Amazon BKK is the monster fish that are rather "smallish" looking. When people talk of the arapaima gigas, images of monstrous fish 2 meters in length are naturally conjured. Not 10 kg (20 lb) fish that appears more like overgrown snakeheads!
IT Monster Lake (pronounced "It") on the other hand is way opposite on the fishing charges scale and promises big fishes. With plenty of big redtail catfish almost certain to entertain anglers though the same cannot be said of its arapaima catches these days. There are not many big ones left and catching one fish among the fishing party will be considered lucky.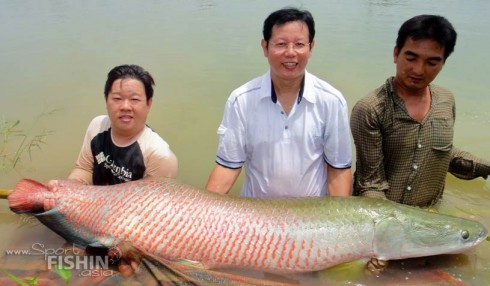 The new pond, literally so new it does not have a proper name yet as this post is written, is reputed to have about 100 adult arapaimas weighing between 50 to 100 kg or ranging between 1.5 meter to 2.5 meters in size. There will also be species such as the redtail catfish, alligator gar, featherbacks and others in the pond. Unlike the other two "old" ponds mentioned beforehand, this new pond is strictly artificial bait only i.e. lure and fly fishing. This is a big attraction for me as the arapaimas at other ponds are known to be mostly caught by live or dead bait.
The new pond is located about 2 hours drive from the city center and for now only caters to fishing by appointment only. No walk-ins were allowed when this Amazon BKK first started (they have since changed this rule and allows walk-ins) and we are only the second group to fish this pond since its opening just one month before our trip in 2011, how exciting is that!
True enough when we first laid eyes on the pond we could see many large arapaimas rolling on the waters surface occasionally making big splashes and the characteristic grunt-coughing sound when surfacing for air. Everyone quickly rigged their respective tackle at record speed, as it was quite obvious whoever manages to get their lure into the water first will have the best chance of hooking up a fish early.
The lure of choice is the jointed hard body Japanese Giron lures by Jackall Bros. The ones we used are 93mm 22.5g sinking versions that cost Baht 1,000 each, acquired the day before from Seven Seas Pro Shop located at the Bungsumran Fishing Park. These rather costly lures are as they should be, well made with high quality finishing and swims in a very lively side-to-side manner when retrieved slowly.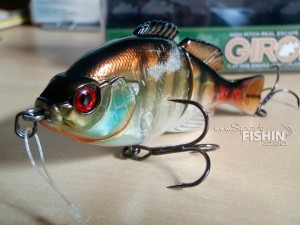 We had the opportunity to compare cheaper Thai made look alike Giron lures on the same day and the difference (read lack of) swimming action is quite evident. The finishing is nowhere near the original Giron and when retrieved they just go in a straight-line fashion without that life-like side to side movement.
Letting them Fly!
I started off the day with my fly gear but the windy condition was not making things easy. Strong wind makes fly casting more challenging what more to a beginner like yours truly. I decided to switch to my bait casting setup while the others opted for spin outfits.
My terminal tackle was made up of 18kg Sufix braid spooled onto my trusty Shimano Calcutta 250 mounted on a new 7-foot Gary Loomis designed, Temple Fork Outfitters Signature Series 3-piece travel rod rated Medium Heavy at 10-17lb.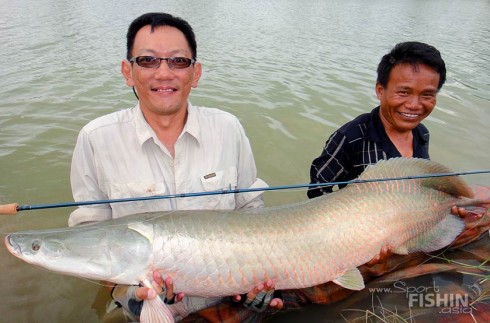 Alan hooked the first Arapaima on one of the Giron lure within the first hour. A nice fish of about 50kg was lifted out of the water for photographs and released. It was then decided only smaller Arapaimas will be taken out of the waters for photography as we do not want to risk causing too much harm to the larger specimens such as the one just landed.
Update by JW, May 2015: They have now loosened their rule by allowing most fish to be brought on land using their big cradle net for photos. Here's a tip, if you don't mind getting wet, your grip-and-grin with the arapaima you just landed will look a whole lot better in the water than on land.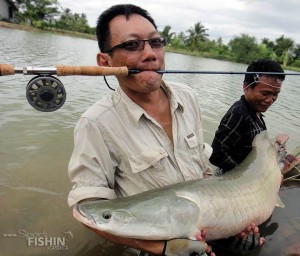 The pond is equipped with separate toilets and shower rooms for anglers to wash themselves after a dip in the pond for photography sessions with their Arapaima catch. I had come ready for this by wearing swimming trunks beneath my bermuda shorts and a quick-drying fishing shirt so that I do not have to keep changing clothes after each fish.
Special care is needed when dealing with big arapaimas as, since they are large, they can be a handful. It is said the fish has a large blood vessel running down its spine and lifting the fish clear of the water for trophy shots can rupture this vessel causing death. With catch and release after the fish is landed, it must be held for a couple of minutes until it takes a breath (a gulp of air) before it is allowed to swim off. Failure to do this may have the fish sinking to the bottom and because it is too tired and stressed from the struggle is unable to swim to the surface for air resulting in it drowning.
Heart Pounding Action
I switched back to my fly gear after catching an Arapaima which was another fish of about 50kg plus an Alligator Gar that managed to put up a decent fight as well.
The decision to resume with my fly fishing was a good one as the countless casts in the windy condition improved my casting by a considerable margin just this one day alone. Upping the difficulty level was the use of big wind resistant flies and intermediate lines but it all felt great in the end.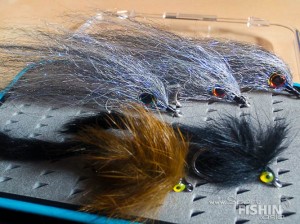 I quickly missed two takes on the fly. My heart pounding after each miss. The takes were on a black Zonker fly which did not connect due to firstly striking the fish in an ineffective fashion by lifting the fly rod skywards (trout strike), and on the second take with me failing to strip strike hard enough. I forgot how bony the mouth of an arapaima is.
Prior to the third bite I have reminded myself to strip-strike real hard and strike hard I did. I casted out to the middle of the pond and allowed the fly to sink to the bottom before starting a very slow retrieve with short strips and pauses in between. I did not have to wait long for a bite. The fish connected and the baitfish profile fly tied by Nick sticked. An improved loop knot was used to connect the fly to the 50lb fluorocarbon line tippet, which in turn is joined to my DIY leader tied using 30lb fluorocarbon lines. The fight was on between me and the biggest fish I have tackled on fly fishing gear to-date!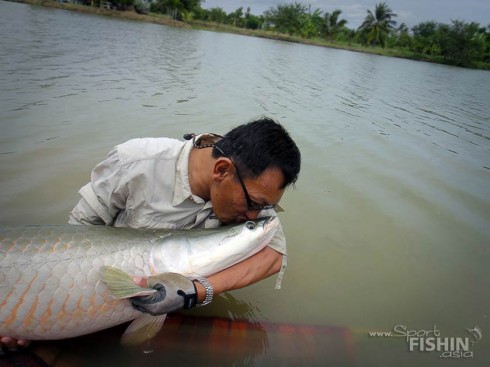 I reminded myself to stay calm during the fight and treat it just like the other fishes I have fought with before. Keeping in mind only the fact that this is on fly and to mind the long softer rod and long leader when the fish is near. The eight weight Redington fly rod held up well throughout the fight including handling the lunges made by the fish towards the end of the fight when the fish notices there are people in the water trying to get her into the make shift 'stretcher'.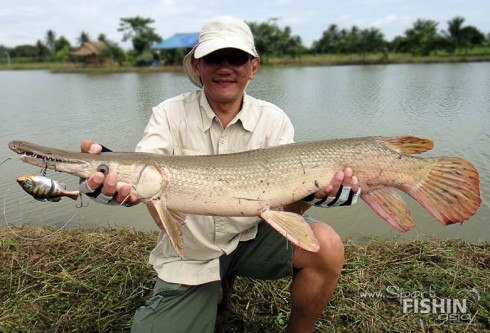 At the end of the day, a total of ten fish was landed among the four of us, including alligator gars and a redtail catfish. It was no walk in the park as we were casting almost non-stop for the nine hours of fishing from 8am to 5pm. This is how I prefer it to be though. No feeding, live baiting or chumming to induce a bite, the challenge is there to get the fish to take your lure, or fly. I hope the fishery operator will resist temptations or pressure and keep it the way it is or else this new pond will end up just like the others.
The biggest fish landed on the day was about 75kg with beautiful markings that also broke a Giron lure in two. The perfect ten figure which is the total number of fish landed reflected a satisfactory ending to our fishing trip.
What Is It Gonna Be?
I caught arapaima both on fly and bait casting gear. Which is more fun? The fly caught for sure and I will definitely pick-up my fly fishing gear again as my fishing gear of choice the next time the arapaima is the target species! I have a sneaky feeling it could also be a very deadly method considering the multiple takes I had on the fly in a short window of time compared to the lure.
Catch the video of an arapaima being landed on fly.
That concludes another chapter in my learning to fly-fish journey! Did I mention to you how much I am enjoying it?