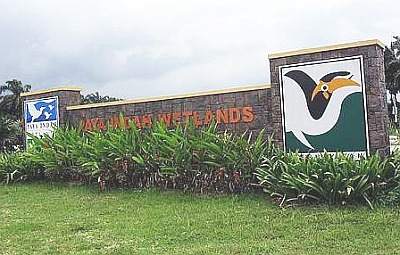 The open close, open close and open for now Paya Indah Wetlands covers an area of 3,100 hectares just 15 kilometers from the Kuala Lumpur International Airport.
Here's my observation from a half-day visit with 2 fishing mates, Poh & Jimmy. Though covering a huge area, only 3 or 4 lakes within the entrance area are fishing allowed. These lakes are huge and most are in their natural settings. The waters are clean with some ponds having very clear water.
No control
Visitors can either rent bicycles or walk to cover the area as no motorized vehicles are allowed. You just have to register yourself at the registration counter. Fishing is free. Yes, free as in you don't have to pay. And herein lies the problem. It is also free-for-all as in there are no regulation in place to control what gets taken.
We spoke to a lone angler who claims to fish the lakes twice a week. He was proud to show off his 5-inch long Ketutu (Marble Goby) which he caught using small carp as live baits. He was also targeting Toman using small Keli (Catfish).
There are fish in the lakes obviously as the lakes are fairly large with lots of inaccessible area and snaggy sections but bites are few and far in-between. The Tomans (Giant Snakeheads) as expected are also not easy to fool. The whole time we were there the sky was overcast. There was very little surface activity.
Conclusion
A waste of time. Considering the distance that most anglers will need to travel to get to Paya Indah which also most likely involves toll payments, you're better of fishing one of the better managed pay-ponds closer to town.
Other observations
Much needs to be done to attract visitors to the Paya Indah Wetlands. Besides fishing there isn't much to do really.
The management of the wetlands should regulate the fishing and make it a catch and release fishing only for most of the lakes. This way, fish population will thrive and anglers will return again and again even if they have to pay a fee to fish.
Recreational fishermen are known to pay good money and travel long distances if the place offers good fishing. Just look at the many that travels to neighbouring countries (even to man-made stocked ponds) and beyond to fish. Top that off with a beautiful environment and we will have a winner.