I purchased my first bait casting reel over some 20 years ago. It was better known as a multiplier reel back then; over at this part of the world it was. Also known as the overhead reel, the bait casting reel is sometimes referred to as conventional reels in the U.S. They are known as the multiplier reel in Europe in reference to the gearing whereby one turn of the handle results in multiple turn of the spool. Confused yet?
I still remember the adventure I had learning to cast a bait casting reel in those early days. Casting a reel like that is alien to many back then. Most are used to just drop baits fishing off shore from a boat. There was also no YouTube where one can get some relieve from how-to videos. Heck, we were still using dial-up internet then! After what could have been 100 million backlashes (or spool overrun, or bird's nest… why can't we just agree on one term?) there was no turning back. To top it off, I happened to catch my first haruan (Striped snakehead) which remains among my biggest to date, on that very first day I was practicing casting. It was also caught using an artificial lure. Talk about fluke shots! So I was a bait casting, lure buying believer from that moment onwards (thanks Richard).
Fast forward 20 years where mobile phones has been invented and technology evolved tremendously, cars runs on anything but fossil fuel, cloning is a reality, and you get the idea. Who would have guessed the bait casting reel has, well, practically remain unchanged.
Other than the cosmetics and better materials used in the construction of these fishing there is not really much to talk about. Until we look at the products by U.S. Reel. Finally some innovation.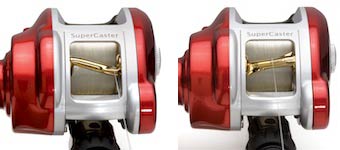 The first thing that caught my attention was the missing conventional level wind mechanism. It is replaced by a 'see-saw' bar that rocks back and forth thus pushing the line left and right as the handle is cranked, laying line onto the rotating spool evenly.
The manufacturer claims this reduces line friction significantly and in return enables lures to be cast further and with less effort plus reduced backlashes. There is truth in this, as distance casters are known to remove the level wind from multiplier reels in distance casting competitions.
A quote from their webpage:
Best of all, there is no learning curve… even a novice can fish this reel right out of the box! However, be aware. The SuperCaster reel casts much easier than any other baitcast reel you've thrown to achieve the same results. Without having to overcome the tension created by the line guide, line comes off easy so you don't have to throw it as hard, unless you really want to throw it FAR!
I can imagine this reel will also be easier to pitch baits with. Watch the video below to get a clearer understanding behind the design concept. Remember to share your thoughts in the comment box below. To check out their site, click U.S. Reel.