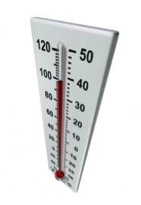 One of the most important yet overlooked aspects of fishing, is the effect water temperature has on a fishing trip. It seems like most diehard fly anglers will take their boats out no matter how warm or how cold the water temperature seems to be. However, as any good fishing expert will tell you, the temperature of the creek, lake or ocean you are fishing on, has as much to do with how many bass or trout you will catch as anything else. Here is what you should consider before taking a fishing trip.
Fish like any other animal, are easier to locate when the temperature is warm rather than cold. Similar to birds, fish attempt to switch to warmer locations during the winter months, and cooler locations during the summer, as simply put fish want to be as comfortable as we do. For instance, during the start of the fly fishing season in April when the ice breaks, more fish tend to gravitate to the top of the water surface to eat insects and minnows. On the contrary, as fishing season ends in late October to early November, most fish species swim down to the bottom of the creek, lake, pond or ocean, as the water temperature is warmer than on the surface.
What's perhaps most intriguing about the fish, is that they will most often gravitate to the break point of the water between the surface and the bottom. Also known as the middle of the road, the break point provides a comfortable compromise between the hotness and the coldness of the water. In an ideal situation, the bait on your reel will be able to swim down to the middle of the road, which in turn can attract many feeding fish.
Author Bio: Brad Jorgensen is a fishing enthusiast from Denver, Colorad and an avid blogger on the latest in fishing tips and techniques. Having traveled throughout North America seeking out fishing adventures, Brad is knowledgeable in a wide range or fishing topics.