I found lots of random image files occupying the desktop of my computer and things are looking ugly and messy. So before things get out of hand I better clean up the desktop and what better way than to post the images up and share them with you guys, right?
Gut wrenching
Billfish, including sailfish are known to regurgitate their stomach content in their attempt to eject the fishing hook. This is actually not uncommon and although it may look distressing, as long as they are not the results of gut-hooked fish, they are actually in no serious harm. More reasons to use circle hooks to ensure high survival rate after release.
The fish is held upright in the water to allow the gut to drop back in and the fish is then swam horizontally to allow it to regain its strength and with the boat moving, the water current helps to push back in the fish's gut. Gulp.
Cutting 'em off
There are times when even circle hooks become difficult to remove from a fish's mouth or jaw although they mostly get hooked in the corner of the mouth. The circle hooks, mandatory in Kuala Rompin by the way, sometimes even gets lodged deep in the bill. Likely due to the acrobatic nature of the sailfish in its attempt for freedom.
When we feel a hook may take more effort to remove resulting in more time and possible damage to fish, we just cut the leader as close as possible to the hook. This will ensure less nylon left in the ocean when the carbon hook eventually comes off on it on. That's how they are designed for.
Double quick
Irene watches as her catch is unhooked and quickly released as hubby, Barry, fights his sailfish off the starboard side in this double hook-up moment, common when sailfish fishing as sailfish tend to hunt in packs and common in Kuala Rompin especially during the peak season.
Man vs fish
Yours truly happy to release another sailfish and getting to be in front of the camera for a change
Proud moment
Barry watches as his sailfish is being unhooked, revived and released.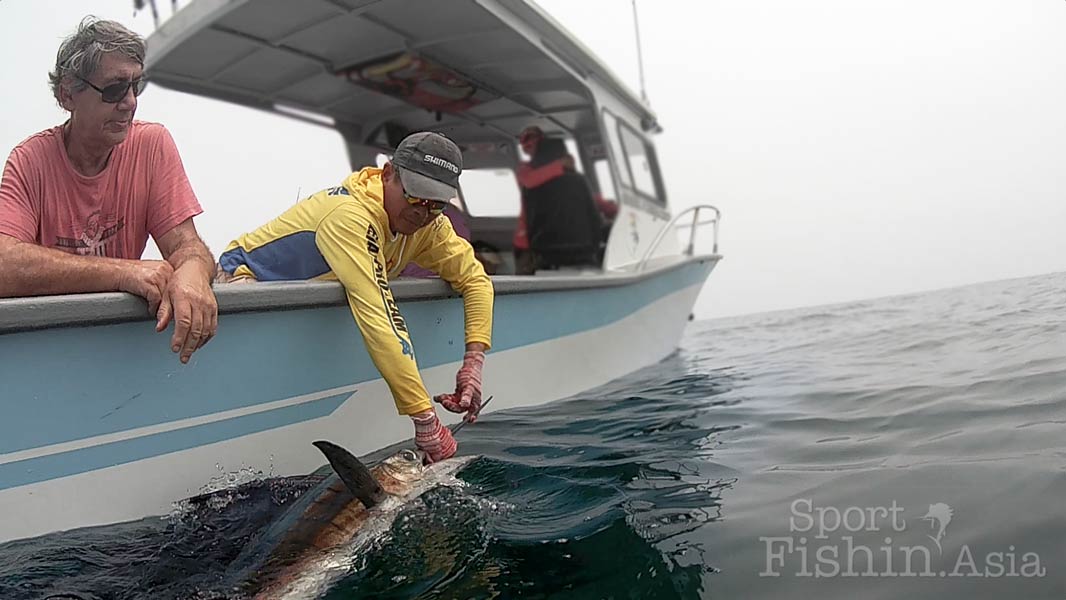 It's on the right!
Eddie, ready to cast his fly out, together with me watches intently as a sailfish overshoots the transom as the teaser is taken out of the water. Sailfish on fly is undoubtedly the most excitement you can have standing upright in a boat!
It was that big!
Cant remember what Mike who's seated was gesturing while I was re-setting the rod, could be the size of the fish he just caught.
Meanwhile, Mike's buddy Stu, slightly visible on the bottom left of the image is getting ready to land his sailfish.
A barrage of sailfish boats can be seen in the horizon. Common peak season sight.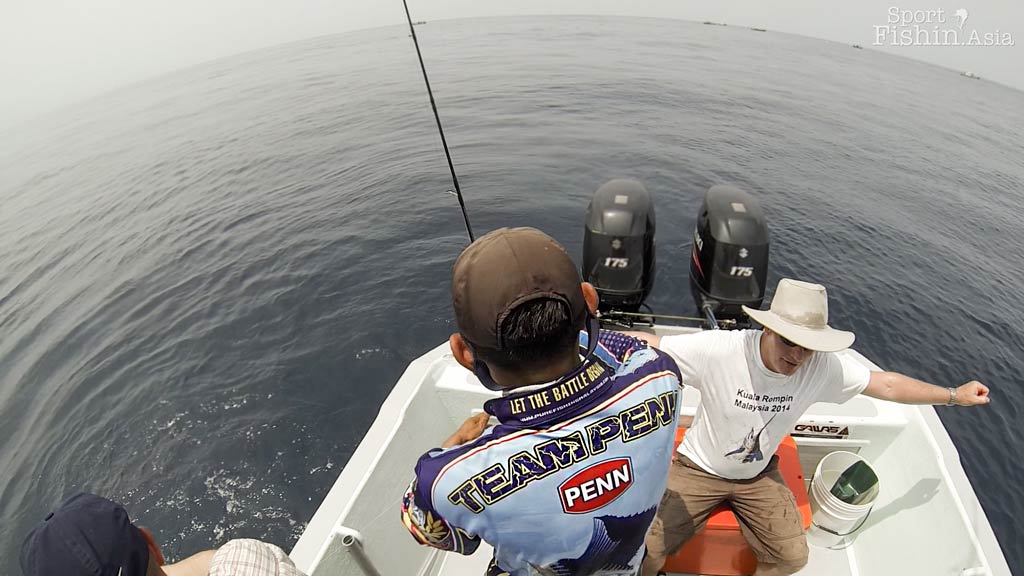 Battle for sailfish
I think this pair of hands belong to Phil from Ireland who's experiencing a long run by a sailfish on the Penn Battle II reel mounted on a Penn Battle Popping rod.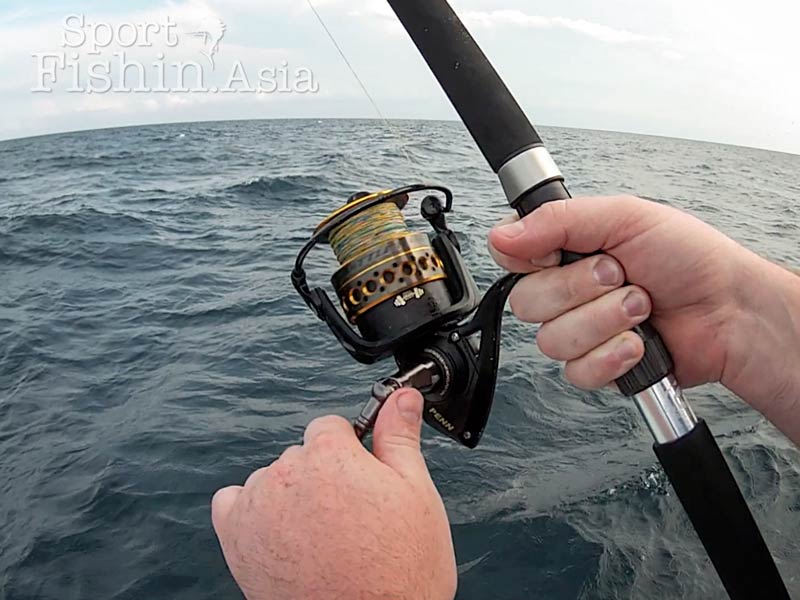 Family affair
Dan from Wisconsin came with his lovely wife, sister in law, brother in law and buddy. Everyone had a good time although it was not the peak season.
Read Dan's own written experience with us here.
Family and good friends fun, laughter and experiencing precious moments together. That's priceless.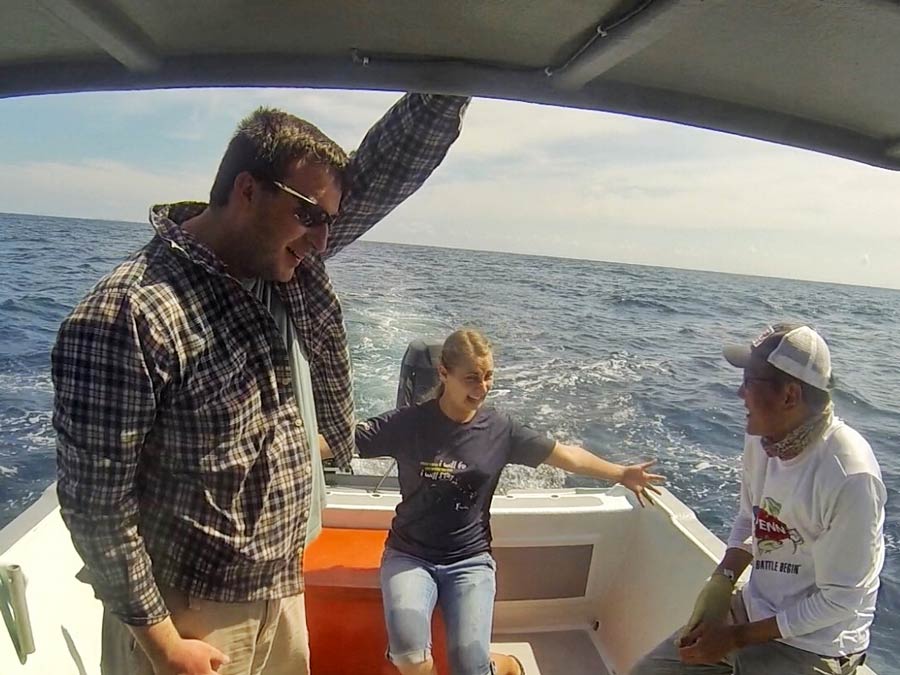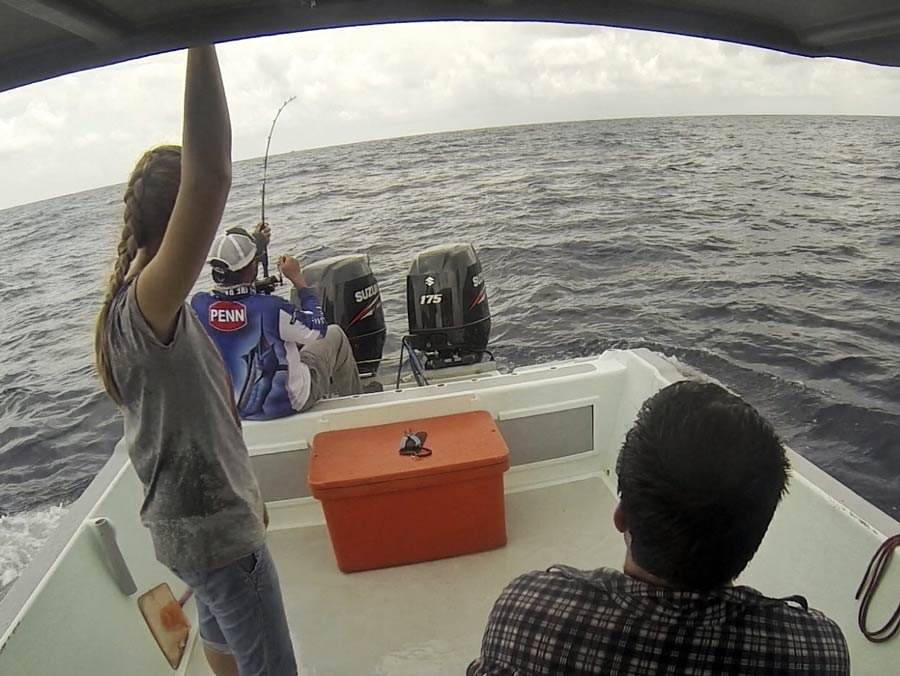 Speeding home
After a day of hard fishing guests will often find me fitted at the back enjoying the breeze. Okay, not really a breeze as I've had a couple of nice fishing caps blown-off! What happens is I often reflect back on the day and thankfully, although it ain't always the way we want the day to turn out, more often than not they've been nice.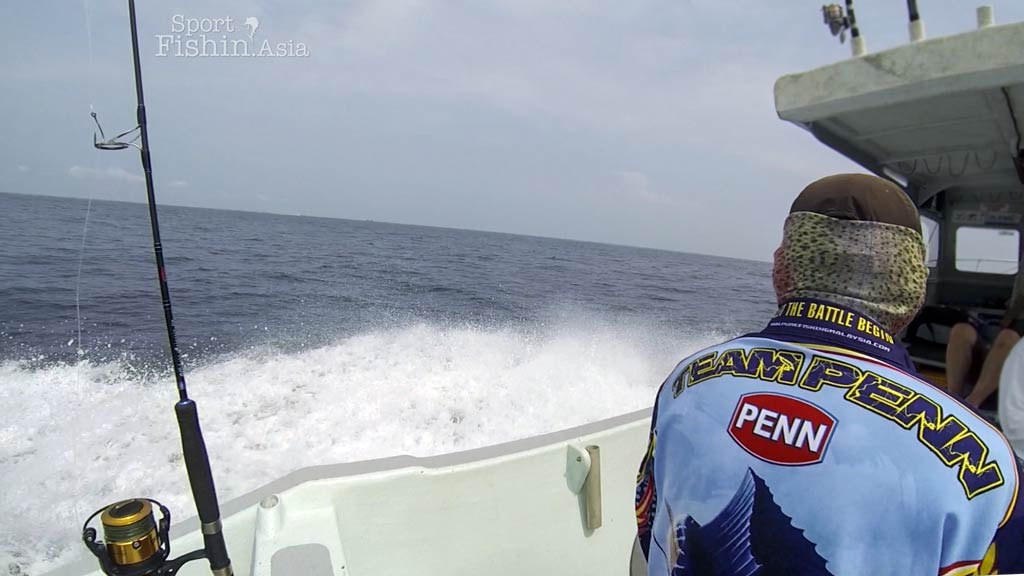 Peacock bass break
A peacock bass to break the sailfish streak. That also reflects on my fishing of sorts, plenty of sailfish fishing interspersed with other fishing in between such as peacock bass, mahseer, snakeheads, and so on.
That's a photo of Bob with a decent peacock bass in Malaysia. Trust me, Bob is a big guy and that is a big fish.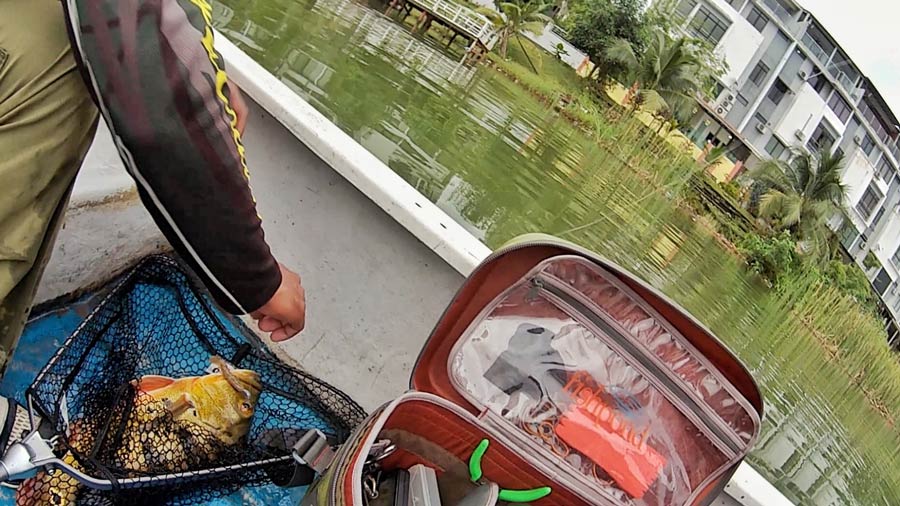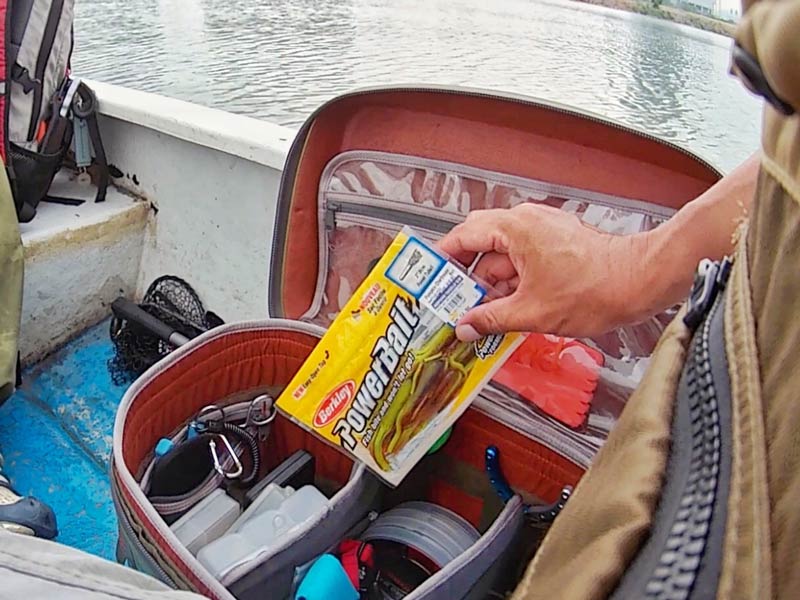 I love my job
These few friends had some of the best 4 days of fishing, catching countless fish from juveniles to huge sailfish. It was also a surprise birthday trip for Stu and there was two days of Mig and F/A 18 fighter jets doing low fly pass. Incredible.
Congratulating the birthday boy on catching some nice fish, big and small. Check out their trip in this post.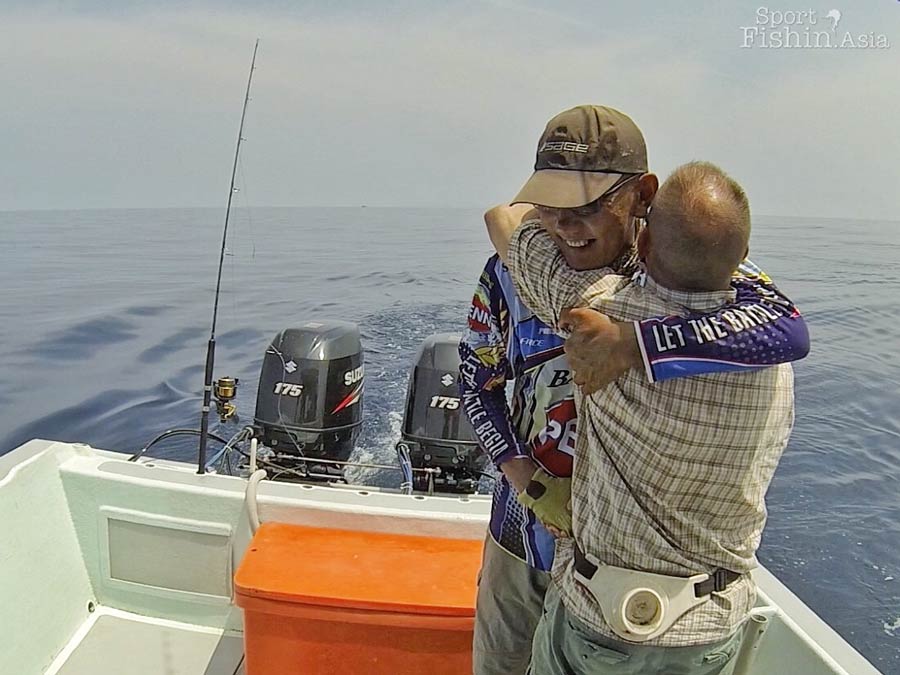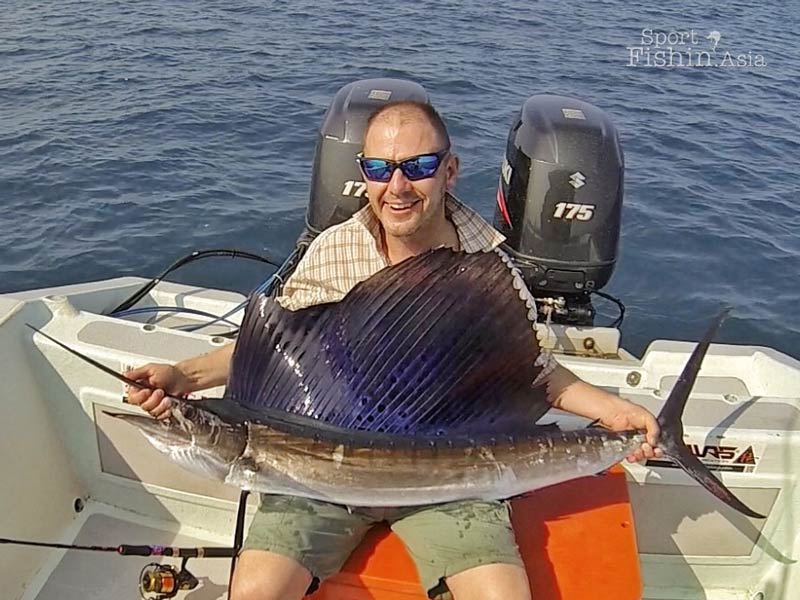 Action in a different perspective

Excitement for all onboard

There she jumps!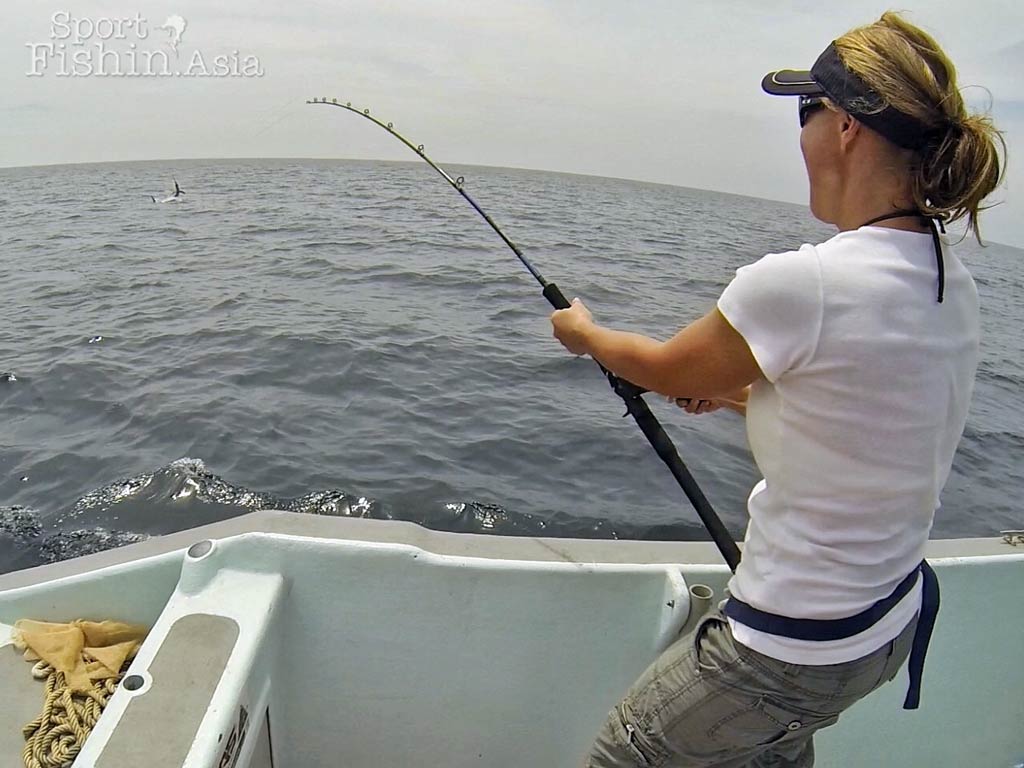 Life is short. It's all about experiences.
That's it for now. Until the next desktop spring-cleaning, normal service resumes!