I've often emphasized the importance of proper footwear. It can make or break a trip, literally.
My latest wading boots is a pair of Orvis Ultralight Wading Boots (retail US$169). 
They look great and feels great. But I had a rude shock when on one river fishing trip, the upper parts started to tear on both shoes on the third day!
I continued to wear them for the rest of the days, no choice really, but it is just that part of the boots.
The rest of the boots is actually holding up very well.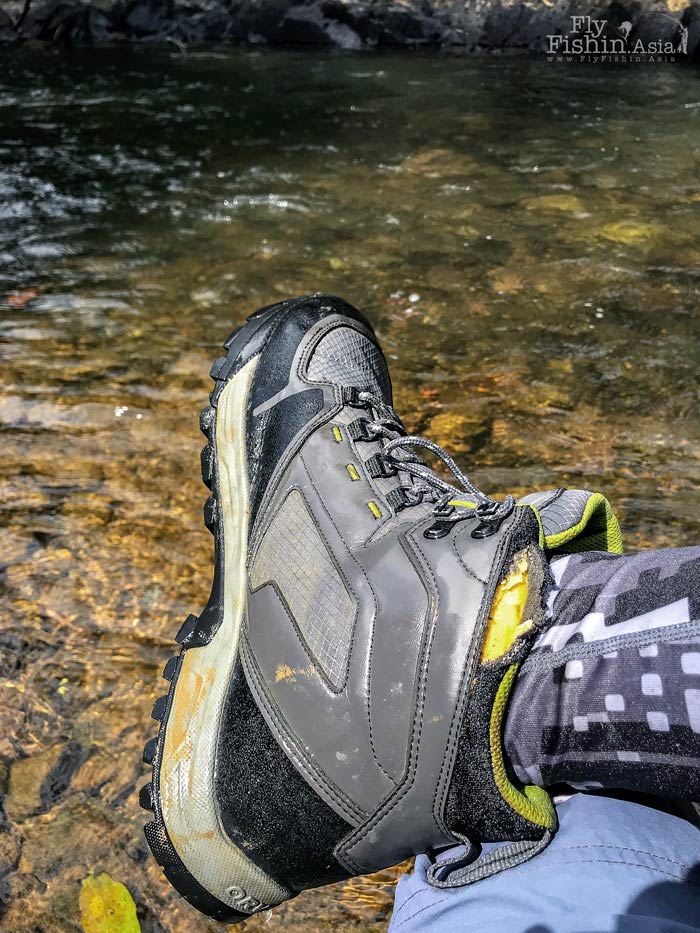 GAITERS ARE A GOOD IDEA
I wore the boots again on my following trip about three weeks later, this time with gaiters. 
These boots are not high-cut so pebbles and sand get into the shoes at every river crossing, which is required numerous times everyday. So it became a pain having tiny stones in the boots and having to take them off and on numerous times every day on the river.
So I recommend everyone to use gaiters if they have to do a lot of river crossing.
The gaiters also appears to protect the torn section of the boots and will prevent sand and small stones from getting into the openings. 
Another thing the gaiters do is they prevent the shoe laces coming undone by snagging onto the undergrowth when trekking through the thick jungle.
Other than that, the Orvis Ultralight Wading Boots are actually performing very well.
There are no noticeable wear on the rubber soles.
The metal studs are also staying on very well. I've not lost a single screwed-on stud although two of them have partly broken. This is very good compared to my previous boots where losing a few metal studs each day or trip are the norm. That's irritating as they aren't cheap and the need to always buy them.
This is what the Orvis site says
As an integrated part of the Orvis Ultralight Wading System, the Men's Ultralight Wading Boot offers exceptional performance and durability without the bulk and weight of a conventional boot. Helps eliminate the need to leave essential gear or clothing at home because of airline weight restrictions, and significantly reduces the energy expended in walking and wading. Over the course of the day this becomes a tremendous benefit for the angler in terms of the overall experience. In cobblestone/citron. Nylon microfiber with PU coating. Polyester mesh. Imported.
Men's whole sizes 7-14.
Offers exceptional performance and durability without the bulk and weight of a conventional boot
Quick-drying Clarino™ microfiber provides a better strength-to-weight ratio than traditional leather
Mini ripstop inserts provide added durability without the weight
Abrasion-resistant rubber spray adds an additional layer of protection in high wear zones
Tightly woven laces improve abrasion resistance
Custom Vibram® EVA midsole for all-day comfort
TPU plate for improved stud retention
Dual durometer Vibram® outsole featuring the proprietary Orvis lug pattern gives solid traction in wet and dry conditions.
Designed to accept metal studs in strategic locations if needed
Approx. weight 40 oz/pair (size 10M)
PosiGrip Screw-in Studs: Aggressive tungsten-carbide tipped screw-in studs that can be added to any wading boot with at least ½" of mid-sole depth. Sharp tip allows for quick and easy installation into felt or rubber out-soles. A must where maximum traction is needed. ¼" hex head screws. Adapter for power drill included. 20 studs per pack. Made in USA. *The screw-in studs are optional purchase. I recommend getting them if you're going to walk on slippery rocks.
Winner of the 2017 IFTD Best of Show Award – Men's Wading Boots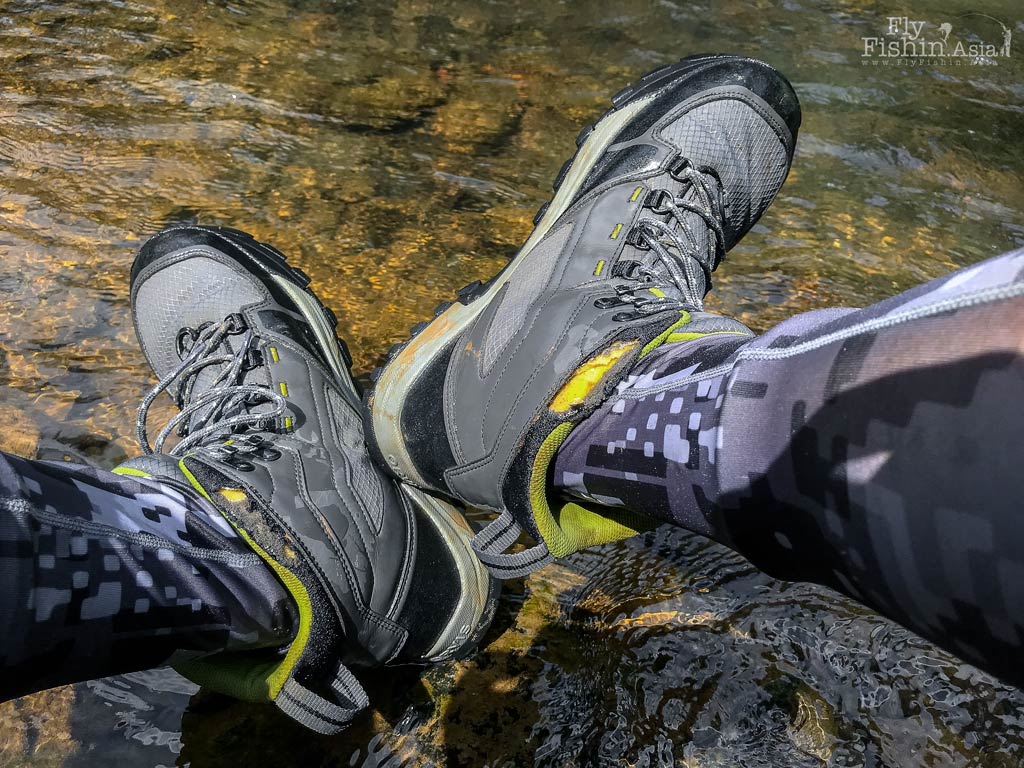 What sold me on these boots are "Ultralight".
Now, are they noticeably light?
They are when they're dry. Once they get wet, the weigh ultralight claim is not that noticeable. It is lighter than other wading boots that I've had but not by a lot when wet. I suspect it may be because of the foam padding used in some parts of the construction. 
You'll benefit from it a lot if your fishing trip don't take you into the water much. Lightweight helps trips with long treks, every bit of extra weight feels heavier and heavier as the day wears on and your muscles tire down.
That brings us to the next important point. Once out of water do they drain and dry quickly?
To speed up the drying process I place wet shoes upside-down, and after the last day of fishing I stuff old newspapers in them to absorb some of the water. When you do these, you will have drier and lighter boots or shoes. Helpful if you need to carry them home or take a long flight back.
QUICK-DRY
The quick-drying claim is not noticeable for me. They're still pretty wet, or damp, when I put them on the next morning after a lot of wet wading the day before.
At the end of the trip when I give the boots a quick wash and put them out under the hot tropical sun to dry, they still take a while to completely dry. Somewhat similar to my last wading boots – a pair of Redington Skagit Boot
What I want from wading boots
Comfort, very good traction on wet slippery rocks and boulders, true lightweight even when wet, durability. The way the boots look is of my least concern.