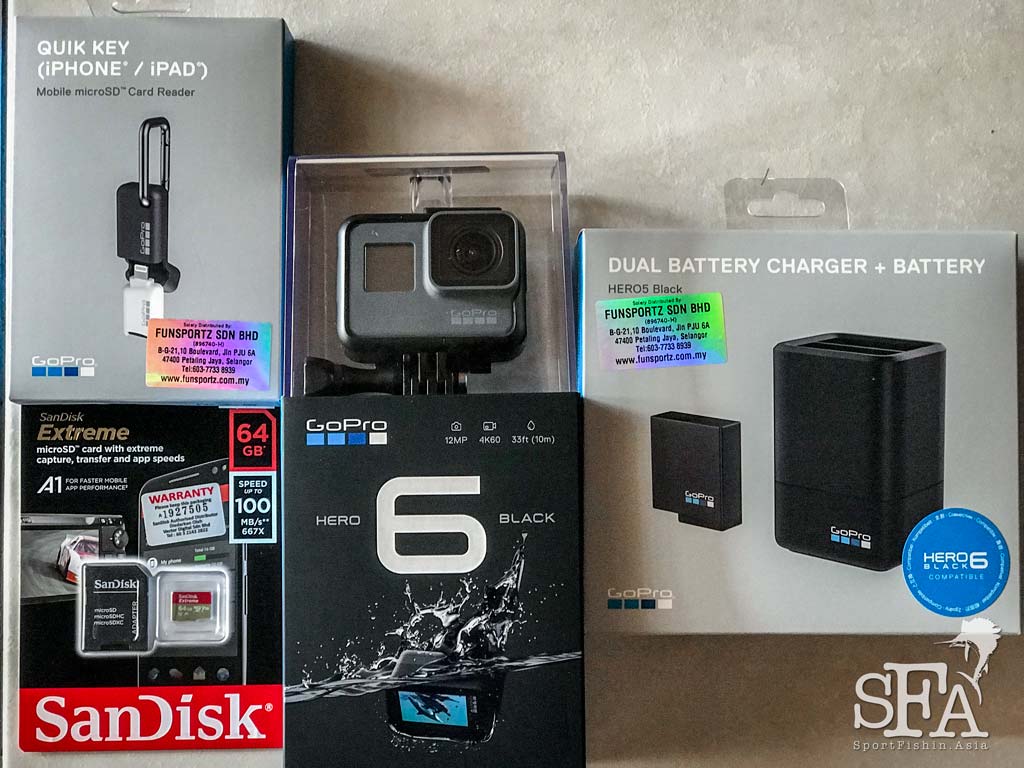 GoPro Hero 6 Action Camera For Fishing
I choose to use a action camera as my secondary camera as it needs to withstand the wet and bumpy environments. It is usually setup (mounted somewhere) to capture video and sometimes still images while I'm busy doing the guiding stuff and clicking away with my other handheld camera.
That job was mainly dominated by the HTC Re from the late 2014 when I received a review unit, up till the mid 2016 period. I lost this camera twice in Thailand, once in the world's largest open air market – Chatuchak market while on a fishing trip with Bob Skuza, and dropped it in the thick rainforest jungle of Khao Sok National Park while on a Thai mahseer fishing trip with Tim Kempton. Both times managing to find it back, on the next day in the latter case! Quite incredible.
Ever since the demise of the HTC Re camera I've been looking around for a replacement action camera.
The latest GoPro, the Hero 6 launched in October 2017 with its new features and improvements, look tantalisingly good.
First GoPro Experience Sucked
My first GoPro is the Hero 3 purchased in 2014. Or was that 2013? Anyway, I was disappointed with its image and video quality from the moment I started using it. Not to mention the dismal battery life.
Although my Hero 3 still works, the poor recording quality just won't cut-it in today's 4K age. And it's recording does not blend-in with images and videos from my other recording devices.
So after much thought, I purchased a Hero 6 online on Lazada, the eBay of Asia.
Lazada, Oh Lazada!
Even before the action cam got to work, the action has already started from the day the Hero 6 literally "dropped" into my home.
I heard a loud thud from inside the house and saw a package sliding to a halt on the driveway and caught a glimpse of a bike speeding off behind the gate. The bloody courier man just flung the package over the gate! No calls to see if anyone's home to receive the package and no need for anyone to sign a proof of delivery!
Not pleasant, luckily this is a tough camera, I thought. Too bad if I've bought a Hasselblad camera or a Patek Philippe watch!! Anyway, I felt quite pleased that they not only processed but even delivered my online order in less than 24 hours.
Bad courier but quick service, I'm thinking that should be reason enough to leave an online review.
But wait, there's more.
I opened the package and found a Hero 5 instead of a Hero 6. And no extra battery, charger and the Quik Key card reader that I also paid for.
A call to the GoPro Online Store number printed on the enclosed invoice was made to clear things up. The guy I spoke to was very responsive and acknowledged their mistake. I had to return the Hero 5 to get my replacement of the things I ordered.
At the end of the day I finally got what I purchased but not before investing some time running about which is totally unnecessary.
First Impression of the GoPro Hero 6
Everything is working and looking good. The Hero 6 makes my Hero 3 look primitive in comparison! I was hoping the Hero 6 to be lighter than it is but it isn't. Can't comment much until I start using the camera. So here's looking forward to producing more fishing videos and images for you guys.
What action camera do you use and how do you find it?