I am not familiar with Marc Petitjean or the Petitjean products – at least not before the International Fly Fishing Festival.
Then I received the fly fishing festival duty roster from Dron Lee and my first assignment was to pick-up this Swiss dude from the airport. That is how I quickly got introduced to Marc and got to know him and his products a little better over the following days.
I made a short video of Marc at his fly tying station in the main event hall. His products are without any doubt swiss-made to perfection. The tying vise is one of the nicest I've seen and his magic head thrilled everyone at the show. As we looked at the side-to-side swimming actions of the fly using the magic head – images of big toman (giant snakehead) and sebarau (jungle perch) striking the fly played in our heads…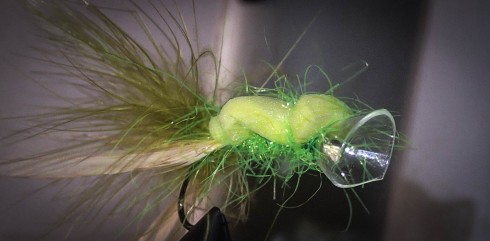 Departure souvenir from Marc for me. The magic head transformed this gurgler into a popper, too. A combined effort of fly fishing experts such as Marc Petitjean, Paul Arden, Dron Lee and Hans Van Klinken hatched while fishing in the rainforest of Royal Belum Forest Reserve.
You can find more information about Marc Petitjean from his website at petitjean.com