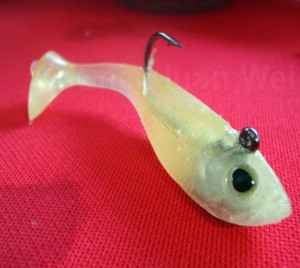 Artificial bait can be more effective in catching fish at certain conditions and even out-fishes live bait!
Lures are also extremely flexible in that it allows the angler to change style and approach to suit the ensuing environment, condition or target species. And every angler knows the ecstatic feeling and how it is always more satisfying catching a lunker with an artificial bait.
This is the River2Sea swimbait. It is a softbait designed for freshwater or inshore applications. The model shown here is the LBW-14 Live Eye Bottom Walker Shad. Like its namesake it should be fished slow just off the bottom.
The River2Sea Live Eye Bottom Walker Shad is available in 3 sizes of 8, 10 and 12 cm and available in 18 different colors. Eighteen!
This particular color recently caught this Striped Snakehead.