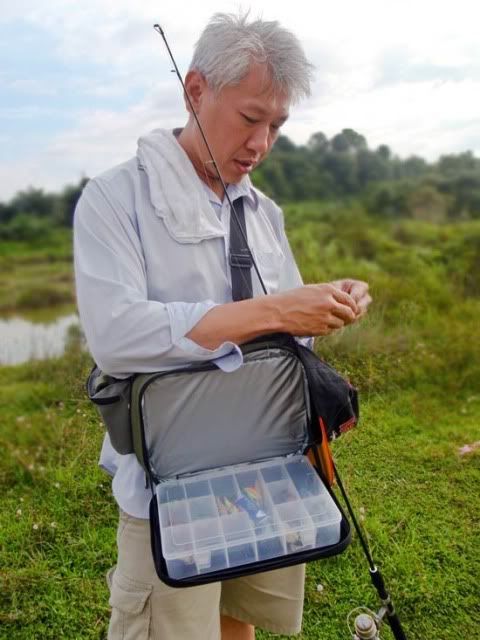 'ONE SIZE FITS ALL' is certainly not the case when it comes to finding that perfect tackle storage system.
A couple of days ago when strolling into Red Hot Angler, this Rapala Sling Bag caught my attention. Contemplated on taking it home to replace my aging Abu Garcia pouch but since I'm on an austerity campaign I decide to stick to what I had intended on getting when I went to the shop in the first place. That is buying a spool of 6lb fluorocarbon leader and a 2-piece bait casting rod.
A fishing buddy made a quick grab of it after being informed about this product which is also reasonably priced.
The Rapala Sling Bag actually comes in 2 sizes. The one in store was the limited series larger variety that holds two 3600 size lure boxes (included). The two boxes will easily hold 20 plus hard body lures, depending on size of course. That makes the Rapala Sling Bag perfect for a multi-day lure fishing trip.
On shorter day trips, you can remove one of the 3600 size lure box and just use the now empty zippered compartment for most of your other stuffs. One cool feature of this bag is the zippered compartment drops down and functions like a tray in front of you leaving your hands totally free to swap lures or re-rig your tackle. You can even do all this while standing in water. Heck, why not even served breakfast or lunch on it!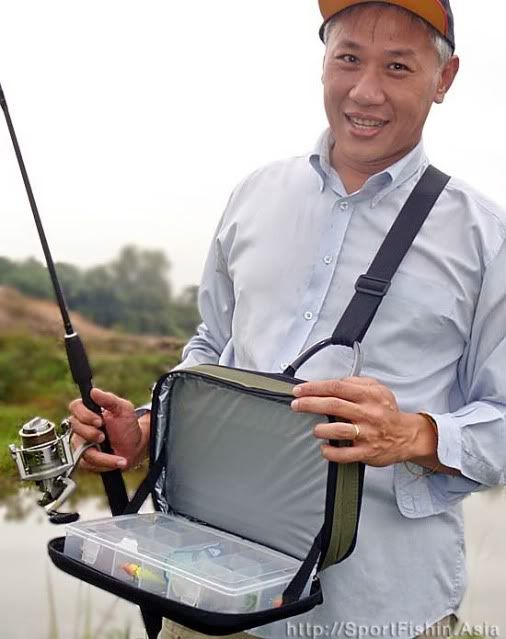 There are a couple more storage compartments and pockets of various sizes around the shoulder strap. The sling bag does not hold a whole lot of things but it is just right for a mobile lure fisherman. The materials used for the construction seem pretty good too. Like many Rapala products where the logo is real LOUD, the logo on this is also big but at least it is just embossed on the same colour as the background.
I'm sure the owner of this bag will give it a real trashing. Let's see how well it holds-up after a season or two of fishing. One perplexing thing is I'm not sure why it's called a 'Limited Series' Sling Bag though as it has been in the fishing scene for like 3 years now.