Above: Size comparison. The Playsport Zx5 next to my aging Sony Ericsson C702 water-resistant shockproof mobile phone. Yup, I'm a sucker for everything waterproof, shockproof, etc-proof.
I needed another camera to complement my taken-a-beating Olympus Tough which is also suffering from some plumbing issues. Will the Kodak Playsport be a winning candidate?
The Kodak Playsport Zx5 is the second generation model of compact waterproof video camera from Kodak after the Zx3.
The notable difference from the Zx3 is the added shockproof feature, concealed internal battery that is no longer removable and auto-focus lens with macro. The other changes are minor besides the aesthetics.
What I like about this camera:
Full HD – 1920 x 1080p, 720p (60 fps), 720p (30 fps) and 640 x 480
Compact – We move about a lot during fishing and always have too many things to lug around with already
Ease of use – equals less stress
Quick operations – a bonus in our action-packed hobby where catching that moment is a real bonus
The main points are of course the waterproof, shockproof and dustproof of the Playsport Zx5.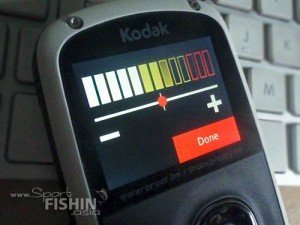 Microphone gain adjustment settings on the Kodak Playsport Zx5
Things to be concerned about
The Kodak Playsport Zx5 saw its first action recently out saltwater fishing. As with all my equipment it saw lots of action. Took many shots both still and video including lots of underwater footages.
I was disappointed upon checking the recordings later that the audio was muted after each dunking. It appears water that gets into the microphone opening does not dissipate quickly thus blocking out the sound.
I'm not sure if any crystalized salt may have settled inside the microphone. Looks like I have to take it out for more tests, again. Yay! more fishing.
Crappy waterproof SDHC memory card
The Kodak Playsport Zx5 does not come together with memory card out of the box. Bummer. I was assured that an OEM 8GB class 6 waterproof (!) SDHC memory card was good enough for use with the Playsport (I guess they are not fully aware how much of an abuser of gadgets they are talking to).
The card gave "speed" errors intermittently and I don't like that. It means it cannot read or write fast enough and it also mean I may miss crucial shots. You will see what I am talking about in a coming-soon video.
I will have to get better SDHC cards to re-confirm this issue.
An 8GB capacity card is about enough for use before the low battery warning comes on. 8GB will give 1 hour 25 minutes of full HD 1920 x 1080p video recording.
Though only stated to withstand drops from 5 foot or 1.5 meters onto a plywood floor, this video shows it survived drops from even the 9th floor.
While it is no GoPro, the Playsport Zx5 may just have a few tricks up its sleeve. The most obvious difference is the availability of a LCD screen. While the GoPro is the go-to camera for extreme sports type video recording I always find it handicapped with the exclusion of not knowing if you are framing your shot correctly.
Stay-tuned for updates for how the Kodak Playsport Zx5 performs image-wise and most importantly as a fishing companion.