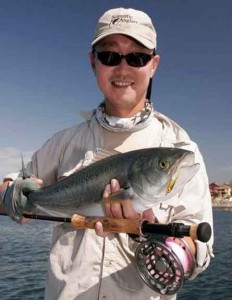 Dr. Chie Kai Ling or affectionally known as 'LING' or 'DOC' is Malaysia and South East Asia's first Master Casting Instructor (MCI) having obtain the certification in 2011.
Dr. Ling started fly fishing while attending medical school in England some 20 years ago. After he completed his medical training, he returned to Malaysia to dedicate his life helping other people as a doctor and also bring back with him his new passion in fly fishing. Dr. Ling with a few keen Malaysian fly fisherman tirelessly ran casting workshops to nurture the interest of the local fly fisherman in Malaysia.
Inspired by Dr. Ling's achievement, a good number of Malaysians and others from surrounding regions such as Indonesia and Taiwan has took the FFF Casting Instructor (CI) test.
Doc is active in participating in fly fishing shows and events locally and abroad such as the highly successful 2012 IFFF in Kuala Lumpur, the upcoming 2014 China Fly Fishing Convention in early May and Mini Borneo IFFF in Sabah on 30-31 May 2014.