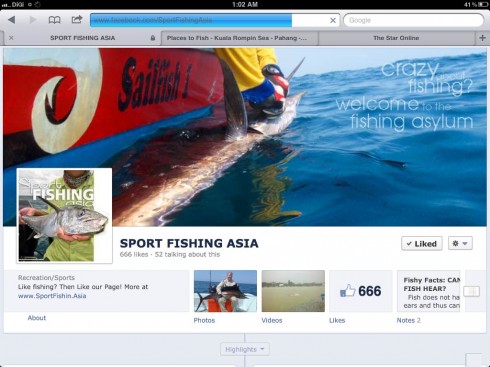 Are you one of the 666? Well if you are, you are awesome and thank you! Facebook have been a handy channel to stay connected to many of our readers. If you're on Facebook and have not 'Like' Sport Fishin' Asia yet, hurry over and click that thumbs-up button on the right!
We share lots of quick updates, information, news and pretty much anything interesting related to fishing on Facebook.
666
On 26 June 2012 while sailfish fishing at Rompin, our page hit 666 likes. What a number! While we are still a long way from that 7-digit number, we'd like to thank all of you for your support.
Meanwhile, readership here, on the site have been growing steadily having surpassed the 6-digit page views since 2011. Leave a comment below on what you'd like to see here and if there's anything you feel can be improved on. Keep on truckin'!