YELLOW-SPOTTED TREVALLY
Carangoides fulvoguttatus also called gold-spotted trevally
Found in rocky and coral reef areas, offshore banks, and seagrass beds in the Indo-West Pacific tropical and subtropical regions of the world. Often in the edge of reefs searching for food. Can grow up to 1.2 m long, are usually caught at sizes much smaller and about 1 kg. Juvenile (smaller than 100-120 mm) are uniformly silvery-grey, with a few golden spots.
Photo above of American, Paul Colvin who landed this nice yellow-spotted trevally while fishing with his friends in Kuala Rompin.
Trevally can live for about 40 years. They grow quickly for the first four years, taking about 5 years to reach maturity. Afterward, growth slows down.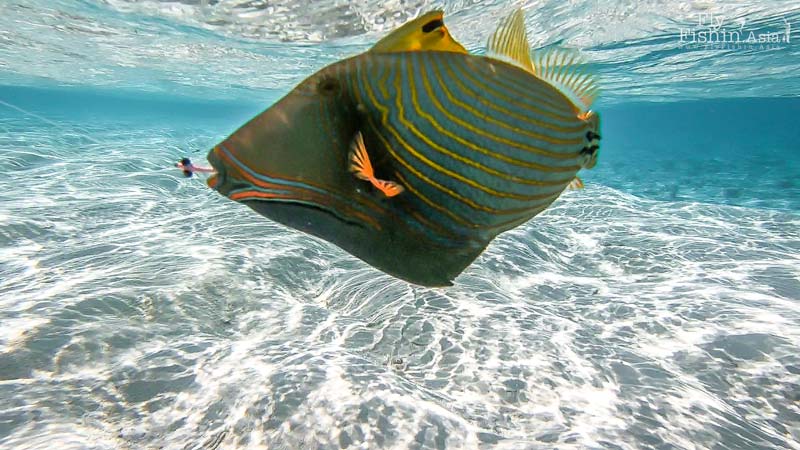 TRIGGERFISH, ORANGE-LINED
Balistapus undulatus, also known as the Orange-lined triggerfish. They don't get very big, up to 30 cm long.
Widely distributed throughout the tropical and subtropical waters of the Indian Ocean and the western Pacific. Inhabits coral reefs, lagoons and external reef slopes at depths up to 50 meters.
Varied diet such as algae, molluscs, sponges, hard coral tips, echinoderms (starfish, sea urchin, sea cucumber), and fish.
Diurnal (active in daytime), solitary, and territorial. Can be aggressive with other fish.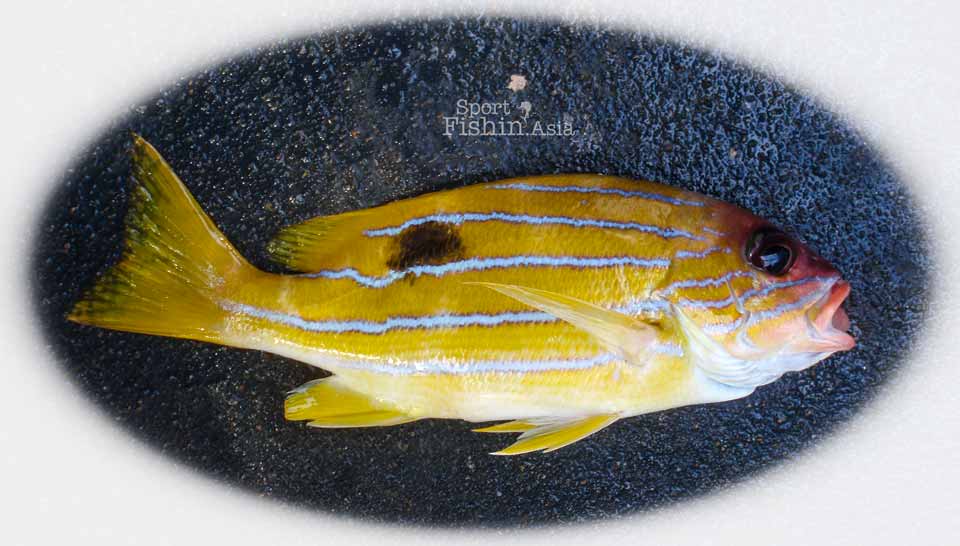 BLUE BANDED SEA PERCH (Lutjanus quinquelineatus)
Also known as the five-lined snapper or local name, ikan kunyit.
Usually found in schools of 100 or more swimming in reef areas, 2 – 40 meters in depth.
Feeds on small fish and bottom living crustaceans.
Common sizes: 20 – 40 cm (8 – 16 inches)