When you picture the peacock bass, it is only natural that the Amazon rainforest jungle comes to mind. Well, the peacock bass is also commonly found in the the many ponds and lakes of Malaysia – thanks to some enterprising fish importers back in the early 1990's.
Kinta Valley – peacock bass central, Malaysia
The Kinta Valley in the mid-west area of Peninsular Malaysia is the "birth place" of the colourful and ferocious peacock bass here. The Kinta Valley surrounds the Kinta river just south of Ipoh, the state capital of Perak. Thanks to its reputation as being the former largest tin producing area in the world, the area in and around Tapah, Gopeng, Bidor, Air Kuning and such are littered with hundreds of disused mining ponds.

A beautiful peacock bass by Nick
The peacock bass are also beginning to be found in neighbouring countries (introduced mainly as a sport fish) but at these countries they are just starting to be introduced and they are not quite near as extensively found in West Malaysia.
Living alongside the locals
The peacock bass have well and truly settled in to their new home striving alongside native predatory species such as the striped and giant snakehead, the jungle perch and others. This is a fact as these local species are also regularly caught while fishing for peacock bass.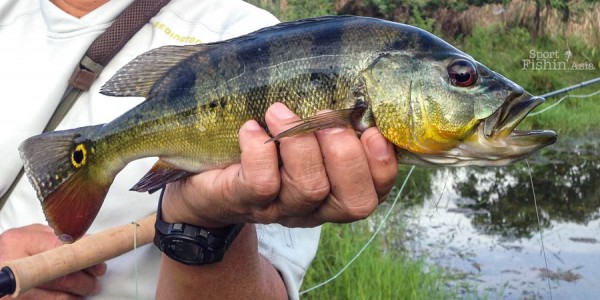 Check out the colours and pattern on this specimen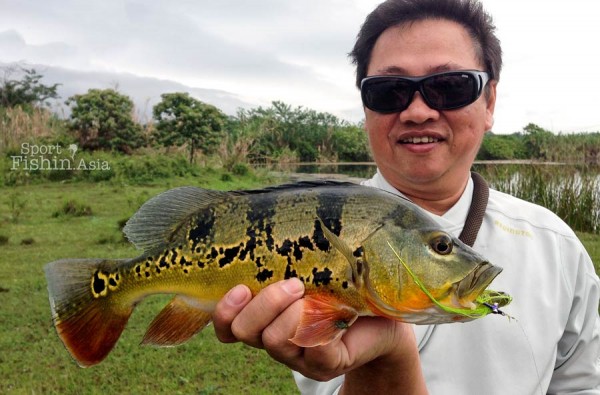 Without a doubt one of the most colourful freshwater sport-fish around. Fun to catch, too! What's not to love about them?
I have fished for peacock bass with spinning, bait casting and fly-fishing outfits. I have to say fly fishing have proven repeatedly to have an edge over the other methods through my own experience and observation. Having said that, you do have to know how to fish for them and what gear to use to be effective. Knowing the waters also gives you an added advantage.
So what do you need to fly fish for peacock bass in Malaysia?
Rods
A weight 6 or 7 will do fine in nearly all situations.
Lines
Fast sinking is my go-to line (most peacock bass hang out deep). Intermediate is an alternative but from my experience takes too long to get down to the deeper sections.
Floating lines when fishing poppers or gurglers in the early morning or during feeding frenzies.
Leader and Tippett
Nine feet – 12 lb. For heavy cover – 15 or 17 pound tippets.
Flies
Clousers – white, chartreuse. Shrimp flies. Gurglers.
Apparels
Comfortable clothing with sun protection. Although not essential – natural or camouflage coloured clothing can help when fishing spooky waters. I prefer cargo shorts if land based and long pants when fishing from the boat. Bring a rain jacket – this is Malaysia.
Productive times
Peacock bass generally bite all day long but early morning and late afternoons are the most productive.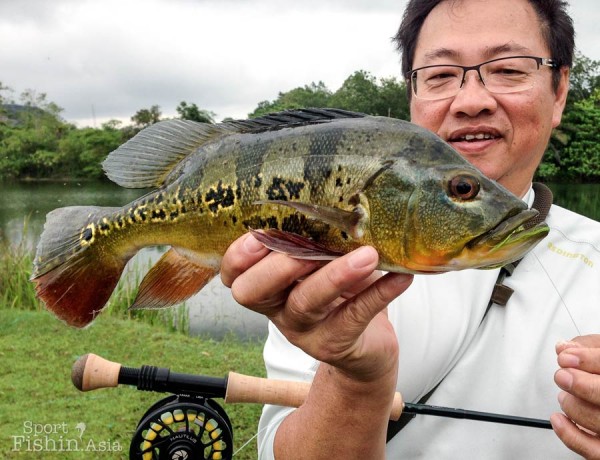 What can we say but this guy knows how to catch them!

Hook-up at the corner of the mouth on almost every single fish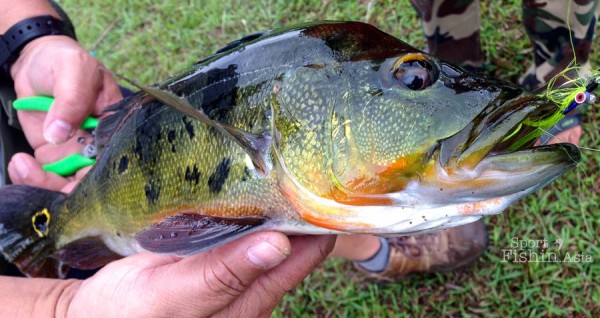 All photos above shows a different fish. I enjoy photographing peacock bass almost as much as I love fishing for them as they're such stunningly beautiful looking fish! All photos taken with my iPhone.
Leave a comment or Contact me if you want to know more about peacock bass fishing.