Malaysia went into lockdown due to the global health crisis on 18 March 2020 and nearly everything came to a complete standstill including fishing.
Many anglers must have struggled to contain their "itch" and what a relief for some when everything opened up again after 3 months of lockdown on June 10th.
Nick, Tuz and I picked a place we've not been for sometime to fish, Natural Exotic Fish Fishing Pond, yes that place with a mouthful name! Or NEFFP in short.
Up For The Challenge
Lure and fly fishing is usually challenging here as with all catch and release stocked ponds as fish gets wary of our fake baits. But overcoming the challenge is what us lure/fly fishers strive for.
When it all comes together, when a fish gets tricked into eating that fake offering, that eat-hookup moment must be felt to be truly savoured. Landing the fish is just a nice bonus after that.
Ready to Pop
NEFFP opened on that day at 7am. I went prepared with a few popper flies as I had a hunch maybe the fish will be obliging after being in "lockdown" themselves. They must have forgotten some things such as recognising fake baits.
Unfortunately when we arrived, and sort of expected but hoping I could be wrong, other anglers had the same idea although it was the middle of the week being a Wednesday.
Seeing other anglers around (mostly bait anglers) and already landing fish including the chaophraya fish, I decided to abandon my popper fly idea and went deep to increase my chances of at least getting onto some fish quickly. It's hard to beat bait-fishing you know what I mean?
That's one of the downside of fly fishing in NEFFP, very limited casting space.
After setting up the very affordable Fly Marque 11/12-weight rod (first time using that) with an old Sage reel loaded with 10-weight Rio Outbound Short line – I tied on a white streamer.
Chaophraya Chaos!
After a few cast something ate the fly during a moderate strip very aggressively. The fish came up at the far side and made a splash and it looked like a chaophraya – yes! One of the most-sought after target species here due to their size, power and aggressiveness.
At the very first run the Sage reel knob came flying off the handle! The fast spinning bare stem put a cut into my knuckle. Ouch!
I was lucky to be able to quickly pickup the knob from the ground and insert it back. It had to pull it out every time the fish made a run or I might loose the the knob again.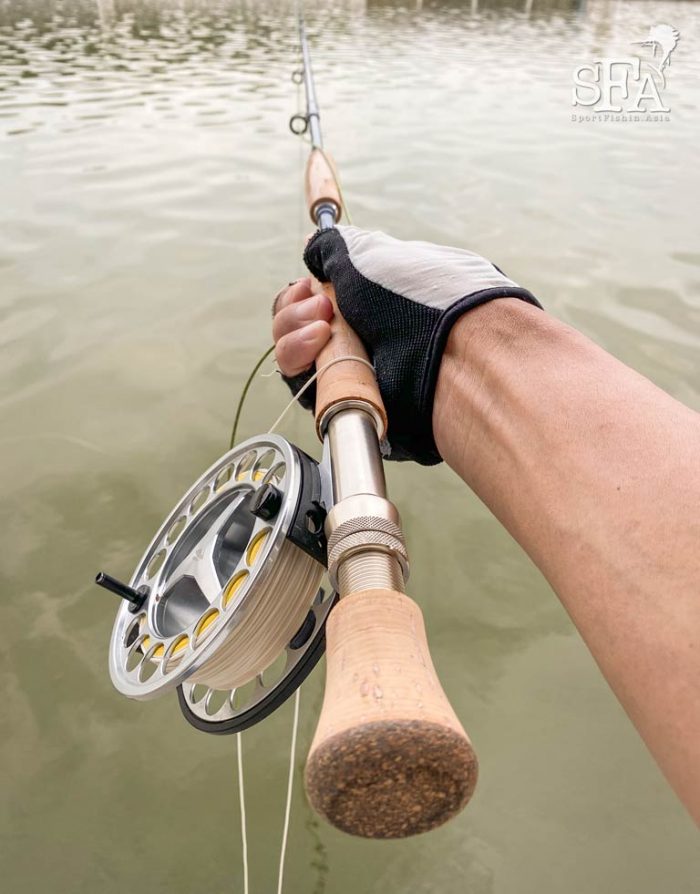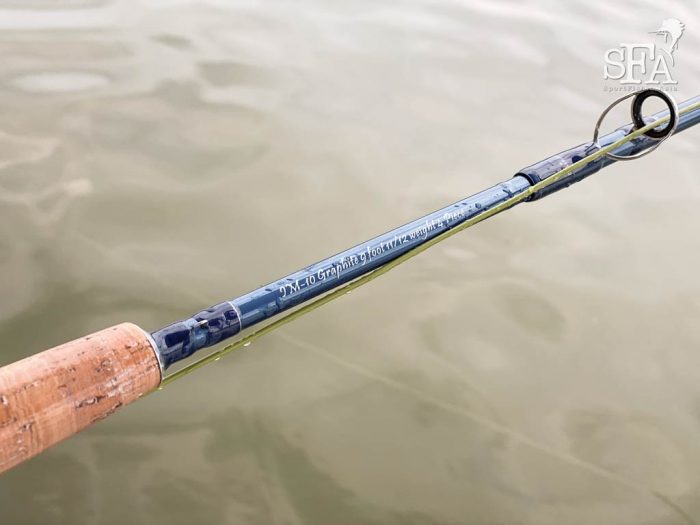 That made things slightly more challenging but the extra handle on the Fly Marque rod was great for fighting heavy hard pulling fish like this.
After a couple of minutes the fish was netted and a few quick photos taken.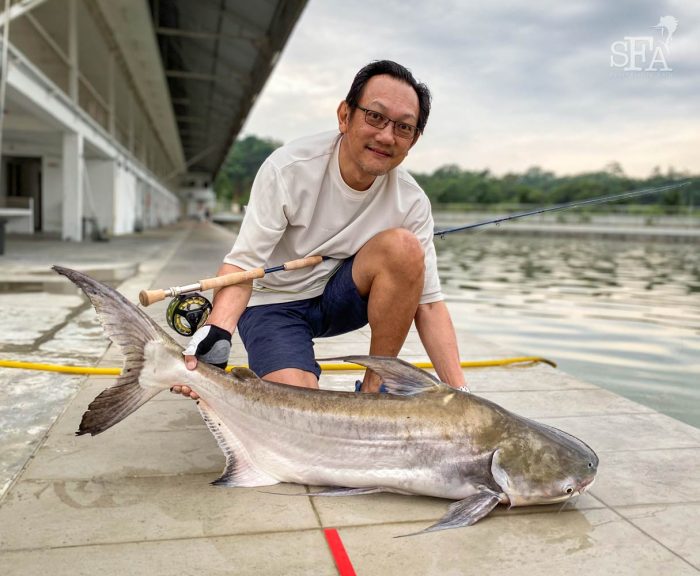 The chaophraya fish or giant pangasius is possibly the most aggressive of the shark catfish family (Pangasiidae). Native to the Chaophraya and Mekong basin, they are also called the dog eating catfish for reasons I don't know!
Full grown chaophraya fish can reach 3 meters and weigh 300kg!
During our short 2+ hours fishing session that morning I easily witnessed 10 or more chaophraya fish landed, most on bait but a few on lures including at least one on a popper and another on a stickbait. Nice!
We could also see chaophraya fish rising on the surface all morning.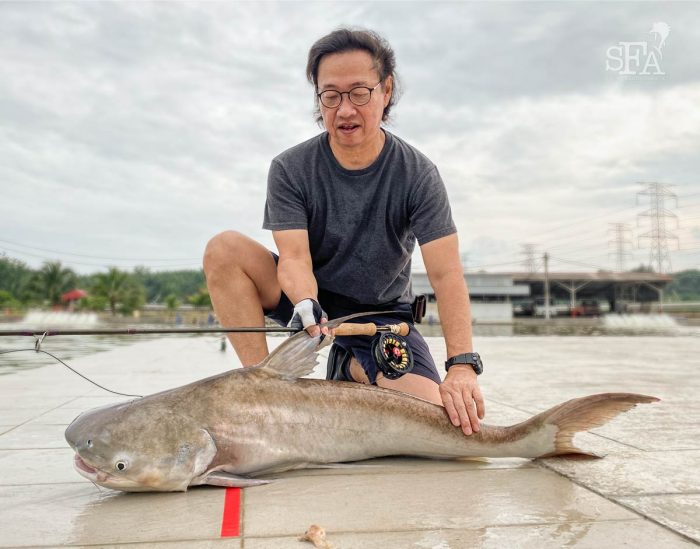 Nick, too had a chaophraya fish and Tuz had a couple of battles but unfortunately lost all the fish.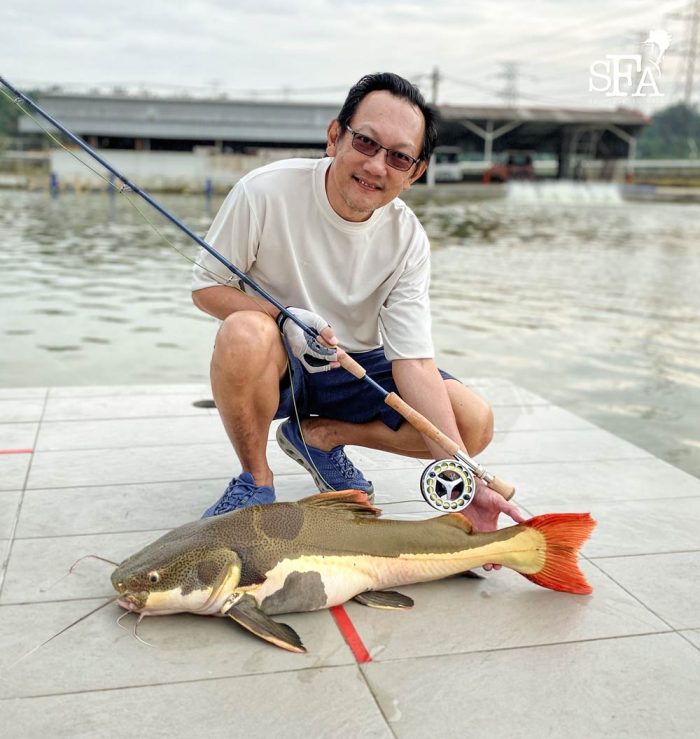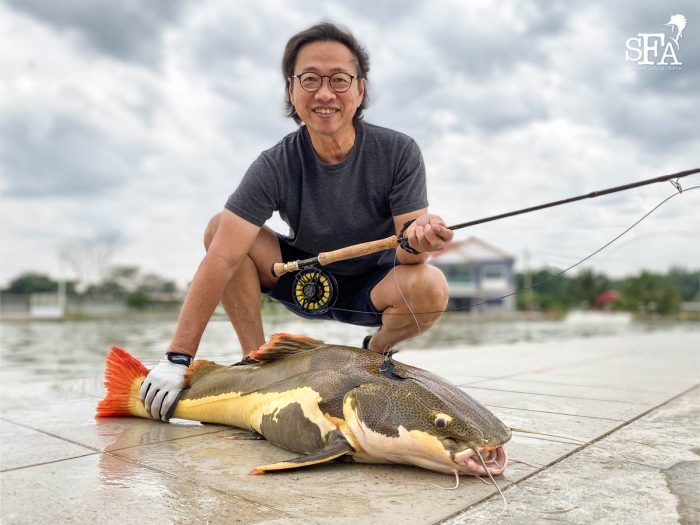 More and more anglers was streaming in and we called it a day early after a couple of fish landed and some lost ones.
I was surprised to see how many chaophraya fish there was in this place and am quite sure there could be quite a few more not getting caught.
Too bad I didn't get to attempt on getting one on the popper fly. Might have to wait for the next pandemic!