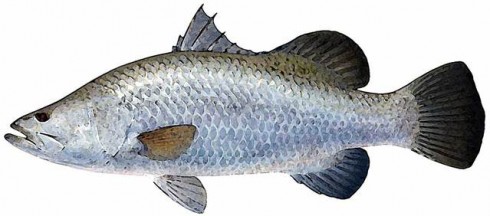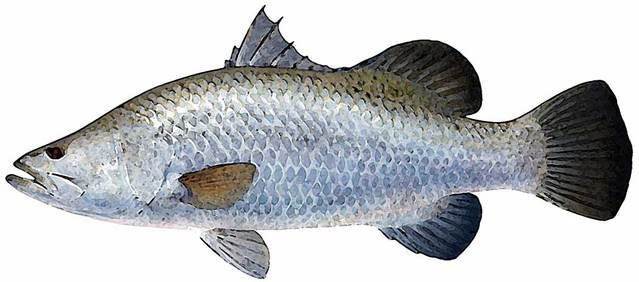 Barramundi is a loanword from a Queenslander Australian language of the Rockhampton area meaning "large-scaled river fish". L. calcarifer is also known as the giant perch, giant seaperch, Asian seabass, Australian seabass, white seabass, and by a variety of names in other local languages, such as Siakap in Malay. It is nicknamed the silver jack.
Barramundi is a salt and freshwater sportfish, favored by many sport fishers. They have large silver scales, which may become darker or lighter, depending on their environment. They grow up to 1.8 meters long (up to 60 kg), though evidence of them being caught at this size is scarce.
The Barra are not a threatened species and are a catadromous species, that is it grows to maturity in the upper reaches of freshwater rivers and streams and adults move downstream, especially during flooding, to estuaries and coastal waters for spawning.
Barramundi are protoandrous hermaphrodites: they start life as males and later change gender and become females, usually at around age 5.  The species is sequentially hermaphroditic, most individuals maturing as males and becoming female after at least one spawning season; most of the larger specimens are therefore female.
Highly prized by anglers for their good fighting ability, barramundi are reputed to be good at avoiding fixed nets and best caught on lines and with fishing lures. In Australia, the barramundi is used to stock freshwater reservoirs for recreational fishing. Fishing techniques revolve mainly around casting and retrieving all types of lures including soft and hard body lures. Trolling is also a favoured and productive technique for impoundment barramundi. Impoundment barramundi are also a popular target with surface lures as they are known to eat all types of foods from the surface of the water including frogs, injured baitfish and even baby swans and other birds. The distinct 'boof!' noise which barramundi make when surface feeding can easily be recognised and echo up to long distances at quiet times like still nights. Barramundi are also popular on heavier weight fly gear, and they will take live bait, especially mullet, prawns and macrobrachium (a giant freshwater shrimp).  Whilst some excellent specimens have been taken on dead baits, it is not generally a recommended option.
Many anglers travel to Queenslands barramundi impoundments to catch the elusive 'metrey', a barramundi measuring in excess of a metre and weighing anywhere from 10kg – 25kg, depending on the fat level of the fish. When hooked on a lure, the barramundi will often clear itself from the water several times throughout the battle and make long powerful runs. This is what makes it such a popular target and it is believed that when you have caught one, it can become addictive!
The eating quality of impoundment barramundi is quite low, with a rating of around 1.5/5 stars. The flesh has a 'muddy' taste due to the barramundi spending all of its life in silty, freshwater environments. Although, some people do have their own cooking recipes for removing or masking the muddy taste. Barramundi have a white, flaky flesh on them, though the larger freshwater ones commonly carry a lot of body fat. Specimens captured from salt/estuarine waters are delicious, with firm, white, fine-grained meat.  However, fish that have spent some time, even years in turbid, muddy water in some back water can be an entirely different story and their flesh can range from very tasty to inedible.Barramundi are a favorite food of the region's apex predator the Saltwater Crocodile, which have been known to steal them from unwary fishermen. The fish is also of large commercial importance; it is fished internationally and raise in aquaculture in Australia, Malaysia, India, Indonesia, Thailand and the United States.
Barramundi are generally placid in the aquarium, although the feeding reflex is still violent and sudden. They will take live or frozen bait fish, prawns and mussels.  In contrast to the wild where Barramundi appear to be mainly nocturnal feeders, in aquaria, they will readily feed in daylight and become very tame.