Kuala Rompin in my opinion has changed the billfish on fly scene. Due to the sheer number of fish (opportunities) it has transformed a most challenging task to within the possible reach of many. And at an affordable rate for the adventurous fly fishermen.
Visit our dedicated FLY FISHING ASIA WEBSITE
There is no guarantee you will be successful in your billfish on fly pursuit although you will likely be presented with ample opportunities.
Solidly hooking a sailfish on fly, keeping it hooked and landing one is still quite a challenge. With favourable numbers, raised-eat-hookup conversion rates can still be quite depressing most times.
That challenge itself can be the appeal to fly-fishers who cherish the process and the hunt, as the reward of success will ultimately be oh-so-sweet.
The fight itself will be epic when you successfully coax a sailfish to take your fly. When it all comes tight, your loose fly line would have cleared all your rod guides before you can say fish-on and you are already on your backing.
Hopefully you will be wearing gloves to avoid getting burned or cut and keep those fingers and knuckles away from the now spinning-like-crazy fly reel.
Before all that though, how do you catch a sailfish on fly?
The most popular methods that consistently produce billfish would be the bait and switch techniques.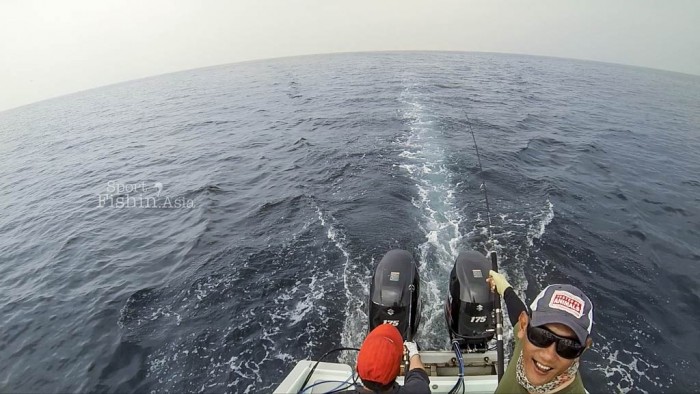 Bait and Switch – Trolling Teasers
This method have been proven many times over everywhere around the world of billfish fishing. It is especially effective as a way of raising billfish from the depths to the surface giving fly fishermen an opportunity to present their flies to the target fish.
Raising sailfish from the depths is probably not the main reason this method is deployed at Kuala Rompin as you will be fishing in mostly depths of around 20 to 30 meters (60 to 90 feet). Yes, it is that shallow here in Kuala Rompin.
Anything from two to twelve teasers may be trolled behind the boat to attract the attention of billfish. Teasers are normally made up of birds and/or skirted lures (baited or non-baited).
When sailfish are spotted going for the trolled teasers, the crew springs into action to reel in the teasers to within casting distance for the fly fisher. The skipper then throttles down and eventually kills the engine when it is possible to get a sailfish to strike on the fly.
The trick is to get the sailfish to strike on the teasers and at the right time take it away from them. The fly have to be presented to the now hopefully agitated sailfish which will be searching for the teaser and strike on the fly when it sees it.
Bait and Switch – Casting Poppers or Lures
This method is more satisfying than the first method as it involves casting to, and hooking-up a free swimming sailfish. It is similar to the above except we don't troll teasers but rather drift the boat and lure the sailfish in by casting artificial lures such as poppers.
This involves a lot of spotting and casting by the crew. The fly fishermen too, have to be a competent caster. Good with a heavy fly rod, able to cast a big fly quickly and accurately. Often times the fly fisher will only have seconds to present the fly to the sailfish.
Like any type of fishing, the hook-set is the most exciting and most fun moment. And it is hard to beat the hook-set moment of fly-fishing especially when sight fishing for sailfish.
However, get ready to be disappointed over and over again as the sailfish turns away at the last moment and you not able to put the fly where the fish is and quickly enough.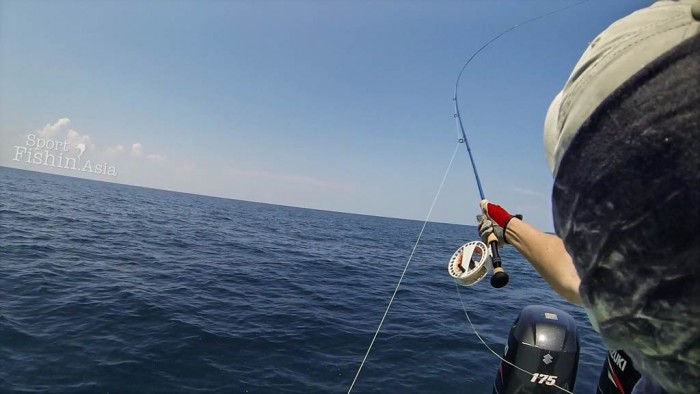 Casting to Feeding or Free Swimming Fish
There will be times when we run into a school of sailfish feeding on a bait ball. This is a very good opportunity to get a solid strike on the fly provided the angler can react quickly. It is difficult to describe the scenario but it is an absolute rush often accompanied by shouts of excitement and bewilderment.
This method can be daunting and frustrating as we can often appear to be just out of casting range of the sailfish.
So how about giving it a shot yourself?
Should you have any questions about fly fishing for sailfish, wish to make a booking or enquire about available dates, please contact us here.