Anyone who has traveled around the world chasing billfish on fly knows how frustrating it can be to successfully hook and subsequently land one.
At Kuala Rompin, sometimes we get lucky, sailfish everywhere and chasing down food aggressively. We refer to these sailfish as 'new arrivals'. These newcomer fish just seem more willing to woof down everything they come upon. In situations like these, it is pure sight-fishing ecstasy. When that happens, you'll know you're at the right place at the right time.
Visit our dedicated FLY FISHING ASIA WEBSITE
At most times however, you've got to work for them, and work hard, too. Using teasers, either trolled or casting hookless popper as teaser. And you need to be a competent fly caster – and a very quick one. I cannot emphasize enough on casting ability and speed.
Casting a hookless popper as a teaser is I feel, one of the most exciting way to catch a Kuala Rompin sailfish on fly. It gets real close to casting at free-swimming sailfish – often working on schools of bait. To attempt this, the conditions must be just right, which does not happen all the time.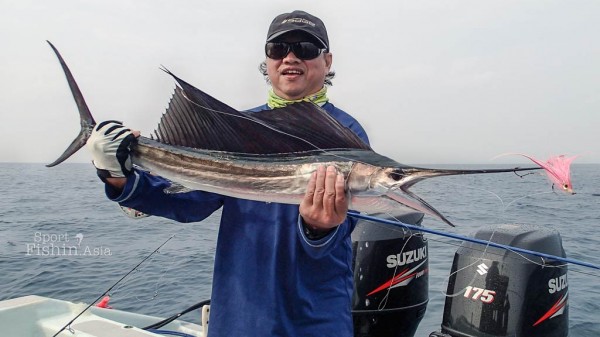 Here are some things you should prepare for if you're planning your (especially first) Kuala Rompin sailfish fly fishing trip:
Casting on unstable footing – rocking boat
Ability to present your fly to any direction in very very short notice
Handling 12 weight rods or heavier, big reels and heaving shooting head lines
Casting big wind resistant flies, quickly
Half the time you will be facing the wrong direction, practice that back cast delivery (casting to free-swimming sailfish or teased with hookless lures while drifting)
Able to shoot off a cast very quickly – fly in hand, one (or two) back cast, reasonable distance (the further you can cast, the more fish you can reach and the more waters your fly can cover). Speed and accuracy however, supersede distance