Written by Dan, a very keen angler all the way from Wisconsin, USA.
Fishing with SportFishin.Asia was a great experience. Booking was very easy and they were incredibly accommodating. We had a late addition to the fishing party and they were able to maintain our booking despite the last minute change. Communication during the pre-trip process was very thorough and there was no lack of clarity on what to expect on the trip.
Our pickup place location was a resort that was 3 hours out of the way to Rompin but we were still picked up at no extra charge. The car ride was very interesting as JW was able to point out a number of interesting things we would have missed had we just taken a bus. It was a newer car that comfortably fit all five in our party plus our carry-on luggage and JW.
We stopped at a restaurant and JW who had already clearly figured out whether there were any dietary concerns he needed to be aware of ordered for us and the food was incredible. 3 days of fresh seafood and other local fare that was very different from american cooking but also very tasty and prepared in a manner that no one in our party got travelers sickness. The food was high quality throughout the trip including eating our catch and trying other local food each night. Lunch was out on the boat, chicken and rice day one and a nice fried rice with egg and pork the second day. Great breakfasts each day also made sure we made it to lunch; the pork buns were my favorite, others preferred the fried noodles. and the restaurant made a very filling omelette for those that weren't feeling adventurous in the morning. We also stopped at a local convenience store each to purchase snacks of our own. Clean drinking water was always readily available including a cooler full of ice and water on the boat each day and fresh drinking water available at our accommodations.
The house we were put up in was basic but nice. We had brand new beds so they were very clean but also a little stiff which is a trade off I'll take any day. The plumbing was not necessarily to american standards but it was a western toilet and there was plenty of hot water in the shower so that none of the five people in our group (3 men and 2 women) got caught in a cold shower. The air conditioning in each room was excellent and helped us stay rested despite long days fishing and still being in the process of shaking off jet lag. There was TV available and what ended up being the best wi-fi we accessed during our time in Malaysia.
The fishing.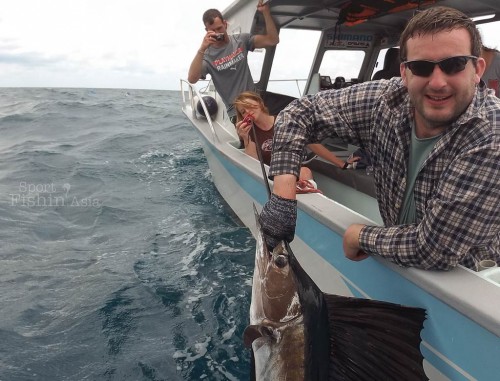 Our expectations for the fishing trip were rather low as my only previous experiences with charters were very expensive boat rides. This was further amplified by the knowledge that it was the very beginning of sailfish season and we were a few months to early to really expect great sailfish action. This trip blew away all those negative expectations.
Despite rougher than expected seas that led to a long boat trip out there everyone who put a line in the water was quickly catching all manner of bait fish while jigging off the bottom. We found it funny that it was somewhat similar to the ice fishing we had been doing the week before. This kept us entertained for a few hours as we also had a visit from some dolphins and a few larger fish take swings at bait fish we were bringing in.
Before too long we had put the bait fish to use and we had our first larger fish in the boat, a decent size Spanish mackerel that made for a great supper. Shortly after that a sailfish was on and we were in business. It was a great fight and we were able to take a quick group photograph courtesy of the guide before reviving the sailfish and sending it to get some friends. I was able to switch to a crank bait and had a sailfish hit and make a nice show near the boat of spitting it out.
Pretty soon we had 3 sailfish on at once. Each one gave a great fight including one that made multiple trips around the boat. The next days fishing also saw rougher than usual seas but the boat was more than up to it and we never once felt unsafe.
We caught a gar, a nice easy to reel in sailfish, and a sail that wrapped itself around a buoy and then an engine but our guide and captain showed their mettle and the gear held and we were still able to land that one with a bit of extra assistance. Our expedition was cut a little short by a storm but again there was never a time where we felt unsafe and all caught plenty of fish both days.
Great fishing, food, and new friends. I highly recommend booking with them to anyone who loves fishing, Hopefully we'll be able to visit again!
Respectfully
Dan Gillespie
May 1, 2015
(Email and phone removed for privacy reasons)
Head over to our testimonial page to read more about the things our clients have to say about their experiences with us.