If you fancy the experience of catching a giant Mekong Catfish, Bungsumran Fishing Park is arguably the best place to do it.
Bungsumran is located in the City of Angels itself, Bangkok, making it considerably easy to get to. Most city cabs knows its location though an address written in Thai is best shown to the driver. Many, if not all foreigners pronounce the name incorrectly. But being Bangkok, be prepared for the journey to take up to 1.5 hrs depending on which part of the city you'll be coming from.
Established in the early part of the 80's, Bungsumran is quite a big fishery with a depth of up to 30+ ft. Lurking in the water are many species of fishes including the largest freshwater fish in the world, the Giant Mekong Catfish (Pla Burk). Among the other species in this fishery are the Chao Phraya Catfish, Stripped Catfish, the ever cunning Siamese Carp (Pla Soho), Giant Snakehead, Pacu, Arapaima, etc. With some numbering in the thousands!  By far, the most targeted fish here is the Giant Mekong Catfish with specimens over 100 kg being landed here.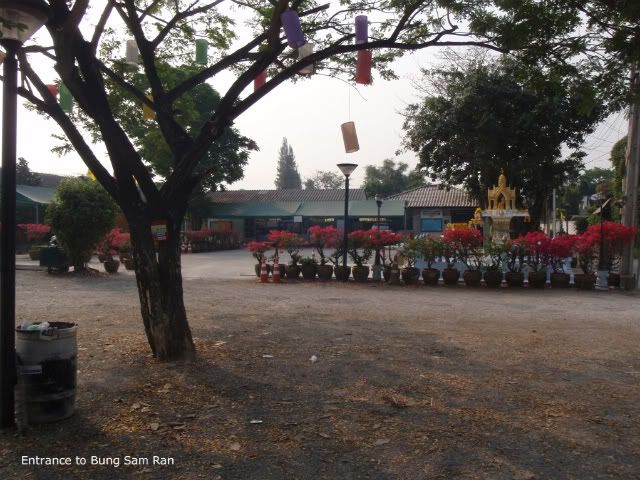 Fishos will find Bungsumran a nice place to not only catch a couple of big fish but also a place to hang-out. There's a small convenience store just as you enter where drinks and snacks are sold (including beer). A restaurant is also located just after the entrance by the pond.
Fishos may call for "room service" for their food to be delivered though I'd advise you to order your food early as it takes a while for the food to arrive, usually by bicycle. The cooking is alright but the menu is mainly in Thai.
I would advise getting the service of a fishing guide when fishing at Bungsumran. They have their own unique ways of preparing the baits used and also different approaches are employed to catch different species. Appointing a guide's service is an invaluable experience and there are also guides that Bungsumran can arrange for you on location besides an independent fishing guide. But confirming one beforehand will no doubt offer you peace-of-mind.
Other amnesties at Bungsumran are lockers, well-equipped tackle shops, thai massage corner, and some arcade machines for the children. Tackle rentals are also available at Bungsumran.

Planked walkway to the bungalows
You may opt to fish from the long platform located on the left side of the pond or opt to rent a "bungalow" unit located on the other 3 sides. Bungalow prices depend on its location in relation to the pond and also its size. They range from 600B to 5000B per 12-hr. from the basic to the 2-storey fridge, sofa, air-conditioner equipped.
If you fish at night, make sure you are prepared for the mosquitos which can be many (and that is an understatement).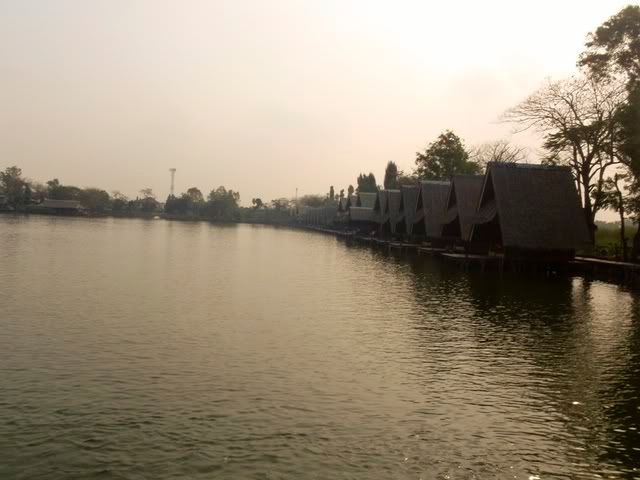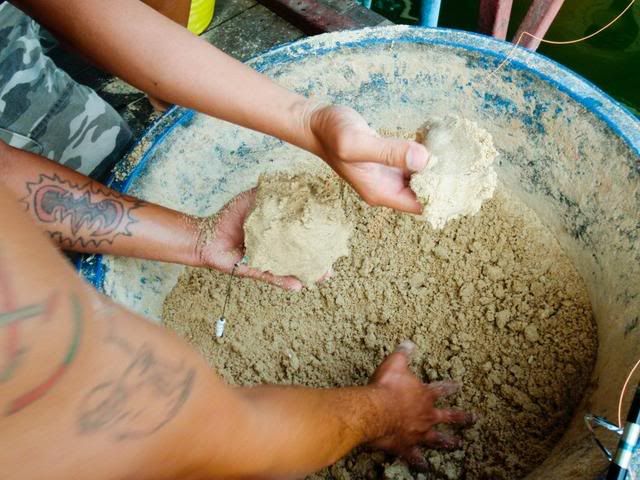 Preparing/mixing the dough baits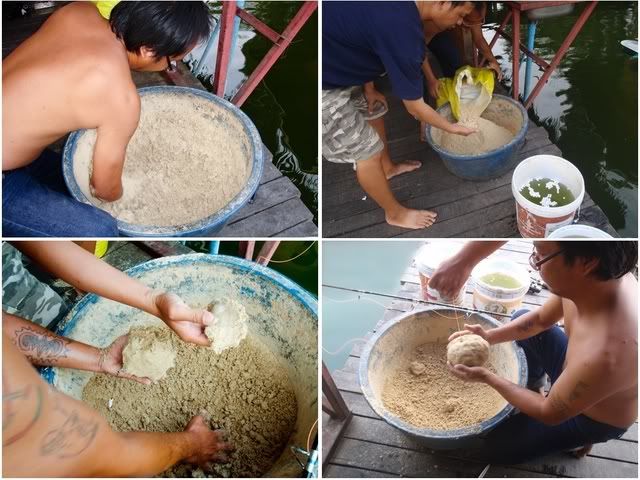 Huge baits for huge fishes

With and without float for targeting different species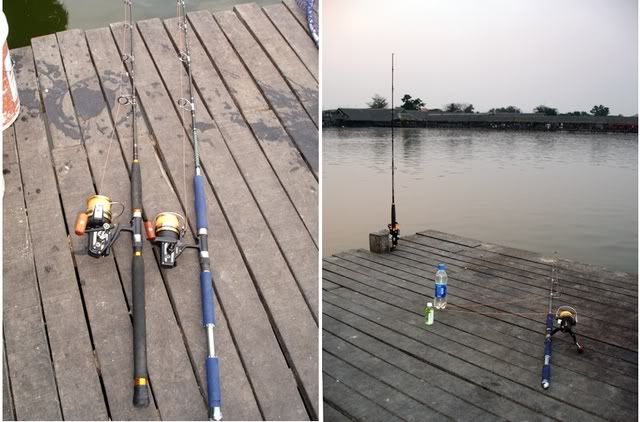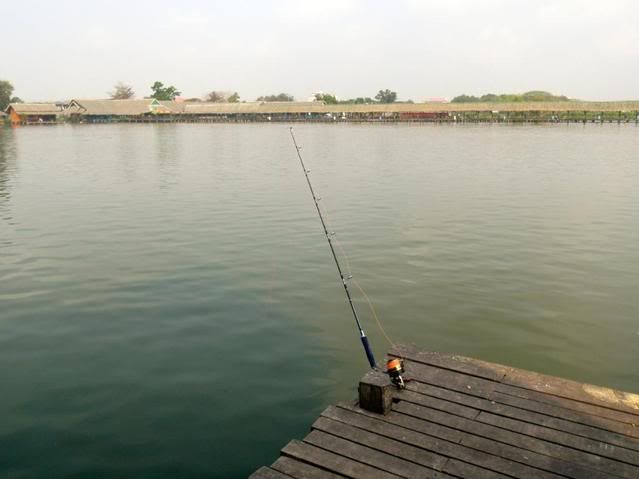 Use heavy tackle when fishing at Bungsumran. 30 lb to 50 lb tackle are not uncommon here and up to 80 lb braided lines are spooled onto the reels.  It also takes some getting used to when you have to cast out a heavy chunk of bait to the middle of the pond.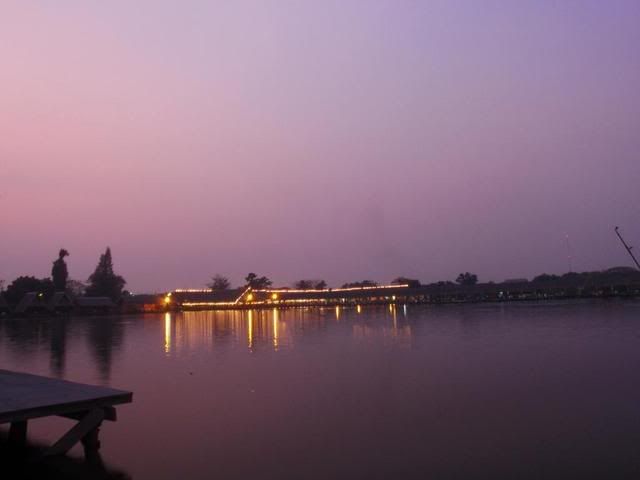 Night scene at Bungsumran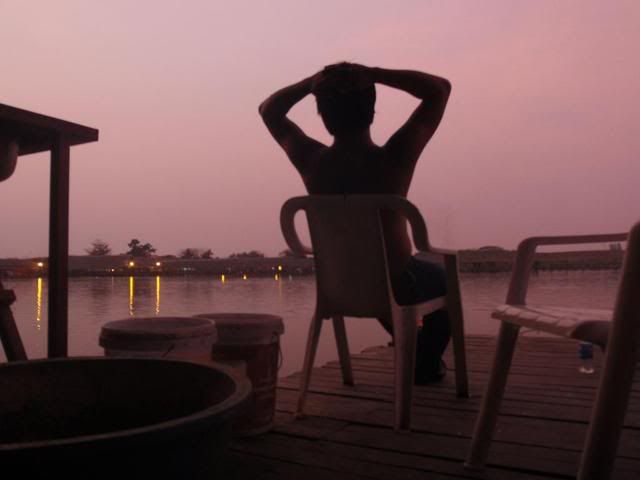 Remember, when you fish at Bungsumran, don't forget your camera!
Bunsamran Fishing Park
21/596, Soi Navamin 42, Bungkham, Bangkapi, Bangkok.
Phone: 02-734-9272
www.bungsamran.com
Fishing guides are available for hire at Bungsamran. If you are not a regular you will need a guide.
Alternatively you can contact BKKGUY (John) an English speaking full-time fishing guide that is also featured here on my blog. He's good and he'll put you onto good fish!
John can be contacted:
Phone +66 819420270
http://facebook.com/bkkguy  |  http://www.bkkfishingtour.com
bkkguy@bkkfishingtour.com  |  johnbkkguy@gmail.com