This is a guest article by World Fishing Network.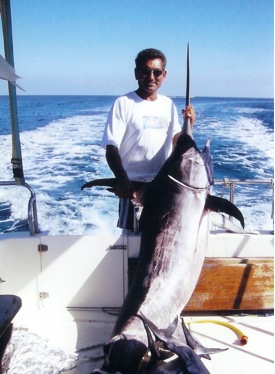 Before every fishing trip it is important to be prepared for the type of fishing you are doing. While out deep sea fishing anglers can target a wide range of game fish including marlin, tuna, sharks and swordfish. Making sure you have a variety of lures will determine your success on the water. Targeting fish offshore is exciting for the average angler because it is a break from the norm and a thrilling fight.
One thing many experienced anglers will tell you is when deep sea fishing the lures used depends on the fish. That means the bigger fish needs a big lure, smaller game fish use a smaller lure. It's important to research your location and species before heading out on the water. You want to make sure you're prepared with the right fishing gear and rod, before you set off for your thrill seeking adventure.
There are two types of baits that are used while deep sea fishing they include artificial and live baits, both in which are used when trolling. Artificial baits need to be in bright colors in order to attract these fish. The deeper the water the darker it is, so it's important for your bait to be bright enough to catch the fishes attention. Your bait should also make lots of noise and have action. Anglers often use skirts on their lures as an added attraction to the fish, the skirt creates movement and noise. Skirts also reflect sunlight which is an added bonus for catching the fish's eye.
Live bait is another way to catch these big game fish when deep sea fishing. It's important for anglers to use other smaller species in order to target these big fish. Make sure to use live bait that these game fish are already feeding on and can be found in their natural habitats. Using these smaller fish will allow for the bite, which will start the fight of these game fish and the adrenaline rush experienced by many anglers.
Author Bio: Brad Jorgensen is a fishing enthusiast from Denver, Colorad and an avid blogger on the latest in fishing tips and techniques. Having traveled throughout North America seeking out fishing adventures, Brad is knowledgeable in a wide range or fishing topics.