SOME READERS MAY REMEMBER MY EARLIER ENCOUNTER AT THIS FISHING HOLE. It left me in not only dazed but also in a state of bewilderment.
Return visits periodically over the past months did not yield anything spectacular and I would not have been surprised if those who knew began thinking it was just another fisherman's tale. I was beginning to wonder too if it was in fact a big haruan (c. striata) or commonly known as the stripped snakehead that took my Rattlin' Rapala the last time round.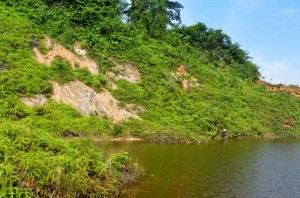 Spot Alan who is attempting to retrieve his snagged lure
And to add insult to injury a couple of pesky Flowerhorn Cichlids were caught on lure at this very same pond. We knew there were many fishes in this pond and just as we were beginning to suspect maybe there isn't many big haruans in it, the fishes finally obliged last weekend. Perhaps at last with the help of the alignment of the moon and the planets (sorry about that)!

Some say, the presence of dragonflies denote a healthy ecology. I say, bring out the fly rod!

Serenity in the midst of nature. A dragonfly decided to land on my rod tip (inset) and offered to be a better model by coming even nearer to the camera.
This time there were only three of us fishing and we did not fish the Jurassic Park specifically but more of discovering new places to wet our lines most part of that morning. But how things can unfold sometimes and in a few short hours too.

How things can change very quickly from mundane to action packed in a flash

This fish actually displayed striking purplish blue dorsal and anal fins while it was in the water
A total of five fish was caught with four released. The biggest recorded 1.42 kg on the Berkley electronic scale was caught by Hubert. Another two fish were just below a kg plus two more smaller fellows. It was also a significant day as Hubert finally caught his first haruan on a lure and a decent sized fish at that. He had been chucking his old faithful frog bait all morning without much success until he decided to try on a newly purchased Rapala just for fun. Persistence finally pays off . Will he finally convert after this day?
It is also worth mentioning that three of the fish was hooked in the span of just 30 minutes at just one section of the Jurassic Park.

Hubert and 1.42 kg Striped Snakehead (C. Striata)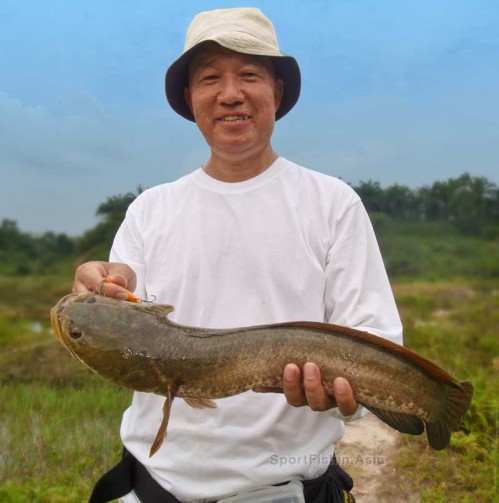 A beauty like this is prime for breeding and should be released to promote a healthy population. Which was what Hubert did with his catch.
Watch out for the video footage coming soon.