This is a World Fishing Network guest post.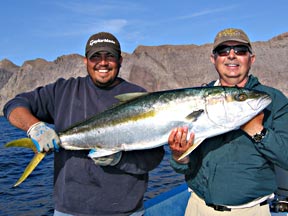 Whether you are online or in person playing fishing games, there is no more of a rewarding experience then catching your fist yellowtail snapper. Each year thousands of fishing enthusiasts take to the Florida Keys in hopes of catching at least five yellowtail snapper. Today we will be providing you with some tips, so that the next time you travel to the Florida Keys, you too can catch a yellowtail snapper.
Using Chum To Catch Yellowtail – In essence, chumming takes place when fly anglers use ground up fish, known as chum, in the water as bait to attract the yellowtail. For keeping a steady flow in a school of yellowtail, we suggest using two bags of chum bait, as this should be enough to last you through the day. The last thing you want to do is give the yellowtail too much chum to munch on, as they will lose their appetite.
Aside from chum, a lot of experienced yellowtail anglers enjoy mixing in oats and sand with the chum. For the reason that it clouds up the water, thus attracting yellowtail on a sunny clear water day, mixing oats with your chum can get you more than just a single yellowtail on the day.
Hiding The Line From The Yellowtail – One of the biggest issues new yellowtail anglers face, is their ability to hide the line from their prey. Each year thousands of people take to the water in hopes of catching a yellowtail. However, only the most experienced anglers with years of practice are able to catch anything, because of how they hide the fishing line.
In order to hide the fishing line, you need to use a fluorocarbon leader on a monofilament line. This will make your line harder for the yellowtail to see, which in turn will make it easier for you to catch them.
Author Bio: Brad Jorgensen is a fishing enthusiast from Denver, Colorad and an avid blogger on the latest in fishing tips and technique. Having traveled throughout North America seeking out fishing adventures, Brad is knowledgeable in a wide range or fishing topics.