Have you ever wondered if the spot you just casted your bait to is where the fishes are?
Silly question if you are an angler! "what's down there? Is this the right spot" These are questions we quietly ask ourselves almost every time we wet our lines, if not all the time. And this is where a fish finder comes in handy. And handy really means handy in the case of the Humminbird SmartCast RF35 Wrist Mount fishfinder.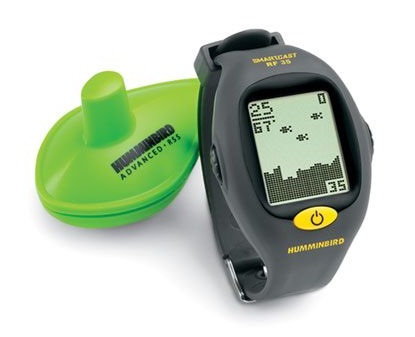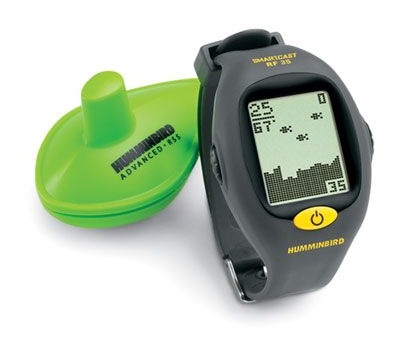 The RF35 looks particularly suited to anglers that has to be mobile such as those who fish from small crafts like kayaks, canoes and inflatables. That's because real estate is at a premium in such vehicles. The RF35 from Humminbird offers this luxury as all it is is a little submarine like sonar sensor that emits its reading wirelessly to a wristwatch-like monitor (that you wear on your wrist like a watch).
I think that's mighty cool and it can even be utilized by shore-based anglers! Cast or chuck it out into the water. Once the sensors under the RSS comes into contact with water the wrist unit automatically switches from your regular time-keeping watch to a fish-finder.
Imagine that. Once the RSS unit sends images to the display you decide whether it's a good place to cast your bait or lure to. Plus you would know the water temperature, depth and bottom structure.
The only thing we may have to worry about is probably losing the RSS unit through getting it snagged or some lunker grabs it like it would a lure. That'd be quite a sight though and it'd most likely be spat out anyway.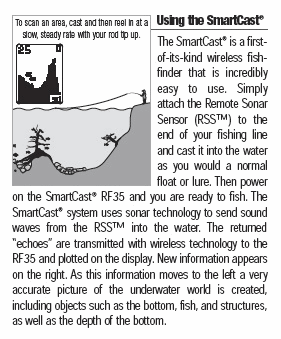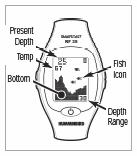 Another version of the SmartCast is the rod mount unit (pictured below) but it looks like a distraction being fastened to the rod.