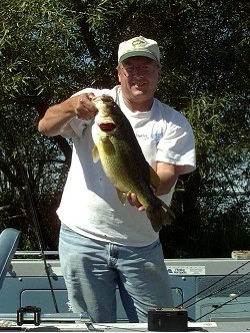 This is a guest post from World Fishing Network.
Most fishermen target bass fishing in Florida's lakes and the Everglades using expensive bass boats, topwater plugs, soft bodied worms, and live shiners. However, there are other, much less disturbed shore sites and lesser used artificial lures which can tease out this top predator and possibly score you a record catch.
As the official state freshwater fish, the Florida largemouth bass is number one on the list of freshwater species to seek while in tropical waters. One great bass fishing tip is to hunt for lurking monster bass in the many deep canals that traverse southern Florida. Any one of the 40 foot deep, major drainage canals along the main east-west highways can offer surprising opportunities for catching trophy bass.
Once the winter cold fades into spring, bass fishing become more active and bass emerge from their lethargic winter deeps aggressive and hungry. The trick is to head out early in the morning and find a spot along one of the canals where no one else is parked. Make sure to park some distance from the water and quietly move toward shore making sure not to cast a shadow on the water.
As for fishing tackle tips, here's the surprise: a simple white feather (preferably weedless) with a 3/8 or ½ oz weight head has been known to scare up a shy bass out of his hiding spot along the bank. Just cast out basically parallel to the banks and use a pretty fast retrieve. To ensure success, stick with a medium to medium-heavy rod with 14- to 20-pound test line for fishing gear. All you have to do now is hold on and wait for the massive strike. Once you hook up, be sure to watch your line so that it does not get caught up in obstacles and carefully work the fish toward shore. You could be rewarded with that once-in-a-lifetime trophy largemouth bass!
Author Bio: Brad Jorgensen is a fishing enthusiast from Denver, Colorad and an avid blogger on the latest in fishing tips and techniques. Having traveled throughout North America seeking out fishing adventures, Brad is knowledgeable in a wide range or fishing topics.