Most fishing situations call for the use of leaders.
I have been testing out a new brand of fluorocarbon leader called BLOOD+. No kidding, that's the name.
Everyone that first lay eyes on this fluorocarbon leader and touches it have doubts about its quality. You see, its diameter is really small for its breaking strain poundages. For example, the 30lb has a diameter of 0.35mm (compared to the usual 0.50mm) or 50lb with a diameter of 0.50mm (usually 0.70mm). That's great. Smaller diameter fluorocarbon leader means even less chance of the fish spotting the line.
Going Limp
Another thing about this bloody leader, errr… Blood+ leader is its suppleness. It is really soft unlike many fluorocarbon lines or leaders out there. This means a more natural bait/lure presentation.
At a Bargain
There's more! It's price. We all know how pricey fluorocarbon leaders are. The Blood+ costs slightly below what you would normally pay for a standard 20m spool of fluorocarbon leader but here's the thing, for that price you get a 100m spool! Imagine that, a 100m spool of fluorocarbon leader for roughly US$13 (at writing).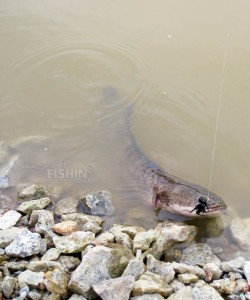 Thus far, I have used the leader on a couple of fishing trips including Arapaima fishing, caught a few Asian Red Tails with them and also used it during a multi-day fishing the Royal Belum Forest Reserves of Temenggor Malaysia.
I will be doing more fishing with this fluorocarbon leader and will share the outcome with you guys.
Why Do We Need A Shock Leader?
Reduced visibility. Less chance of spooking fish equals improved bite rate. If you can see the line so can the fish. Like so many animals fish relies on its survival instinct even when feeding. When it senses something is not right or unnatural it becomes even more cautious.
Absorbing the impact and minimizing line stress or breakage especially when the mainline is braid.
Abrasion resistance. The first section of the line is the most common area to come into contact with structures when the fish dives for cover or when a lure is worked through heavy cover. Many gamefish have parts of their build that can damage our fishing line such as rough scales, sharp gill plates of the Barramundi, rough bill of a billfish and even a fast beating tail when your trophy fish takes off into the horizon.
Take Me To Your Leader
To fish effectively, you almost always need to have a shock leader connection between your mainline and bait, lure or fly. Even when a wire leader is used it should be joined to the shock leader.
Finally, make it a habit to run the leader between your thumb and index fingers to feel for signs of abrasion or wear. You don't want the leader breaking when you finally hook that fish of a lifetime.