Here we will update what's new in the shop of fishing merchandise and other swags.
First of all, we would like to say THANK YOU SO MUCH to all of you that has purchased our merchandise.
It means so much as our fishing trips have been adversely affected by the current situation around the world.
You can stay posted by signing up for our free newsletter so you won't miss out. Some items will be produced in limited quantity and for a limited time only.
Get our free newsletter
Processing…
Success! You're on the list.
Whoops! There was an error and we couldn't process your subscription. Please reload the page and try again.
MORE PLACES TO SHOP!
Other than our shop in our website here, we have also created the FishingAsylum ETSY shop.
Another place where you'll find select items is in Tacklebox Adventures in Subang Jaya.
Become a Dealer
We're looking for more dealers for our fish stickers, mugs, fishing apparels – if you're interested please send JW a message.
Some items will only appear in one shop and not the other. Why are we doing this you may ask? It's partly due to the current pandemic where cross border logistical challenges present and another reason is our audience are spread all around the globe.
We are new to this online shop thing and are still feeling our way around and learning how to make things work best.
KEEPING PRICES REASONABLE
We are also learning how to best price our items and the shipping costs involved. Some items are produced locally in Malaysia and in-stock for example certain decals, mugs and t-shirts – while many others are made to order.
You may also request for a certain drawing of your favourite fish/lure/fly (nearly anything) on a certain item that you may fancy and it could be made to order, no minimum! Imagine that, your own customised design.
Get in touch with Juan Wei and let him know what you like.
At this stage, most, if not all items sold are offered at the lowest price possible as we are still new to this merchandise business.
Currently all items have exclusively created in-house artworks and are not generic art lifted or bought from elsewhere.
You can follow JW's creative process where he most often share in his Instagram account.
LATEST FISH ART
This giant trevally art was completed on 18 May 2020.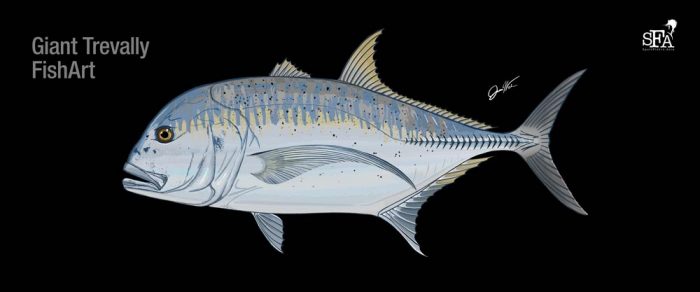 This giant trevally are now available in the form of coffee/tea mug and sticker in the FishingAsylum ETSY shop.