Guest post by Jamie Stewart
Traveling anglers could choose to fish anywhere in the world, but I recommend you visit New Zealand, and more specifically, the freshwaters of the South Island.
Millions of tourists come to New Zealand every single year to gaze upon a landscape that's not just beautiful, but bold, dramatic, captivating, and I'm willing to bet, unlike anything you've ever seen.
As a fisherman, you won't just be casually observing this picturesque wilderness, but stepping into it to fish from a diverse and abundant ecosystem.
New Zealand has been my home for the past five years, and the South Island has been my backyard. For anyone planning a fishing trip to New Zealand, here's my guide to fishing the mesmerising South Island.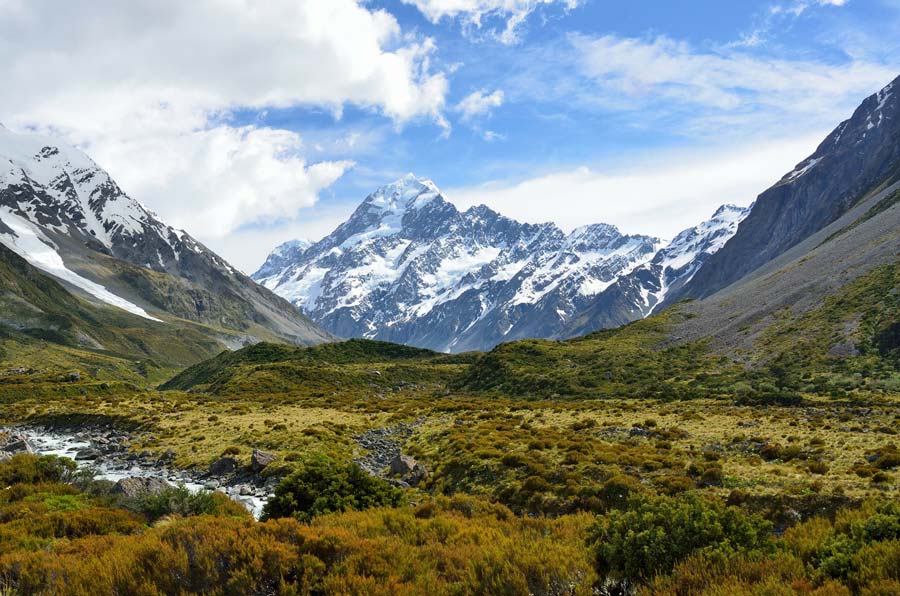 River Fishing Vs. Chartered Boat Trips
First off, I would like to point out that it's not just freshwater fishing on offer in New Zealand. There's a variety of marlin, tuna, and other big game species available from chartered fishing trips. It's hard to beat the excitement of sport fishing, and you'll always be proud to tell the tale of that 100kg marlin you hooked.
However, I think that river fishing in New Zealand can offer something very special and unique… the South Island's beauty. You'll have rod in hand in a setting that brought the fantasy of Middle-earth to life.
You'll fish in lakes made from glacial action and bays left behind by extinct volcanoes, while the snow-capped southern alpine range with its majestic mountain peaks provides the stunning backdrop to your adventure.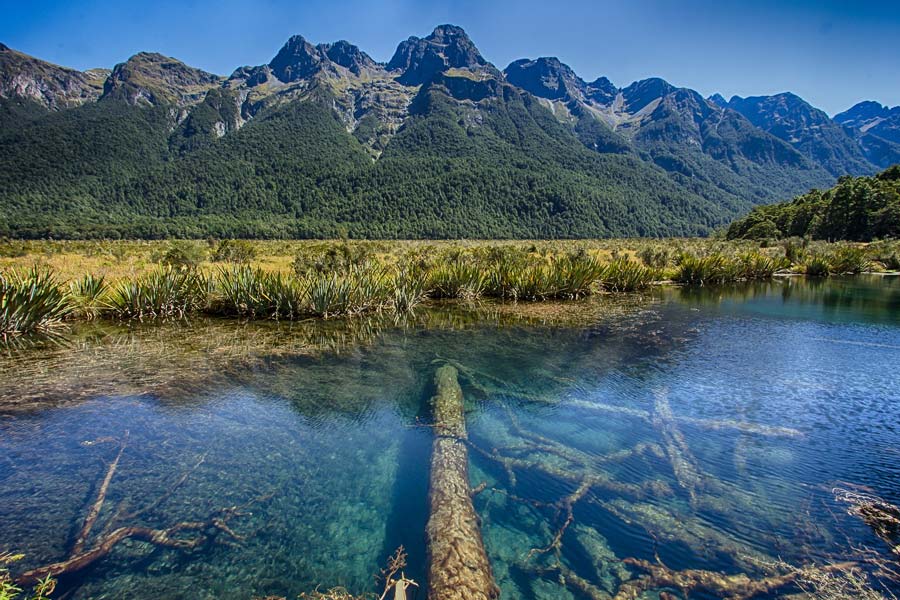 Variety of Fishing Styles
A huge selection of diverse waters allows the option of spin fishing or fly fishing. The many glorious rivers and the lakes of Wanaka, Tekapo, and Coleridge allow you to drag your lure through crystal clear waters that are teeming with wild fish.
Fly fisherman flock to New Zealand to land big, wild trout. Legendary trout's of ten pounds are more are frequently caught in the South Island's rivers. There are many spring-fed streams in the hillside that are a fly fisherman's paradise.
Fishing isn't limited to the bank either. Secret fishing pockets are best accessed by kayak or canoe. These nimble boats can easily access waters too shallow for larger vessels and unreachable by foot. You'll have plenty of opportunity for kayak fishing in New Zealand, and kayak hire is cheap. And don't worry if you've never tried it before, it's relatively easy to get the hang of.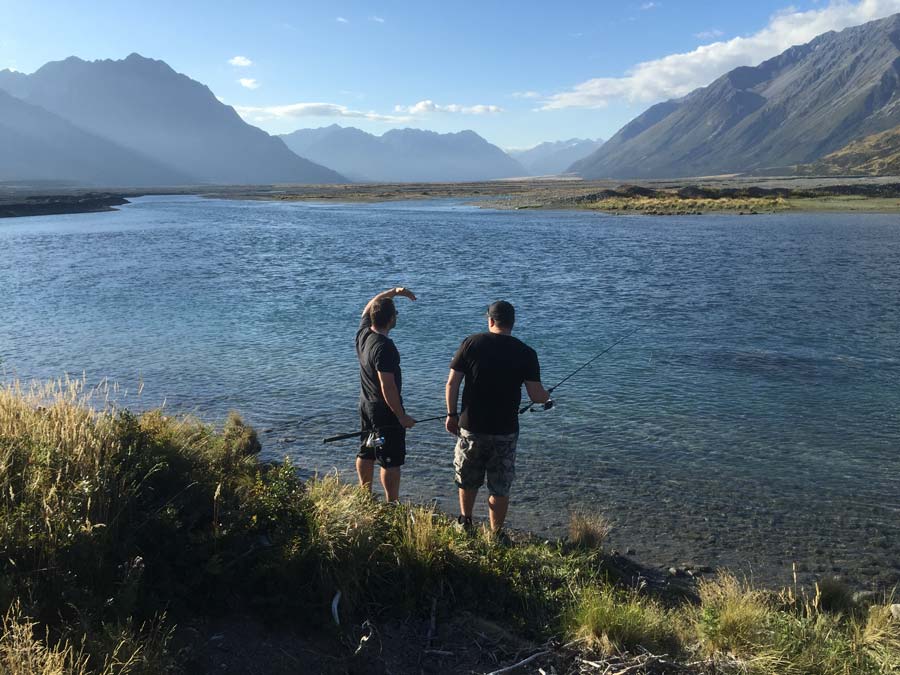 Species Available
There are many species of fish to be found in New Zealand's streams, rivers, and lakes. The most common – and the species anglers have their heart set on catching – are trout and salmon.
Trout – Both types of trout are in plentiful supply all over the country. However, rainbow trout tend to congregate in the centre of the North Island, while brown trout are local to the top of the South Island.
Salmon – Come spawning season, the South Island's rivers located around the central belt are teeming with salmon. Salmon have a reputation for being difficult to catch, but if you persevere and spend more time in the water, luck may be on your side.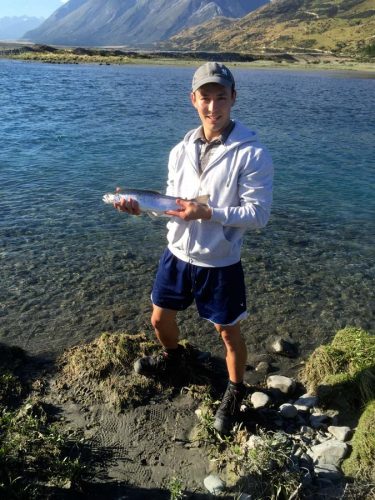 Where to Go
New Zealand has an abundance of pristine lakes and rivers that have a plentiful supply of fish. Deciding where to fish can be overwhelming, and it's best to speak to local anglers if you don't want to waste your time.
Local fishermen are always happy to share tales of recent catches, and a brief conversation will uncover where the fish are biting, what spinners they're using, and what fishing methods they're employing. These golden nuggets of information can save you a lot of time and frustration, especially if you're on holiday and the clock is ticking.
If you're time limited, here are my top destinations I recommend you check out:
Nelson – Getting the highest recorded hours of sunlight each year, Nelson is a little slice of tropical heaven. There are also bucket loads of trout to be caught in the region's two rivers (Motueka and Rai River) and Nelson lakes.
Canterbury – Christchurch is New Zealand's second largest city and is the heart of the Canterbury region. It is where I call home, and is the perfect base to launch your South Island fishing adventure. Canterbury has four main rivers (Waimakariri, Waitaki, Rakaia and Rangitata) that are known as salmon waters. There's also a network of smaller streams that flow into the larger rivers that are known for their trout.
West Coast – A rough and wild yet beautiful landscape awaits you on the South Island's West Coast. Be prepared for wild weather, plenty of rain, and a fishing adventure that is as exciting as it is volatile. Heavy rains and ferocious waves from the Tasman Sea make for an ever-changing and wild fishing environment.
Fiordland – The deep south completely spoils you for choice, and you could take your pick of any river in Fiordland or Southland and not be disappointed. However, I recommend you check out the glorious Eglington River which meanders through native bush and strikingly beautiful hills as it makes its way from Lake Gunn to Lake Te Anau.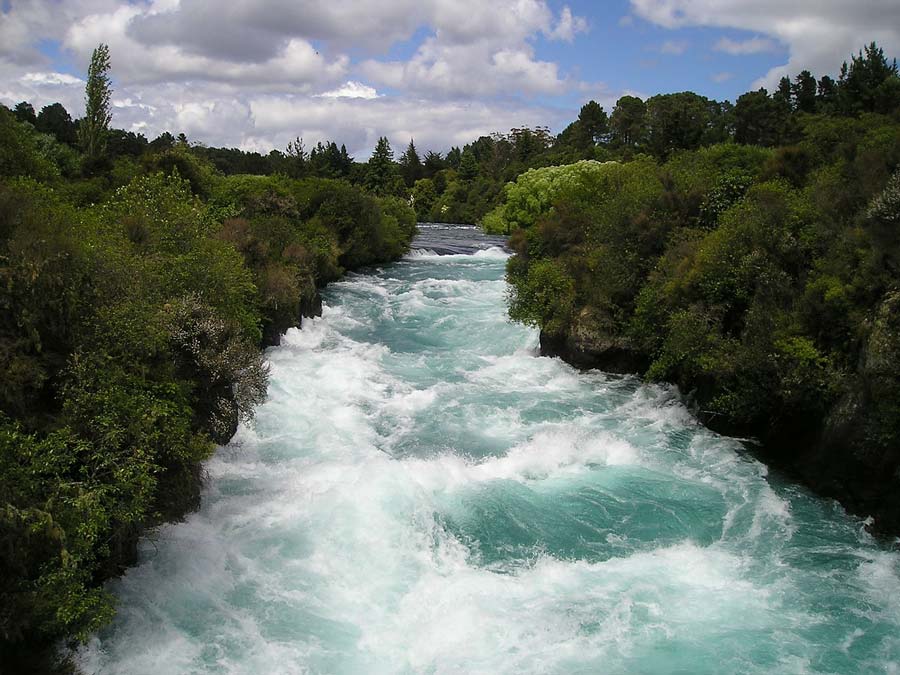 Planning Your Trip
Hopefully, you've now got a good idea of where you want to go. Doing further research online and chatting on online fishing forums will help narrow down the places you want to fish.
However, when you arrive, it's still worthwhile speaking to local anglers or dropping into a tackle shop to find the best spots. You can either pay for a guide or get free advice and work the details out yourself.
You may be able to find an experienced guide that is willing to take you out into the bush free of charge, or who'll craft a custom itinerary to suit your time and travel requirements and fishing style.
Guides will also be able to recommend accommodation. There are numerous fishing lodges dotted around the South Island that are a stones throw away from the best rivers and lakes this country has to offer.
And if you want to immerse yourself in the experience, you can camp along the river banks where you'll find a small community of other die-hard angler.
One more thing… To fish or hunt in New Zealand's backcountry, you have to have a licence. Day permits are only NZ$20 and will allow you to fish any of New Zealand's waterways.
If you're planning an extended stay, a whole season licence for non-residents is just NZ$161. The cost of the licence goes into sustaining the fisheries, and it's worth having one as if you're caught without it, you can be fined NZ$5,000!
What Are You Waiting For?
Anglers from around the globe flock to New Zealand to wrestle with monstrous salmon and fight fierce, wild trout. Hidden away at the bottom of the earth, this beautiful country offers a unique and absorbing fishing experience like no other.
But it's not only the chance to catch some of the largest of these much-loved fish species that attracts visitors, but also the experience of absorbing a wilderness that has been largely untouched by man.
Glorious streams crashing down mountainsides, pristine rivers weaving through stunning countryside, and tranquil lakes teeming with fish below their mirror-like surface, all await your adventure.
See you soon.
Author Bio
After emigrating to the New Zealand five years ago, Jamie discovered his passion for kayaking and is now on a mission to explore as much of New Zealand by kayak as possible. A keen angler since childhood, it wasn't until recently that Jamie combined two of his greatest passions, and he is now a kayak fishing fanatic. You can find over at PaddlePursuits.com where he shares his paddling knowledge and adventures.