I have been fishing for the past 4 weekends. Due to the northeast monsoon we had to make do with more freshwater fishing. Nearly missed last weekend's trip because of my foot but the spot is only 15 minutes from where I stay plus it will be only a half day fishing so, what the heck. Glad I did not missed it because it turned out to be one heck-of-a-day with everyone landing at least one fish with many bites.
The champ of the day turned out to be the youngest among the group, Justin, with his 3 fishes. The biggest being 1.1 kg (2.4 pounds) and another weighing close. The 2 keepers caught by him resulted in us having a wonderfully delicious lunch. Good thing too we found Lim Seafood Restaurant open and ever willing to cook our catch. The dishes was a far cry from the joint we went to last Sunday. Last Sunday's restaurant that we went to was… err.. the cooking? Disastrous!

Justin and 2.4 pound Snakehead Murrel aka Haruan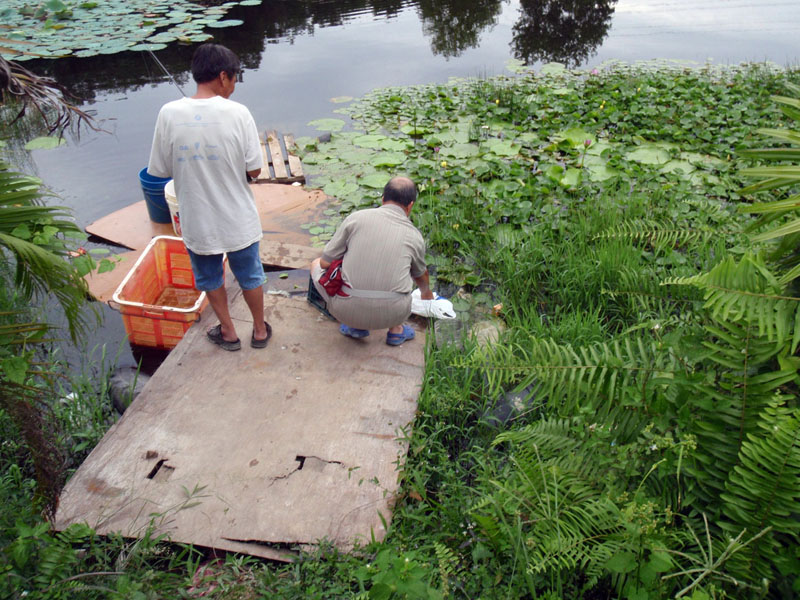 Releasing 3 fishes into another pond.
3 fishes were released into another pond with the hope that they will breed and inhabit this less accessible spot. Did I tell you that part of this pond also stink big time? Yes it does literally. Well, let's hope we release both males and females species!
Finally we come to the lunch part (Yummy!). The 2 keeper were cooked individually into Kiong Choong Yee Pin, Koong Pou with dried chillies and finally the rest into one fantastic soup. For a fisher, this could almost be a perfect Sunday.