I often visit World of Sports as they retail outdoor apparel brands such as Columbia, Salomon, Keen, Teva and many more. The new Columbia Airgill fishing shirt looks cool. Literally. As it has so many slits to promote air-flow that your less informed friends may think you had you shirt slashed with a cutter.
If you intend to shop at World of Sports at Subang Parade, I suggest you sign-up as a member. At RM49 you will receive two free gifts (at time of writing), Salomon arm pouch or Columbia toiletries bag, where you may choose one of each or both. They retail for RM89 and RM79 respectively.
The real benefit is the 10% discount you will receive for other in-store purchase, even for items on sale (please clarify this when you sign-up as they may change the terms and conditions). If the item is 30% off, you get it at 40% off as a member. It'll save you some hard earned cash as these brands are not cheap.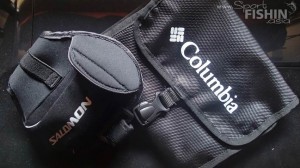 Have you worked out the maths, yet?
For those of you who still wonder why you need specialized clothings for fishing, the benefits are plenty. They keep you cool, they dry fast, comfortable, UV protection, and so on. Oh ya, you will also look the part, even if you can't catch fish!
Another reason I frequent World of Sports is for my size 12 shoes. It is a challenge to find shoe shops that stock size 12 here. Even here it is a challenge finding a pair of shoes that fits me.
Now, if only they will bring in more labels such as ExOfficio, Lafuma, Buff and so on. Then it will be truly a 'one-stop' for us outdoor junkies.
In case you are wondering, this is not a paid or sponsored review. It is purely the writer's personal opinion and finding. Which may save you a couple of bucks which you can use towards a fishing rod or something.
cheers – jw