What Does All The Cameras Have In Common?
If you're at the point of deciding what camera to buy for fishing, this post may help.
Currently, I have four working cameras;
aging GoPro Hero 3
Olympus Tough TG-1
HTC Re
Nikon 1 AW1
I obtained the above cameras in that order and have to admit each new possession somewhat sidelines the previous device.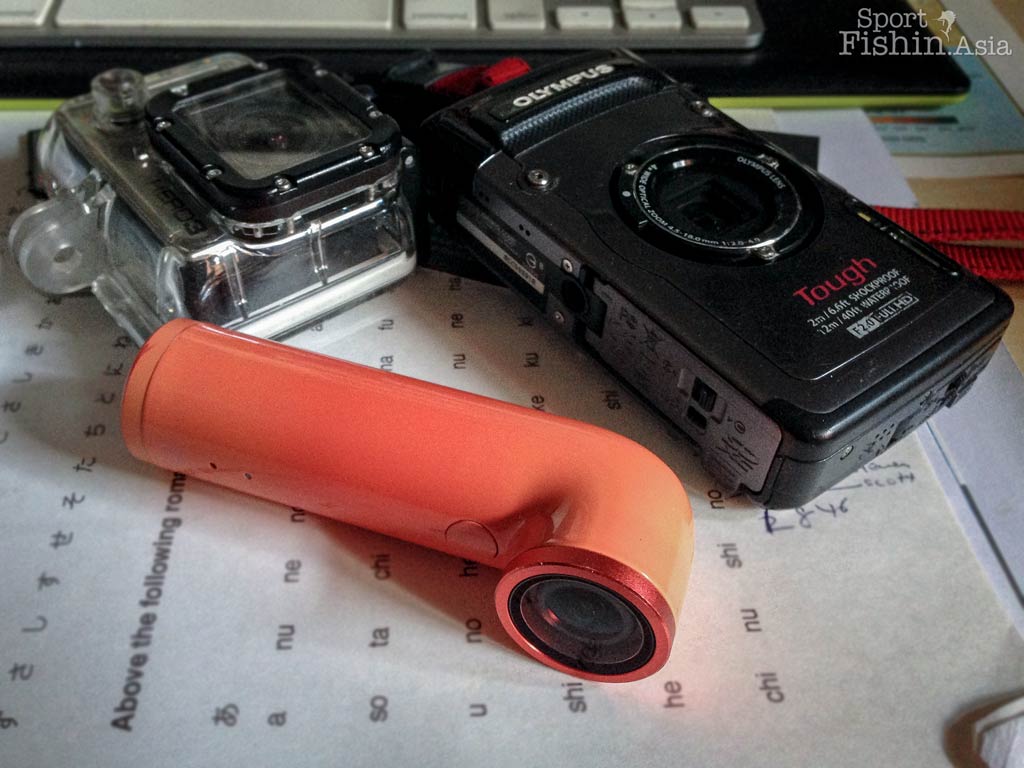 If you look carefully at the list you will notice one similarity – they are all waterproof. A very important criteria when I choose a camera.
I use the above four cameras a lot on fishing trips. And then things changed…
Smartphone – the Disruptor
Over the past year however, I find myself using my smartphone more and more for taking fishing photos and videos. The reasons? Much improved cameras and waterproofing- amongst others. The 2015-2016 period has seen introduction of mobile phones with really impressive cameras.
I actually dabbled with using a smartphone as a primary camera some years ago but gave up shortly after. That was with an iPhone 5 protected in a costly Lifeproof casing (that had a rather short lifespan – read review).
The camera on the iPhone 5 is good but it wasn't quite there. Plus the 16GB memory capacity in mine did not help.
Since getting my hands on the iPhone 6S however, my perception changed. The camera is much improved and the phone is even more powerful.
The new phone camera features allowed new creative photography and video recording plus it made my workflow faster – a real treat due to the overwhelming amount of videos and images I take.
And then comes the water resistant or waterproof smartphones. Even more reasons to use them!
It doesn't matter if the smartphone is an android or iOS, Samsung or Apple or Oppo, as long as it takes good pictures and videos and is water resistant/proof.
Related: I used the HTC RE a lot as it was so handy, easy to use and fantastic battery life
Pros and cons of using a smartphone as your main camera
Pros
It is always with you
Easy to carry
Easier to post images and videos on the web
Not need to transfer images and sorting through them later – you can now do this anytime and anyplace
Everyone knows how to use one – in cases where you need someone to help take a photo for you
Cons
Small sensor (even though image quality has improved tremendously and continues to evolve quickly)
No proper lenses (not crucial unless photographing wildlife)
If you have something to add to the pros and cons, please let me know by leaving a comment below or contact us.
I'm sure there are many that would argue that a proper camera will always remain the top choice for image quality, especially for print and low-light situations. And I agree with them but only with the point that you need print quality hi-res images.
Conclusion
No one can deny the impressive improvements mobile phone cameras have made in very short recent times and they will continue to get even better, very quickly too.
So there you have it. The best camera for fishing is a smartphone! They take publication-ready still images and high-definition and even 4K videos – add built in editing capabilities, upload and posting online capabilities equals quicker do-it-anywhere workflow.
Technology moves really quick these days so who knows what my choice of camera be tomorrow?
How far mobile phone photography has come? Check out these handheld low-light shots, no tripod, no flash.