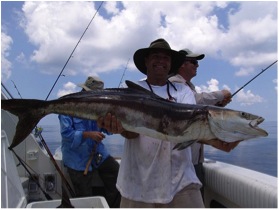 [Guest post] One of the best ways to begin a day is to climb on a boat and cruise out to sea for a day of fishing. Deep sea fishing is extremely exciting because you never know for sure what you will catch or how big it will be. The thrill of the unknown also requires being prepared with an assortment of lures to meet different fishing demands.
The initial cruise out to the prime fishing areas can be long or short, depending on where you are fishing. Playing online fishing games or any kind of fishing games will help pass the time, but the sooner you get a line in the water, the happier you will be.
The Hawaiian eye lure was developed to be used at high speeds. You troll it far behind the wake of the boat so it looks like it's following the fast moving boat. The lure is blue with a big black eye surrounded by gold and a white nylon skirt.
Once you get to the fishing area the Black Bart Tuna XXX lure is effective for catching Tuna, Dolphin, Sail fish, and Wahoo. It is available in two different fishing hook sizes, a 6/0 and 7/0, so you'll have the right fish hook size for the fish. It comes with 150-300 pound leaders for the big fish.
The XXX is made in several different colors. Among them are artic and white to imitate the white big fish and black hologram and pink to imitate the darker colored fish.
For fishing on top of the water, the Stillwaters smack-it poppers work wonderfully. At 1.25 oz. their heavy enough for a long cast but still light enough to float. There is also a Jr. version that weighs only .75 oz. for shorter casting.
The smack-it popper looks like a flat nosed fish and has a feather skirt. It comes in several colors including silver, blue and gold.
Writer Bio: Brad Jorgensen is a fishing enthusiast from Denver, Colorado and an avid blogger on the latest in fishing tips and techniques. Having traveled throughout North America seeking out fishing adventures, Brad is knowledgeable in a wide range or fishing topics.