Many who have fished with me and saw this camera in action are so impressed that they have gone to buying one themselves.
Used and abused
Of all the cameras I've used and I've used quite a few, no single camera has ever gotten as much attention as the HTC Re camera. Nearly every time I whip it out, others around me will ask "what is that?", or if I'm taking photos whereby the camera makes this psst psst spraying-like sound, people will ask "what are you doing?!".
It has to do with its unusual appearance.
On the other hand, using this action camera, HTC's first action camera by the way, can seem like you're shooting in stealth mode because it doesn't look at all like a camera, or mobile phone. Or should that be sleuth mode?
Case in point. Recently I went on a 4-day family holiday to an island and produced a 10 minute video out from what I shot using the RE. I edited the video in the plane on the way back. When my in-law saw the video, she was surprised and asked when did I capture all the video shots and still scenes – she was not even aware I was recording – and I used the camera, a lot!
This may be my most comprehensive gadget review yet as I've been aggressively using the HTC for around a year now and have been noting down all its pros and cons. Generally what I'd find useful for any action camera, too.
If you find this article flow to be somewhat "jerky", that's because I've been adding on thoughts every now and then based on observations and experiences, so please excuse me for that.
Most of the images and even videos posted here and my youtube channel over the past 12 months are shot using the HTC RE.
A camera is an essential item to any fishing trip. Or any trips for that matter. That is after all, the only way we can 'capture' the moment and the memories of our adventure and time together with family and friends – sometimes in a new and unfamiliar environment – besides recording our achievements (catches).
What about our mobile phones, you may ask? They do have great built-in cameras these days. Our phones can be fragile and cumbersome. A dedicated action camera allows you to just concentrate on taking pictures and videos, and it won't suddenly remind you of a date or tell you to get something from the store on the way home.
Finding the perfect camera however, can be a challenging task to many. After all you don't want to end up spending your hard earned money on something you'll end up not utilising.
We carry quite a bit of gear with us when on the waters such as water, rain jackets, lures, and much more besides the usual fishing gear and I know many anglers who feel a camera is just in the way plus a good camera that can capture a really good shot such as a DSLR can be too expensive to subject to the harsh watery environment.
First Impression
I have gotten the HTC RE camera just before my March 2014 fishing trip to the Maldives. The handy nature of the RE looks appealing and I'm curious to see if it can be a replacement for the GoPro.
I will still have the GoPro as my secondary video camera and mix still shots between the RE and my aging Olympus TG-1.
Having started toying around with the RE to get myself familiar with it, so far i do not have any complaints with the photo and video quality, yet.
But after the initial connection with the RE app, I had difficulty making connection between my iPhone and the camera. It failed to detect the camera countless times. I turned the Bluetooth and Wi-Fi on-off many times to no avail. Then even used a paper clip to reset the camera (button is under the flip cover to the micro-sd card slot), that did not erase the data I had in the card but still no luck reconnecting.
In the end I had to delete the app from my phone, download it again and reconnect by pairing the devices again, this requires a password. It finally worked. I understand pairing between Android OS is much more seamless but not so much for the iOS. So HTC had better come out with a fix for this.
I'll update again if this pairing problem persists.
While the camera can still be used without needing a smartphone, just plug it into a computer to access the media files, the app comes in handy for quick browsing and it is the only way you can trigger the time-lapse mode.
HTC RE vs GoPro
Can the HTC RE take over the duties of the GoPro camera? I wanted to find out. I have no doubt it will not be able to compare to the tough build of the GoPro but what about those of us not involved in extreme sports? Such as fishing in our case.
Those used to the GoPro have already gotten used to filming without seeing a display monitor ala point-and-hope-for-the-best (although the recent Hero4 Silver does come with a build in display) should feel right at home using the RE without the display.
I've also gotten quite fed up with the problems my Hero 3 frequently dishes out. And the RE costs less than half the price of the GoPro.
Some 'raw' first photos from the HTC RE in the Maldives
Post trip/usage update
I'm writing this part after having just used the HTC RE fishing in the Maldives for one whole week. I can now give a true (personal) assessment of whether the RE is able to replace the GoPro. At least in terms of outdoor activity particularly in our case, fishing.
Here it comes. The HTC RE cannot be a replacement for the GoPro… BUT, it can be a great substitute to the GoPro. Here's why…
Shooting Blanks
I had the RE taking photos on quite a few occasions when it was in my pockets. That happens most often when it's in my pant's front pocket and when I sit down.
Nearing the end of our weeklong trip while out fishing on the small boat, the RE camera kept making an unfamiliar beep sound whenever I trip taking shots with it.
As I do not have my phone with me I could not check what was going on, not that I would have to anyway as I have with me my two other cameras, the GoPro Hero 3 and Olympus Tough TG-1.
Later back on the motorboat, I found that the memory card is full and hence it will not record anymore. But I was certain I had around 5GB of space left on the SD card and upon checking found that the RE camera was accidentally recording video while in my pocket.
So, if only the RE does not accidentally fires off that easily and runs out of memory or battery, the outcome would have been quite different.
Battery Life
I will rate the battery life of the HTC RE as good. Very good if compared against the Hero 3. I used it very often during that one week and never had it once go flat while in use. I did everything with it, taking stills, video recordings, time-lapse and slow motion video recording, all day.
File size and capacity
The HTC RE does not have build-in storage so it all depends on the micro SD's capacity that you insert in. I am using a 16GB card and came home with 2 or 3GB to spare, and I used it a lot although not exclusively.
When you shoot time-lapse videos, the RE camera will combine the shots into a video for you. Very convenient and I like that (although this feature is not unique to the RE). It will also, save all the individual JPEG files separately. Thats takes up space but it may come in handy for some. You cannot delete these individual files using the RE app. You have to either delete the time-lapse completely using the app (after you download it into your phone) or do it using the computer once you get a chance to download everything.
HTC RE app
When I first got hold of the HTC RE camera, I had problems pairing the camera to my iPhone 5.
I went online and found many iPhone users were having the same issue. Some berating that they never are able to pair the devices.
You need the app to change the camera settings, make updates, execute the time-lapse feature among others.
For me, the pairing problem was intermittent but most obvious when I've not used the camera for sometime, like a couple of weeks. It's as if the devices have forgotten that they know one another.
When that happens I had to delete the app from my phone, reinstall it and they will connect again. But that is unnecessary tediousness.
I wish the pairing process can be made simpler, too. The steps are, turn on Bluetooth > launch app > go to settings > wifi > select the camera name > return to app.
(Update): I've discovered another way to get connected to the app when it refuses to connect to my iOS instead of deleting and re-installing the app. I now launch the app, tap on the menu on the top-left corner, tap "Reconnect to another RE". Much easier this way and I don't have worry about wi-fi or data connection to re-download the app.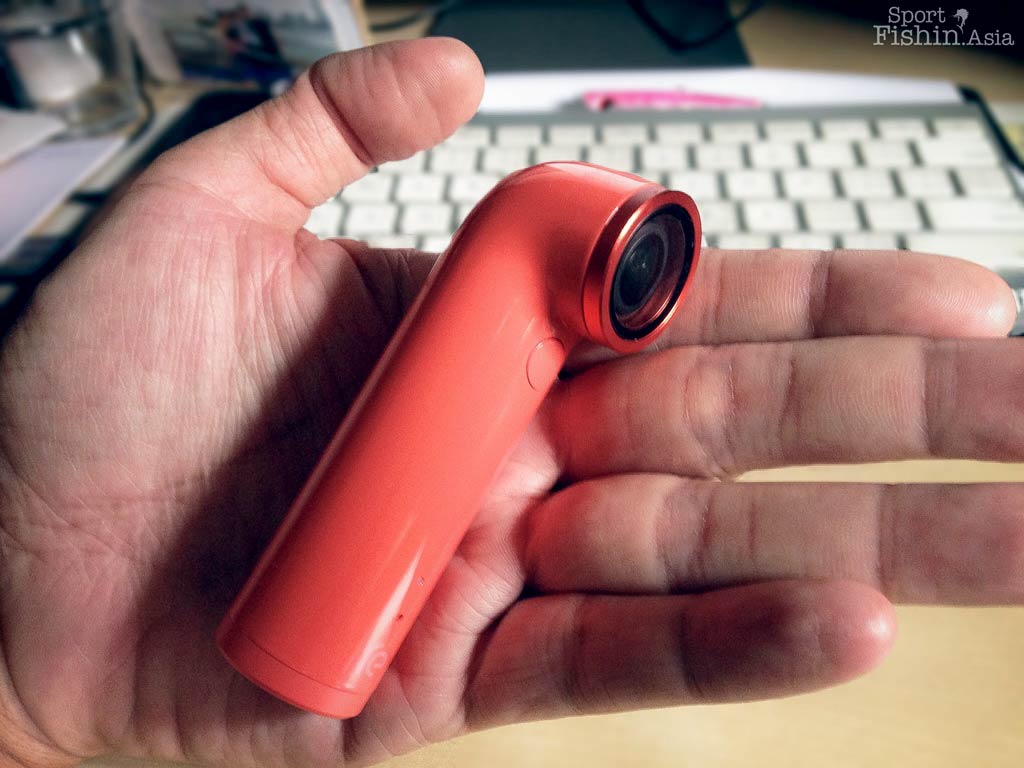 Summary
What I Like about the HTC RE
Long battery life – Because of this reason alone, I use the RE to take a lot of images and videos. Unlike the GoPro that often runs out of juice in around an hour of usage, the RE will last me the whole day and only needs a recharge in the evening after heavy use, often with some battery left.
Handy – My Olympus takes decent photos, too. But because the RE is smaller and lighter, it tends to see more action than the Olympus.
Image quality – is not out-of-this-world or fantastic but it is half decent so that's a plus point. Most of the photos does not require much adjustments or colour correction.
It doesn't look intrusive (like how a camera might be) – So you can take more shots without being in-your-face to others.
It's a conversation piece – Because of its quirky look, whenever you pull it out the first time people will ask or talk about it.
What I don't like
Accidental shots and recordings – that big round quick-press to take a still shot, long-press to record video button is so easily activated, unintentionally. This happens to me often whenever I store the camera be it in a bag, pouch or pocket. It happens less easily if you used the mobile app to switch-off the RE as you need a long-press just to turn it back on. Otherwise the RE is always on standby mode, ready to shoot.
Lack of mounting accessories – the RE does have some limited camera mounts and it does come with the standard tripod screw at the base but you may have to get creative if you want to go handsfree.
Do you use a HTC RE? Share your experience in the comment box for the benefit of other camera users. Or what action camera do you use?