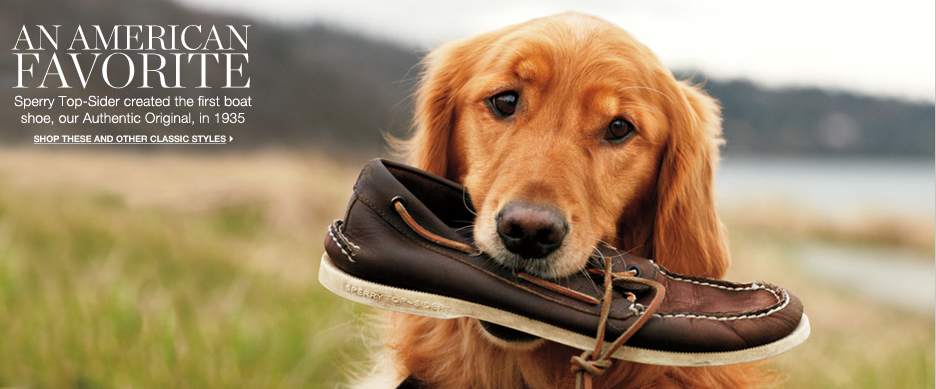 Rover, Go fetch my shoes… Good boy. Just looking at the picture Sperry used above makes these shoes my favorite already. How can I not? I love dogs.
Been wearing my first pair of Sperry Top-Sider Shoes for the past 6 months now. Not just on a boat but to like everywhere, they've almost become my everyday shoes.
Boat shoes, are also known as loafers but one version is also known also as deck shoes or topsiders, are typically leather with rubber soles designed for use on a boat. A siping pattern is cut into the soles to provide grip on a wet deck; the leather construction, along with application of oil, is designed to repel water. Modern boat shoes were invented in 1935 by Paul Sperry after noticing his dog's ability to run easily over ice or snow. Using a knife, he cut siping into his shoes' soles, inspiring a shoe perfect for boating. Sebago and Sperry are notable modern manufacturers of boat shoes. From Wikipedia, the free encyclopedia.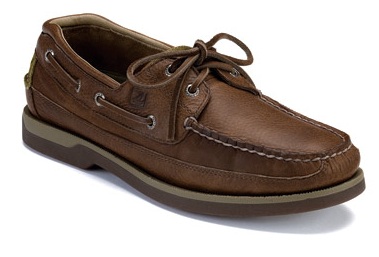 Men's Mako 2-Eye Canoe Moc Boat Shoe.
With enhanced comfort and support, the Mako is the world's first boat shoe as rugged as a shark.
Genuine Handsewn Tru-Moc Construction for Durable Comfort
Stain and Water Resistant Leather for Durable and Lasting Wear
360° Lacing System™ with Rust Proof Eyelets for a Secure Fit
Padded Tongue and Collar for Added Comfort Around the Foot
Shock Absorbing EVA Heel Cup with Heel Pillow for Added Comfort
Dual-Density Bottom with Cushion Midsole for Under Foot Comfort
Non-Marking Rubber Outsole with Razor Cut Wave-Siping™ for Ultimate Wet / Dry Traction
Why bother paying a little more for boat shoes when many other shoes will do? Besides the comforting fact that I will have less chance of slipping and knocking myself out silly? It's because they are also really comfortable! You see, I too like to buy stuffs that are at least dual-purpose when I can. Why not when you spend a lot of time outdoors? Outdoor shirts and pants, waterproof camera, etc.
Oh ya, the boat captain will thank you too (maybe quietly) for wearing non-marking shoes on his much-cared-for sports fisher.
The only real problem I had when buying these shoes is the size, or rather the lack of it, this pair is size 12M. The sales-lady helped me to first find all the size 12 and there were like only 2 types. Not much of a choice then. But I always seem to have the same problem whenever I go looking for a pair of shoes. In this country anyway!