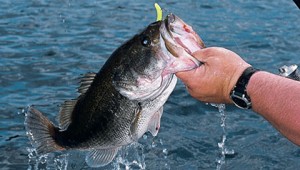 This is a guest post by Brad Jorgensen
If you talk to any fly fishing enthusiast about the black bass, any of them will tell you about the large, smallmouth and spotted bass. However, most online fishing games fishermen hope to find a new type of black bass specie every time they take to the waterways. Today for your viewing pleasure, we look at the top black bass species in the world. Here are a few that come to mind.
Before we start, we'd also like to point out, that the black bass is not actually a true member of the bass family. The black bass is a unique fish that can interbreed, producing a hyper version of itself. Black bass are also known as Micropterus and are relatives of the sunfish. On with the show!
Shoal Bass (Micropterus cataacte) – Besides the largemouth smallmouth and spotted bass, the Shoal Bass is one that most game fishing enthusiasts set their eyes on each summer. The world record for largest Shoal Bass to be caught was, eight pounds and 12 ounces. You can find the Shoal Bass in the Southern region of the United States, in States such as Alabama, Florida and Georgia. The Shoal Bass main habitat is the drainages of the Apalachicola and Flint Rivers. Shoal Bass main characteristic distinction from its fellow black bass, is that its jaw doesn't extend past the eyes, and the teeth aren't on the tongue.
Redeye Bass (Micropterus coosae) – To date, there has been no record tied to the Redeye Bass, in terms of largest one to be caught. Historically, the Redeye Bass is one of the smallest black bass species, as generally speaking a Redeye Bass tends to only be about three pounds and two ounces. Similar to the Shoal Bass, the Redeye Bass's jaw doesn't extend past its eyes and you can tell it is a Redeye as opposed to a Shoal because of its Redeye's.
Author Bio: Brad Jorgensen is a fishing enthusiast from Denver, Colorad and an avid blogger on the latest in fishing tips and technique. Having traveled througout North America seeking out fishing adventures, Brad is knowledgeable in a wide or fishing topics.
Image credit newenglandgameandfish