Apple's iPhone is definitely designed for the city life. Make that indoor life where it is safe from the elements. Even better keep it in the pocket, bag or purse. It is that delicate.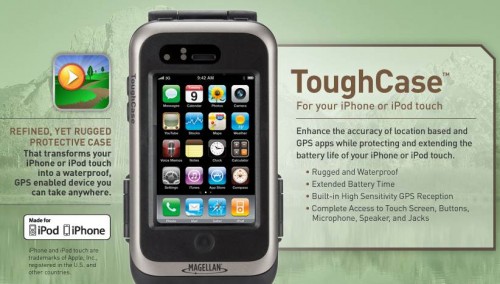 Despair no more all you Apple lovers as Magellan has come out with a tough case for the iPhone that promises to turn it into the rugged device it never was. Enter the Magellan ToughCase which has a few things going for it.
Why you may want to dress-up your iPhone in the ToughCase
Protects your iPhone/iPod from bumps
Makes it waterproof (up to 1 meter for 30 minutes) so rain should not be a problem
Has a build-in battery which effectively doubles the battery life of your phone (you'd need that if you're going to run the GPS a lot)
Improves the accuracy of the iPhone GPS and turns it into a real GPS device
Full functionality of buttons and touchscreen
Are there any spoilers you may ask? Of course there is. Life is such! No?
Not compatible with iPhone 4 (at the time of posting)
Not cheap (about US$170)
Makes your slim iPhone/iPod bulky
Or you may just look at it this way, instead of spending on an iPhone case that does absolutely nothing, get this case as a protection. With added functionality!
For more of the Magellan ToughCase, click here.