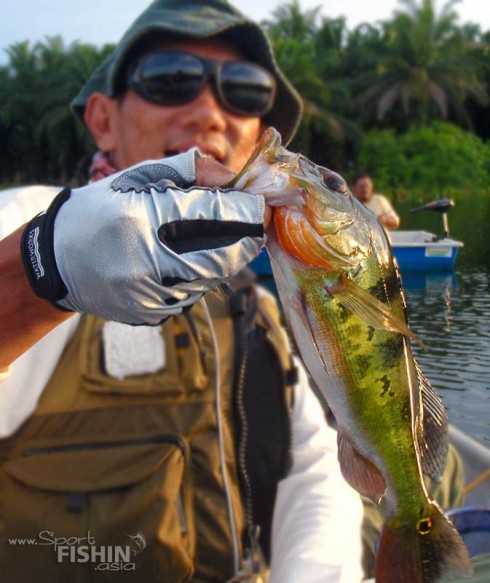 The Peacock Bass were not shy that day for sure. Between the 3 of us more than 60 was caught and released. In the right conditions, the Peacock Bass is more than just one the hardest fighting freshwater fish pound-for-pound on the planet but are also a survivor.
This brute of the Cichlid family from the Amazon appears to have settled down in many countries other than South America. They were introduced on purpose into Florida waters to control the Tilapia (another cichlid) outbreak and now reside merrily along with other immigrants from Asia namely the infamous fishzilla, the Snakeheads!
Over here in South East Asia it is the other way round where the Peacock Bass has invaded the traditional homes of the Snakeheads. The Peacock Bass is most abundant in Malaysia (almost throughout the country), certain waters in Singapore, the Philippines and some appears to starting the appear in Thailand too. It was and still is a controversial species especially in Malaysia where it first started appearing sometime in the mid nineties.
They are the bane for tree huggers and a boon for sports anglers!
The fighting quality of the Peacock Bass cannot be argued. Once hooked it just goes berserk. There is no turbo-charged run but instead the fight can go in any direction! Away, down, up, left, right or airborne, you never quite know what the Peacock Bass you just hooked might do which makes it so crazy fun to catch. And they fight hard and fight till you boat them, if the fish did not somehow throw the hook. The best way to catch a Peacock Bass is to fish with appropriate tackle to maximize the fun. Speaking of fun, I find fly-fishing for them is nothing short of awesome and it's a very effective method as well. [Read more…] about Peacock Bass Fishing – 60+ fish caught and released in one day