This is a free tackle shop listing to assist our angling chums out there find information and location of fishing tackle retailers.
This is not a comprehensive directory.
If you would like to have your outdoor sports or tackle store listed here or you have something to update OR have your information removed (hey, it can happen!), contact us here.
MALAYSIA
KEPONG TACKLE
62-68, Jalan Besar Kepong 52100 Kuala Lumpur
Phone: +603-6274 0460 Email: info@kepongtackle.com
http://kepongtackle.com
OCEAN SEA SPORTFISHING (CLOSED… sadly)
15 Jalan PSK 6, Pusat Perdagangan 43300 Seri Kembangan, Selangor
Phone: +603-89457725 Mobile: +6012-648 1706
Email: boy@oceanseasportfishing.com
http://oceanseasportfishing.com
RED HOT ANGLER
16,Jalan SS26/4, Taman Mayang Jaya 47400 Petaling Jaya, Selangor
Phone: +603-7803-0724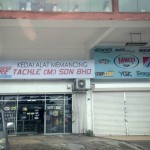 SABRE TACKLE MALAYSIA
84, Jalan Loke Yew, 55200 Kuala Lumpur
Phone: +603-9221-4628
http://sabrestrokers.com
Find out more about Sabre Tackle on this page.
SKY POND AQUARIUM TRADING
520, Kg Chempaka, 47301. Petaling Jaya, Selangor
Phone : +6012 311 9522 / +6016 205 1110 / +616 313 9308
www.skypond.com.my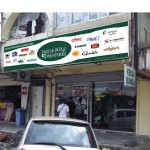 TACKLEBOX ADVENTURES
99, SS15/4C, Subang Jaya, 47500, Petaling Jaya, Selangor.
Phone: 03-56370268 Mobile: 019-2025524
Facebook Page Tacklebox Adventures
Google+ URL google.com/+TACKLEBOXADVENTURESSubangJaya
Tacklebox Adventures is the premier fly-fishing tackle store in Malaysia. Source for fly-tying materials and other conventional fishing tackles in-store.
Click here for store review and see more images.
Go to Tacklebox Adventures using Google maps: https://goo.gl/maps/M17Gr
Drive to Tacklebox Adventures using Waze: http://waze.to/lr/hw281x8q7x
TCE Sports
Fishing Distributor (Import/Export) and Fishing Store
150 & 150A 1st Floor Beach Street, 10300 Georgetown, Penang
Tel : 042638700 Fax : 042619730
www.tce-sports.com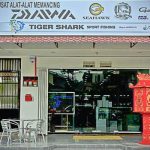 TIGER SHARK SPORT FISHING
No 24, Jalan Indah 2/8, Taman Universiti Indah, 43300 Seri Kembangan, Selangor.
Phone: +6012-682 6616 Cyrus Lo
PHILIPPINES
FISHRMEN BAIT AND TACKLE
Cebu City, Philippines. Phone: +63-92272063
http://fishingthephilippines.wordpress.com 
SINGAPORE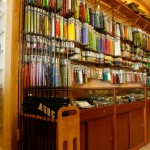 COHO FISHING TACKLE
2 Kallang Avenue, #02-08 CT Hub, 339407.
Phone: (+65)6443 2520 Email: cohoflyshop@singnet.com.sg
Operating hours: Mondays thru Saturdays – 10 am to 7.30pm. Closed on Sundays & Public Holidays.
http://cohoflyshop.com

E-WAVES FISHBYTE
The One Stop Shop For All Your Fishing Needs
Blk 713 Clementi West St2 #01-127 Singapore 120713
Tel: 65-67771068 / 65-68737908 Mobile: 65-96374573
http://ewavesfb.com
THAILAND
7 SEAS PRO SHOP
21/596 Soi Navamin 42 Navamin Rd. Bungkum Bangkapi Bangkok 10240
Phone: +662-734-7757 Email: jai_7seasproshop@hotmail.com
http://7seasproshop.com
CHINGLEW TACKLE
159/8 Sukaphiban Road, Minburi, Bangkok 10510
Phone: +662-518 0366  Email: chinglew@gmail.com
http://chinglewtackle.com
PARKNUM FISHING
146, Pachonchai Rd, Pak Num, Samut Prakan, Thailand, 10270
GPS: Lat: 13.592287 Long: 100.596989
Phone: +662-395 0963, +662-702 9279  Email: parknumfishing@yahoo.com
http://parknumfishing.com