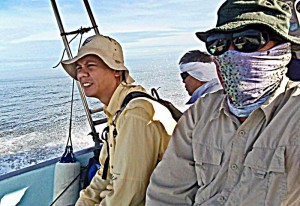 This news article is a timely reminder to us. As anglers, we spend a lot of time in the outdoors under the intense rays of the sun. We also face the reflected rays bouncing off the water's surface straight into our lovely big eyes.
Eye protection is very important what more with the ever increasing size of the hole in the ozone layer that blocks out harmful UV rays. When you are still strong and healthy you may not be bothered but why wait till something is wrong?
Read the article below and listen to what the people who knows eyeballs have to say. Before that, here are a couple more incentives.
1. Eyewear gives the added protection against flying projectiles such as lures, jigs, hooks, you get the idea.
2. Polarized sunglasses lets you see through water helping you to spot more fish and ultimately be a more successful angler!
3. Look cool while you fish?!
Docs: Wear shades for protection
By ISABELLE LAI
PETALING JAYA: The blazing sun these days is a good excuse to be like CSI Miami's Horatio Caine as eye specialists have advocated the wearing of ultra-violet (UV) protected sunglasses.
These experts say UV light is the component of sunlight most responsible for eye damage and the sunglasses could act as a shield against damaging UV rays.
Excessive exposure, especially from light reflected from sand, snow or pavement, can produce a [Read more…] about Why You Should Wear Sunglasses When Fishing