Sukida Resort is a picturesque place to wet a line. Located along Jalan Sg Lalang in the once sleepy town called Semenyih – located in Selangor, Malaysia (Google map at end of article), it has some of the Malaysian kampung (village) feel to it.
Only 3 bucks to fish?!
Sukida encourages catch and release, and stocks many freshwater fish. It is also one of the cheapest place to fish, costing only MYR10 or about 3 US dollar to fish from dawn to late evening. Yes, 3 dollars! Curiously, the fee have not increased since they started operations sometime around 2006.
It is made out of four ponds though most fishing are done on the main, and biggest pond. The most popular target species here are the pacu (Piaractus brachyomus), pronounced as pa'ku, and patin (Pangasius pangasius). The patin is a native species and is commonly called the pla sa wai in Thailand. The beauty of Sukida is there are still many big ones here to keep many regular anglers coming back for more.
Some long time buddies have recently been visiting this place and the photos of huge pacu caught by Gary piqued my interest.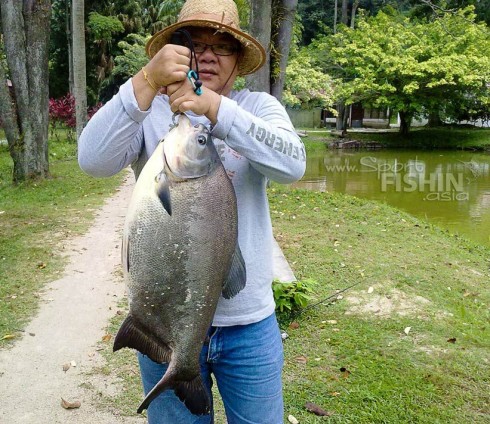 Fly-fishing for pacu
So when a long weekend came up we arranged a trip there and I wanted to catch something big using fly fishing. I'm happy to have caught a decent pacu using a nymph and on 10lb tippet. [Read more…] about Fishing for big pacu and patin at Sukida Resort